Sunday, Feb 26th, 2017
5:00pm

Join us for a concert performance from
Cellist Georgy Gusev and his students plus the Little Baskers Endemble!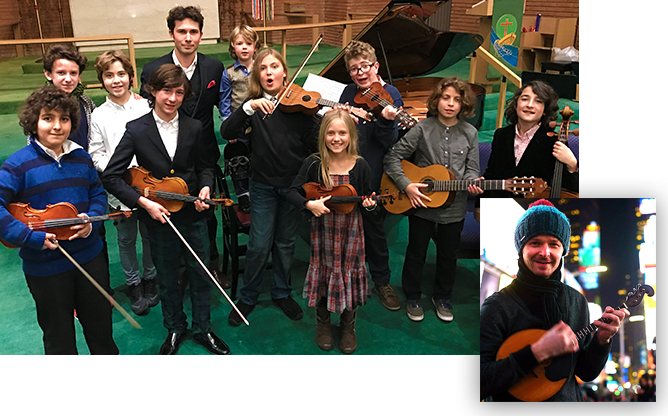 • Mia Klemp - violin
• Miles Zaud - violin
• Logan Zaud - cello
• Theo Heron - cello
• Nico Bennassar - guitar
• Caleb Briskman - ukulele/banjo
• Julian Najah - ukulele/piano
• Grady Rockwell - piano
• Zenna Evans Cahill - piano
• Dylan Prieto Webster - piano
• Featured soloist: ALEKSEI ALEKSANDROV - domra (Russia/USA)

WHEN: February 26, 2017 (Sunday), 5:00pm
ENTRANCE FEE: donations at the door.
LOCATION: Mt. Olive Lutheran Church - 1343 Ocean Park Blvd. Santa Monica, CA 90405


Georgy Gusev is the Artistic Director of the Creative Laboratory GOSH projects (Groundbreaking Open Share projects). Georgy helped to relaunch Mt. Olive Lutheran Church's Classical Concert Series and will be hosting most of this 2017 season. GOSH projects promotes and supports young creative people who are capable of combining elements from different styles and genres in order to find new ideas and innovative forms of art expression. It is designed to enforce the artistic development and social progress genuinely uniting different creative arts on one stage through festivals, master classes, live performances and concerts.
Mt. Olive's Classical Concert series has had a rich history at Mt. Olive Lutheran Church here in Santa Monica, and presents world-class soloists and ensembles from around the globe at it's monthly concerts. Join us!