SUNDAY MAY 13 - 5:00PM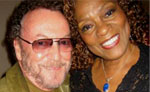 May's Jazz Vespers features The Chico Fernandez Quintet
with vocalist Thelma Jones!
Bring your Mama and spend time listening to some great JAZZ and R&B with Chico and the BAND! Terry Cano on Keyboards, Doug McDonald on guitar, Vince Suzuki on Sax & flute, Chico Fernandez on drums, and featuring the one and only...THELMA JONES, vocals!