Sunday, April 30th
Refreshments 2:30pm
Showtime 3:00pm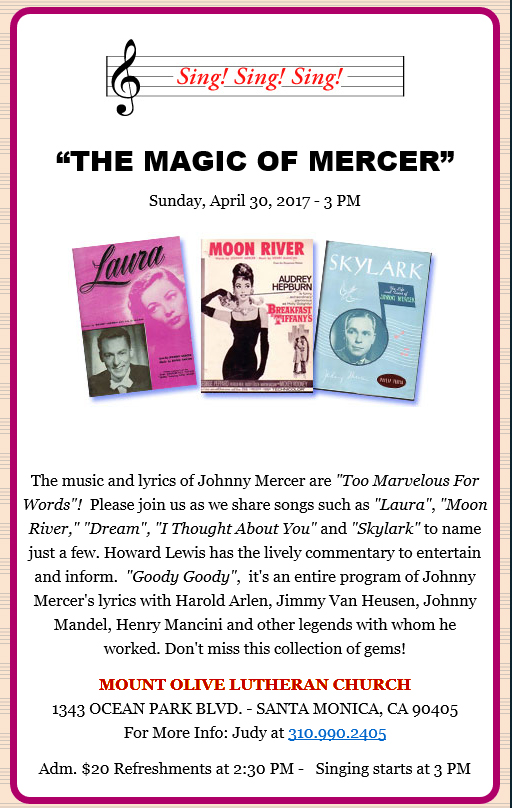 Sing sing sing-a-long presents:

THE MAGIC OF MERCER

The music and lyrics of Johnny Mercer are "Too Marvelous For Words"!
Please join us as we share songs such as "Laura", "Moon River", "I Thought About You" and "Skylark", to name just a few.

Howard Lewis provides the lively commentary to entertain and inform. "Goody, Goody", it's an entire program of Mercer's distinctive lyrics with composers Harold Arlen, Jimmy Van Heusen, Johnny Mandel, Henry Mancini and other legends he worked with. Don't miss this true collection of musical gems!
Sing! Sing! Sing! is an original concept featuring a small group of rehearsed singers who joyfully ease the audience into singing "all the songs you love to sing". Complete lyric sheets are provided and each song is introduced with a brief and entertaining commentary. Their American Composer Series, literally sings the praises of the songwriters of the 1930s '40s and '50s. Other programs reach back to include Stephen Foster (the "Spirit of America") and forward to the present ("Academy Award Winning Songs"). Don't miss this collection of some of the best of the Great American Songbook!

20$ admission / 10$ Children and Mt. Olive Members! / Free parking!

Learn more: singsingsingalong.com