Sermon for Thanksgiving Day Worship -
The Rev. Eric Christopher Shafer. -
Alyce McKenzie, who teaches preaching at Perkins School of Theology in Dallas, tells the story of a pastor friend of hers who was once teaching Sunday School with a group of children. The children were reading the story of the ten lepers, the Gospel text from St. Luke which is our Thanksgiving lesson today. "What do you think about this story?" the pastor asked after she had read it to them. One little girl answered, "Jesus must have been so happy that somebody thanked him!"
That is certainly how I would like to interpret today's Gospel text from St. Luke! It appears, however, that Luke had other ideas. Instead of being grateful for the one leper who returned to thank Jesus, Luke seems to be making a point about the lack of gratitude from the other nine lepers. And, Luke adds a put-down to those who oppose Jesus' outreach to non-Jews – it is a "foreigner," a Samaritan, who is the only one who returns to thank Jesus. And, Jesus does not even appear to address the grateful man – the text describes a scene of Jesus speaking to the crowd, not the grateful man, making Jesus' point about the nine ungrateful men who were healed.
Honestly, I would rather preach on this text with the little girls' ending! That would be a more friendly text for Thanksgiving worship, wouldn't it? Jesus was happy that someone returned to thank him.
Or, how about this better ending? All ten of the lepers, when they saw they had been healed, turned back, praising God as with one voice. They all fell at Jesus' feet and thanked him.
Or, how about this ending? Then one of them, when he saw that he was healed, turned back, praising God with a loud voice and fell at Jesus' feet. And Jesus said, "It is so wonderful that you came back to show gratitude for your healing. This says good things about you, and it's a good habit to continue, gratitude to God for all God's gifts. Go in peace."
Well, Luke did not write it this way, but I would love to rewrite this text to have Jesus speak directly to the grateful man, focus on praising his gratitude rather than condemning the ingratitude of the other nine, and make no mention of the man's ethnic, religious heritage.
But, alas, that is not how this story is written or usually interpreted. Lots of times, when we hear this story, the nine lepers are portrayed as ungrateful boors.
However, let's look at what we know about the behavior of the nine other healed leapers. They all approached him and called out to him "Jesus, Master, have mercy on us." They all obeyed his command to go show themselves to the priest. As we hear their retreating footsteps, let's give them more respect than we usually do. They're heading in the direction Jesus told them to head. They're not heading for a bar, a house of ill repute or a casino. They headed for the priest, and this is, remember, before they have even seen any evidence of their cleansing. So let's cut them some slack. They knew to whom to call out for healing. They believed Jesus when he said it was a done deal, even before the evidence was before their eyes. And they did what he said. Jesus did not say, "Go, show yourselves to the priest, but, on the way, as soon as you see your flesh has been cured, high tail it back to me with a thank you note."
In Jesus' day, leprosy was a feared disease and those with it were quarantined away from their families and friends. Think AIDS thirty years ago or Ebola today. Thus, the purpose of visiting a priest after a cure was so the cured person could officially resume his place in society. The nine lepers, presumably Jewish, had their minds on the future, on resuming the life they had left behind with the onset of illness. Their minds were full of scenes of reunion with wives, children, with reentry into market and synagogue. There is no indication that their goals and future actions were anything but respectable and legal.
But they were lacking something. The one leper, the "foreigner," who returned to thank God, was "made well," whereas the text tells us that the nine were merely "cleansed" or "healed". The words here and how they are translated into English are important. Physical cure, the verb used twice and translated here as "made clean" and "healed" is not the same as "made you well," or "made you whole," a condition often referred to as "salvation." When Jesus says, "your faith has made you well," he uses a word we can also translate as "salvation." All ten lepers are cured of their leprosy. The one who returns to thank Jesus also received salvation.
Luke was making a political point: Only the foreigner is grateful for the grace received. The others think solely of the benefits received. The ungrateful nine exemplify the general attitude of some Jewish leaders toward Jesus' mission. The Samaritan is an example of the future response of non-Jews to the Gospel. And, Luke wanted his readers to connect this text with the parable of the Good Samaritan, where, again, two Jews, their minds thinking ahead to their liturgical duties, neglect the wounded neighbor on the side of the road.
But we are not members of Luke's church. Thus, the question this text has for us is how does Jesus' emphasis on gratitude impact our lives? Why is gratitude crucial to wholeness of mind, body and spirit, to what the New Testament calls "salvation?" It seems to be more than proving to Jesus that we have good manners, that our parents taught us to write thank you notes. In the passage, one leper returns and thanks Jesus, but note Jesus' interpretation of these words of thanks in verse 18 "Was no one found to return and give thanks to God except this foreigner?"
Why is gratitude to God crucial to wholeness of mind, body and spirit, to what the New Testament calls "salvation?" Apparently, to be truly well, we must add thanksgiving to our faith. The person who makes such acknowledgement experiences a salvation that goes beyond the merely physical cure. It is a reorientation of all of life.
How is our impulse to thank others related to our impulse to thank God? What does gratitude contribute to our being made well in body, mind and soul? Why is it so important that Jesus would chastise those who didn't value it?
Does gratitude keep us connected with the giver of the gift? Does recognizing the source of a gift keep us using it in keeping with the giver's character and values? Does gratitude keep us grounded in the value of the gift as we take it into new pursuits and places?
The Rev. Martin Rinkhart served as pastor of a congregation in Prussia in the early 1600's. He was pastor of this congregation for entire 30 Years War in Europe. Since the town he lived in was surrounded by a wall, refugees from the war flocked to his city and congregation. The town was overwhelmed with poverty and plague and all the perils of war. "Hell on earth" would be a good description for his life during those years.
By the end of the war, Rinkhart was the only pastor left alive in his town, so he alone buried the hundreds, perhaps thousands, who died from this war in his city.
In the midst of this carnage and death, Rinkhart wrote the well-known Thanksgiving hymn, "Now Thank We All Our God" which we sang as we began today's worship service. Think of those words in the context they were written, "Now, thank we all our God with hearts and hands and voices, who wondrous things has done, in whom this world rejoices; who, from our mother's arms, has blest us on our way with countless gifts of love, and still is ours today."
In the midst of what must have been a hellish life, Pastor Rinkhart still remembered that all good gifts come from God.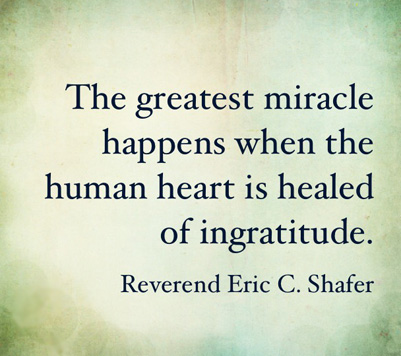 Can we all be a little bit more like Pastor Rinkhart and take on an attitude of gratitude to keep us focused on God's many gifts to us, gifts which are the source of life and love and come to us new each day. And, once we acknowledge God as the source of love, perhaps we will be more likely to share love and care with others.
Maybe that is why gratitude is important enough for Jesus to lament its lack. In retrospect, perhaps what Jesus seeks from us would rewrite today's Gospel as I suggested earlier: All ten of the lepers, when they saw they had been healed, turned back, praising God as with one voice. They all fell at Jesus' feet and thanked him.
You see, the greatest miracle happens when the human heart is healed of ingratitude, when the human heart is filled with daily thanksgiving, to God and others, for God's countless gifts of love.
May we all have such a healing this Thanksgiving Day and every day.
Amen.
The Rev. Eric Christopher Shafer
Senior Pastor - Mt. Olive Lutheran Church
Santa Monica, California
---

An Attitude of Gratitude?
Sermon for Thanksgiving Day Worship
Written by Rev. Eric Christopher Shafer.
November 27, 2014
Mt. Olive Lutheran, Santa Monica