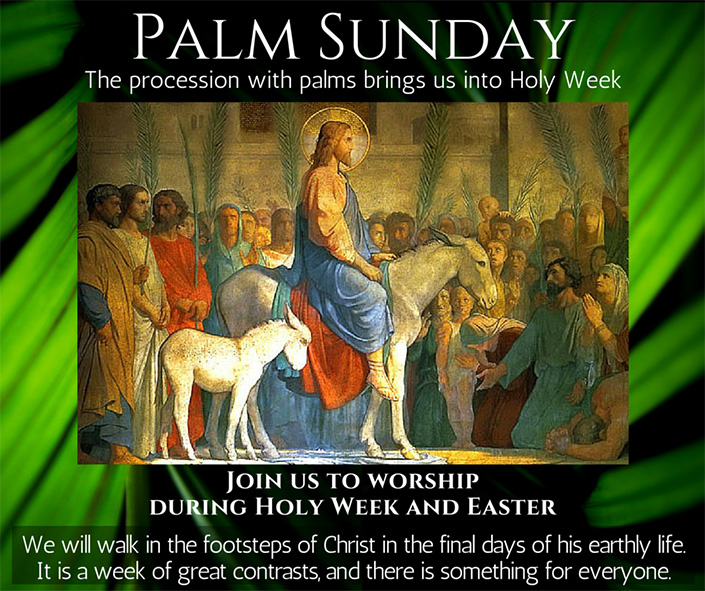 Sunday of the Passion / Palm Sunday -

Every week just before communion we sing a song made of two parts. It begins with a song from the prophet Isaiah's vision, sung by the six-winged seraphs as they flew around the lofty throne of the One Holy God: "Holy, holy, holy is the LORD of hosts; the whole earth is full of his glory" (Isa. 6:3). Then it segues into the acclamation sung to Jesus as he entered into Jerusalem: "Hosanna! Blessed is he who comes in the name of the Lord!" Read the communion song through, and you'll see how the way the two songs are joined identifies God with Jesus. This one joint song sums up the heart of the Christian revelation: that we encounter the One Holy God, who is beyond and before and beneath all things, in this human Jesus, who is heading into the city where he will be executed by the powers that be.
So the first surprise of our communion song is this: the seraphs' chant is directed to Jesus, a human like us.
Second surprise: this human Jesus, who is being lauded as the Son of David, the Anointed One, the Messiah who is to come, is not a superman, and is not even the Messiah we all hope for—the one who will wield great power to defeat our enemies and to restore the fortunes of the good guys. He rides not on a horse or chariot or tank of war but on a donkey of peace, and he rides not to victory but to execution.
The third surprise comes from where and when we sing the song. We meet God in this death-bound human Jesus, and we meet Jesus not in a heavenly temple as in Isaiah's vision, not in a holy city like Jerusalem, but here in our commonplace Sunday gathering around shared bread and wine. God on the throne, on the donkey, on the cross, is here in our hands.
---