Sermon for 18th Pentecost -
The Rev. Eric Christopher Shafer. -
Six years ago, in a former congregation, I preached on today's gospel lesson and the theme of tolerance. I spoke of that past summer as being the "summer of intolerance" – that was the year of raucous health care town meetings and of President Obama being called a liar as he spoke before Congress. And, from the important to the ridiculous, who could forget rapper Kanye West's bad public behavior at the 2009 MTV Video Music Awards, interrupting Taylor Swift's award. Yeah, it was that summer!
I wish I could say things have improved since that time. Alas, it is not the case. The current US Presidential race has surfaced so much hate, especially against women and Latinos. The candidate with the loudest anti-immigrant rhetoric has already been endorsed by the Klan and another white supremacist organization. Another candidate has suggested that a Muslim should not be allowed to be President, although the US Constitution specifically forbids any religious requirement for our President. And, it sometimes appears to be almost "open season" on Muslims and other non-Christians in this country – think of the recent story of the Texas young student who tried to bring his electronic clock science project to school and ended up in police custody!
You could probably add some additional examples, similar or different from mine. And, regardless of your personal point of view on my examples, I hope you can agree that, sadly, intolerance of all kinds today is all too common.
In today's gospel lesson John says to Jesus, "Teacher, we saw someone casting out demons in your name, and we tried to stop him, because he was not following us."
Sounds like intolerance goes back a lot farther than 2015!
Jesus reacts strongly and decisively when he responds to John, "Do not stop him; for no one who does a deed of power in my name will be able soon afterward to speak evil of me. Whoever is not against us is for us."
John's and the other disciples' reaction to an outsider casting out demons in Jesus name – "He must be stopped" – is a perfect example of intolerant religion.
Now, intolerant religion was not a new phenomenon in Jesus' day. The Old Testament is full of intolerance with God even ordering the Israelites to exterminate people of other faiths in Exodus, Deuteronomy and Numbers, for example.
The early Christian church didn't do much better. Remember the Crusades? The burning of heretics at the stake? The execution of women thought to be witches in the early history of our own nation?
Even today, some call for us to "hate the sin but not the sinner." Let me tell you, those who have had those words thrown at them really can feel the hatred in them.
There are just too many examples. The continual history of Christian hatred and persecution of Jews and homosexuals are just two more examples of both historic and modern intolerance.
I hope all of this makes you cringe as much as it does me!
This sort of Christian intolerance is a double problem for us. Not only does Jesus clearly condemn it, as he does in today's gospel lesson, intolerance creates a very negative image of Christianity among non-Christians. Just ask the average young person on the street what they think of Christians – you will be surprised at their reactions – they will use words like "judgmental, narrow-minded, condemning and intolerant."
Sadly, many Christians seem almost addicted to such intolerance. Well-meaning people see their intolerance as a desire to keep the truth uncorrupted. They treasure their intolerance as a means of assuring themselves of their own unique superiority. With such a view, open-mindedness and the possibility of changing one's mind is never even necessary – they own the truth! They defend their racial, religious or class prejudices and assert their right to force their views on others. All this in the name of Christianity.
Sigh…
All this caused Mahatma Gandhi, certainly one of the non-violence saints of the 20th century, to say that Christianity was a fine religion; he just had never found someone who lived it!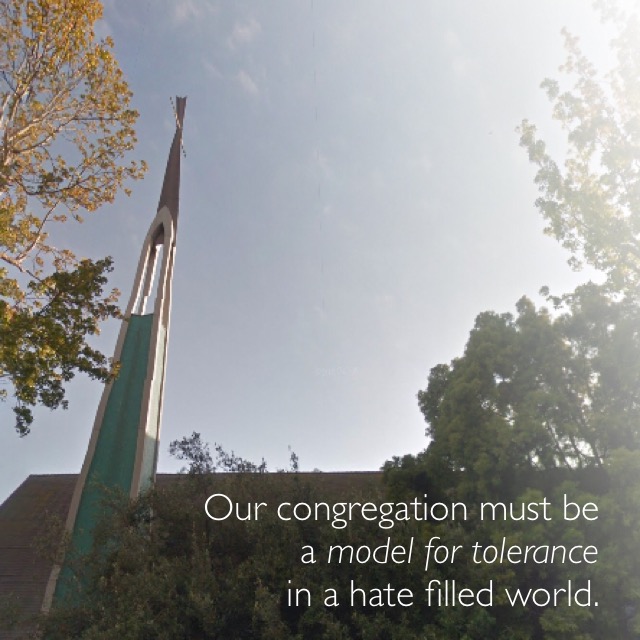 Now, don't get me wrong, I am pleased to say that this is less of a problem here at Mt. Olive, and in our Lutheran congregations generally, then it may be in other faith traditions. But, it is something we must be continually vigilant about, lest we, too, fall into easy intolerance.
Jesus looks at tolerance and intolerance differently. In today's gospel lesson Jesus is clear: Jesus does not care if someone is even his follower – Jesus states that, if a person is doing good, then, Christian or non-Christian, that person is doing Jesus' work in this world. It is a simple as that. (This is one of the themes we have heard numerous times from Pope Francis in his US visit this past week).
St. Paul follows Jesus' lead when he writes in Romans 14, "Let us no longer pass judgment on one another, but resolve instead never to put a stumbling block or hindrance in the way of another." In Philippians, Paul goes even further when he states that he rejoices whenever Christ is proclaimed in any way by any one, whether their motives for doing so are good or bad.
Jesus goes even further in today's gospel lesson, suggesting that teaching hatred to children, putting any stumbling block before any little ones, is as bad as sinking to one's death in the sea. Remember that old song about prejudice and hate from the musical South Pacific – "You've got to be taught." Jesus says "no" to any teaching that involves hate or prejudice and even cautions against judging those who do not believe in him!
I believe that Jesus, in today's gospel lesson, is teaching us that tolerance is the better way. Here's why:
Intolerance is a sign of weak faith. When some people find themselves insecure in an argument, they think they can win by talking louder – think of those 2009 health care town meetings. In the same way, insecurity about faith can lead us to an intolerant attitude. If we are uncomfortable or unsure in our own faith, it is then easy to try to espouse absolute rules in the hope that they will overcome any doubt or ambiguity.
Tolerance is just the better way. Intolerance always damages the cause it tries to defend. Attack a heretic and you give him an audience. Banish a book and everyone wants to read it. Condemn a sin and some want to try it. More importantly, an intolerant Christian attitude only ultimately drives people away from Christianity. If you don't believe me, check out the fastest growing religious group in America according to recent polls – that group is "none or no religion." And we Christians have only ourselves to blame, I believe, for the growth of that group.
Tolerance, and only tolerance, overcomes hatred. The church, our congregation, must be a model of tolerance in a hate-filled world. We must present Christ to the world. And Christ is not arrogant, Christ does not coerce belief, Christ is not dogmatic. We cannot exult love by encouraging hate.
We Lutherans love the word "grace." By grace we always mean the unconditional love that God has for us all in Jesus Christ, God's continual outreach in love to us, even when we do not love God in return, God's promise, once and for all times, of eternal life with him for all who believe in Jesus Christ.
Tolerance of others, however similar or dissimilar they are to us, flows from this grace. Tolerance is and must be our commitment in Christ. We choose the path of tolerance and grace, not because it is the broad or easy path, but actually because it is the narrow path, the path advocated by the highest and best that our Bible and tradition has to offer.
Tolerance is the path of Paul and Jesus and is the high road of grace. May it be our path and high road also.
Amen.
The Rev. Eric Christopher Shafer
Senior Pastor - Mt. Olive Lutheran Church
Santa Monica, California
---
Tolerance – the Way of Jesus
Sermon for 18th Pentecost
Written by Rev. Eric Christopher Shafer.
September 26 / 27, 2015
Mt. Olive Lutheran, Santa Monica, California