Sermon for 4th Advent -
The Rev. Eric Christopher Shafer. -
Will the angels ever sing again? That's kind of an odd question for us sophisticated Christians in 2014. Will the angels ever sing again? I hope they will. I believe they will. They certainly have sung in the past.
The Advent and Christmas seasons remind us about angels. In today's gospel lesson, this fourth and final Advent Sunday, an angel is the first to announce God's plan to a young and quite bewildered Mary. We also remember that an angel commanded Joseph not to change his wedding plans and how a whole host of angels came down to a straggly band of smelly shepherds that first Christmas, singing alleluias and heavenly hymns, telling the shepherds to hurry to Bethlehem. If you take the events of Advent and Christmas seriously, you cannot help but be surrounded by the voices of angels.
But, have you or I heard the angels' voices? With so many during this season, it seems to me that there should be some around for us to hear. Or, is it just possible that our doubts and our skepticism and our fears and our worries, that our logic and our reasoning and even our self-assurance and pride – all of these – have kept the angels out of our lives? Maybe, deep down, we really only believe that Mary and Joseph and the shepherds just imagined that they heard the angels' voices. Or, maybe, we have become convinced, when we bother to think about it at all, that angels, like dinosaurs, have become extinct! That certainly would help explain the troubles many are facing in 2014! Or maybe, with all of the wars and environmental degradation that we humans have brought upon the world and ourselves, maybe the angels have been scared away? Why is it that, in these times, it is hard for us to hear the voices of the angels?
Surely, if the angels used to come and sing, they still ought to be around somewhere? If we have not heard them recently, it certainly is not that they are lost or have been frightened away. Perhaps we have simply lost our ability to hear them.
Maybe we have missed the songs and messages of the angels because we have listened for them in all the wrong places? For you know, there are places in this world where it is very difficult to hear the angels' voices, no matter how hard you try. Not sure I have ever heard the angels while driving along the 405 or 101! And, have you been to the Post Office anytime in the last two weeks? I have. Let me tell you, it would have been hard to hear the angels sing in that crowd. It is also hard to hear the angels sing in the cruel conversations in the lunchroom or in the confusion of bickering families – those are all places where it is hard to hear the angels sing.
I suspect that even on the night of Jesus' birth that there were parties and dinners going on in Bethlehem. After all, the city was full of visitors, there for the coming census, tired from traveling, needing to eat and perhaps ready to party. But, there is no record anywhere that these people heard the voices of the angels that night. The angels were more interested in faith and those humble shepherds.
I also have the hunch that the angels would not care for the hurry and bustle of our Christmas crowds either. Could it be that unless our celebration goes beyond the gifts, the packages, the mailings, the rushing, even the cooking and baking, that unless we get beyond these we will not be able to hear the angels sing anywhere? And, of course, it would be impossible to hear the angels among the cruel conversations in the school or company cafeteria or among our bickering families.
So, what and where are the circumstances and places where the angels have been heard? In today's gospel lesson we hear of Mary, as simple and devout a young woman as you could find, radiant in anticipation of the greatest moment of her young life. I am sure that she prayed long and hard for the blessings of God. And, like any expectant mother, she must have had some long, hard thoughts about it all, wondering about her child's destiny. Perhaps, in the quiet moments of her thoughts, Mary became aware of an angel's voice?
Or, what about those shepherds? There they were, out in the hills, alone, going about their business as usual, watching the sheep at night. Think about the times you have sat out under the stars on a warm summer night. Remember something of the stillness of that starlit night, the silence. Shepherds in the dark, their dogs beside them. The conversation slowing until each man, deep in his own thoughts, sits watching the dying embers of their fires. Here were simple, devout men, people who had waited and prayed an incredibly long time for a Savior.
And now, that night, as they had done so many nights previously, they must have been thinking about it all again. For, obviously, they were not rushing about madly taking care of last minute Christmas details! I would guess that they might have been thinking about the meaning of it all, wondering if the God who put the stars in the sky really cared about His people, if there was any meaning to all the human suffering around them, if the Messiah would ever come.
There was no way the shepherds could have imagined all the glory that was about to surround them that night! But, suddenly, there it was! Unexpected, almost frightenly so, there appeared an angel of the Lord. "Fear not," said the angel, "I have come with an answer to your thoughts, your worries, your vulnerabilities. I have good news for you. 'Unto you is born this day a Savior.' God cares about you. There is meaning in life, and you will find that meaning when you come to see this baby who has been born."
I am sure that those of us who look for the truth about this life can and will find a time like that also. A time for quiet contemplation when our hearts and lives can hear the voice of God speaking. That moment when it is possible for us to hear the angels sing just as those shepherds heard them in the hills of Bethlehem … Just as Mary heard the angel speak in the quietness of her solitude. That is where the angels speak and sing. Look as you might, there is no record in the Bible or other history that the busy crowd in Bethlehem or the Caesars on their thrones in Rome heard or saw anything out of the ordinary that night.
Through the centuries since that time, there have been others, many others, who have also heard the angels speak and sing. And, as Christians, we believe that, today, 2014, there are still, somewhere, angels still "bending near the earth to touch their harps of gold."
So, in the midst of our own lives and anxieties, how do we, you and I, hear the angels sing in 2014?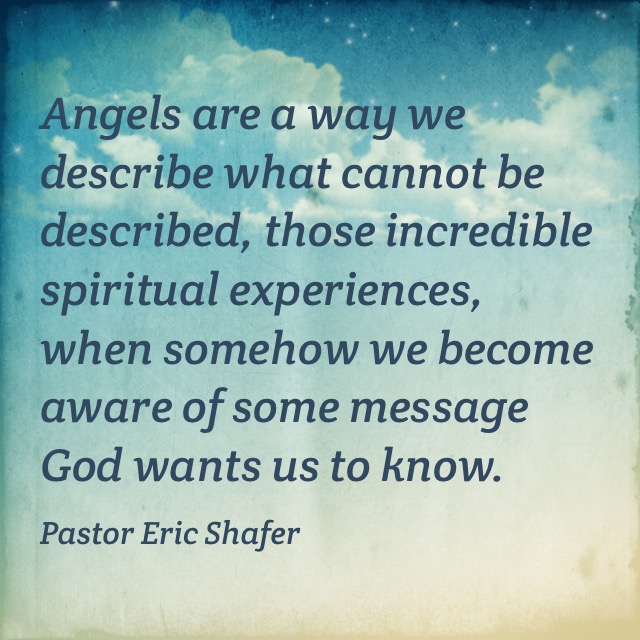 If you have children, you already know the answer, or, at least, should know the answer. Tonight, when you put your children to bed and tuck them in, look down on their peaceful, innocent, hopeful faces and think long and hard about the great thing that God has done for you in giving you this child, these children to love and care for, to raise up in the Lord. Look hard, listen closely, and, yes, you may even hear the angels sing!
Or, if you are alone, sit and read the Christmas story again, that exciting, thrilling story of angels and Mary and Joseph and shepherds. Do not look for explanations or logic in the mysteries of this event. Just see in it the beauty and wonder of simple people who had come to realize what it means that God has spoken to God's world through the coming of the Christ child. And, as you read, listen closely, you may also hear the angels sing.
Or, take time to remember the God who has given you your family, your friends, your loved ones, your own life. If you are married and with your spouse, hold hands a while and remember again the promises you made on your wedding day. Listen closely. You may even hear the angels sing.
And, Wednesday, when you attend Christmas Eve services here at Mt. Olive, enter into those services with your whole heart. Sing the Christmas hymns as if you had written them yourself! Make your offerings generously. Listen to God speaking to you. Remind yourself that, whatever temporary setbacks you may have this year, surely God is in this place and in our lives. Then, listen, and you may hear the angels speak and sing to you.
Of course, I cannot draw you a picture of these angels. I cannot write down the music of the angels' song for you. I can only say what I believe an angel is like and that is simply this – Angels are a way we describe what cannot be described, those incredible spiritual experiences, when somehow we become aware of some message that God wants us to know.
As this Advent draws to a close and Christmas approaches, listen. We, too, you and I, can hear the angels sing!.
Amen.
The Rev. Eric Christopher Shafer
Senior Pastor - Mt. Olive Lutheran Church
Santa Monica, California
---

Will the angels ever sing again?
Sermon for 4th Advent
Written by Rev. Eric Christopher Shafer.
December 20/21, 2014
Mt. Olive Lutheran, Santa Monica