Sermon for Christmas Day -
The Rev. Eric Christopher Shafer. -
The prisoners could hear the guards casually talking about the coming of spring. However, they could not know it for themselves. Neither from their confining cells nor from their walled exercise yard could they see the hills becoming green or the flowers blooming. Imprisoned, they were totally cut off and isolated from new life and new beginnings, locked in a gray, hopeless, impersonal world.
That is the setting for the poem, "Estrangement," by Sir William Watson. In this poem Watson describes a world where imprisoned people can only hear of spring. In such a world, spring is only a rumor.
Many of us know this kind of imprisonment. No, we do not know about life in real prisons with guards, but our daily lives can all too easily become prisons for us. We shuffle in lockstep from day to day along the gray, shabby corridors of our lives, isolated by pride or fear or greed or guilt, unable to believe the rumors that speak of a realm of the spirit that exists beyond the walls of our narrow, limited lives. Yet, we have heard such a rumor and, at times, have caught a glimpse of what our lives might be if we believed the rumor to be reality.
"And the Word became flesh and lived among us, and we have seen his glory, the glory as of a father's only son, full of grace and truth."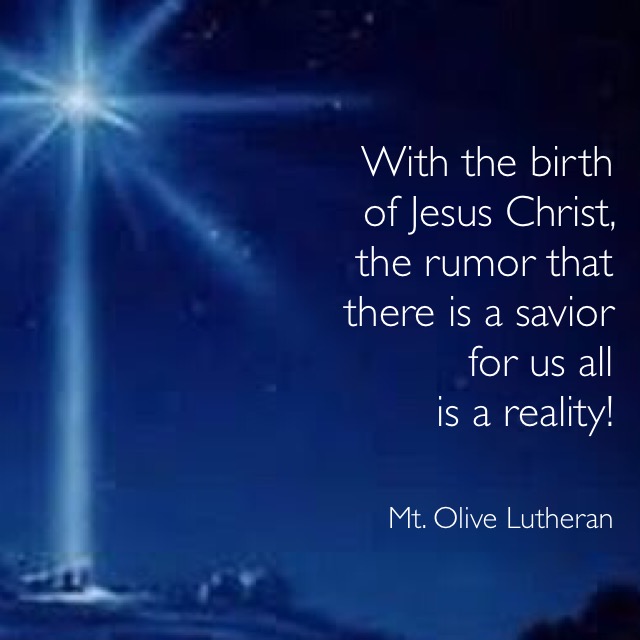 So said St. John in the beautiful words which end our Gospel lesson this Christmas Day. The word became flesh – the rumor is reality!
Do we listen to such rumors? Or, do we move through Christmas with unhearing ears, choosing to discount reports of a God who took on human flesh to walk among us so that human creatures, like the earth, could be born anew. At times during the Christmas season there are words and sounds and sights which can catch our attention and may even make our hearts leap with hope – the carols, the candles, the lights of Christmas. But, then, as Christmas passes, we walk dully back to our narrow cells of existence. Convincing ourselves that the rumors were just mere fantasies wrought by sentimental holiday feelings, we passively allow ourselves to be locked up again into a world walled in by our limited moral perceptions.
Even so, we preserve some dim awareness of the promise that Christ's coming may bring spiritual transformation. If we could lift this hope out of our dim awareness, we could walk free of our personal prisons, discover new beginnings, and begin our own pilgrimage towards real fulfillment.
John's Gospel for today tells us this. John writes of the Word that came among us in Jesus Christ. John speaks of beginnings and light and truth and life, all because of God's love for us in Christ Jesus. In John's time, men and women had heard for centuries through law and legend of God's faithfulness in mercy and gracious favor towards God's children. But, in one liberating moment, the prison doors that shut off human from divine reality were set ajar. That moment was the birth of our Lord and Savior Jesus Christ. In the person of Jesus Christ, who came to set prisoners free, rumors have been validated. "And the Word became flesh and lived among us, and we have seen his glory, the glory as of a father's only son, full of grace and truth." And John goes on to say that we have received grace upon grace, love upon love, from this gift.
Do we, you and I, do we believe in the reality of this rumor? John suggests that a key to liberation from all that binds us is our response. The rumor will never be a reality for us in our minds and hearts if we insist that it must be a reality that we can see and touch. Spring came in the greening hills and blooming flowers for the prisoners in Watson's poem even though they could not see them. Only with the eyes of faith, washed by the waters of God's grace and love, only with the eyes of faith can we perceive the reality of the rumor of God's love in the person of Jesus Christ.
I have seen it again and again in my life and ministry. A person is racked by disease with only days to live. However, somehow that person finds the strength to go on. Though his body may be drained of strength, his spirit and mind somehow keep sending out signals of life. I have asked people in these situations how they do it, how do they keep going in the face of death itself. Is it courage? Stamina? Training? The answer is always the same: It is faith. Faith that helps a person continue to believe when everything else appears to be falling away.
"He who believes in me has eternal life." Those are Christ's words from John 3:15. That is no rumor. That is reality for people of faith, whether they are near death or not. Such people are no longer prisoners of this world. Even when their bodies are dying, they are walking free!
Christmas Eve is over and Christmas Day is here and will soon pass, but we, too, may walk in the freedom of God's love for us in Jesus Christ. The rumor is reality. "The Word became flesh and lived among us, and we have beheld its glory, the glory as of a father's only son, full of grace and truth."
With the birth of Jesus Christ, the rumor that there is a savior for us all is reality. The Lord is with us. Always.
Alleluia!


The Rev. Eric Christopher Shafer
Senior Pastor - Mt. Olive Lutheran Church
Santa Monica, California
---
Rumor and Reality
Sermon for Christmas Day
Written by Rev. Eric Christopher Shafer.
December 25, 2015
Mt. Olive Lutheran, Santa Monica, California