Sermon for Fourth Advent -
The Rev. Eric Christopher Shafer. -
Many of us here today are old enough to remember the fall of the Iron Curtain (and the Soviet Union) in 1989. The entire world was mesmerized and amazed at how quickly the Soviet empire crumbled. We watched and cheered as people joyfully put sludge hammers to the Belin Wall. Most of us had never imagined we would see this wonder in our lifetime and what was even more amazing is that it all happened with little or no bloodshed.
What some people do not know is how rooted this change was in church and song. As scholar David Lose notes, for several months before the fall of Berlin, the citizens of Leipzig gathered by candlelight every Monday evening around St. Nicholas Church to sing. Over two months their numbers grew from a thousand or so to more than 300,000 people, more than half of Leipzig's population. And what do they do as they gathered? They sang – songs of hope and protest and justice, until their song shook the power of the nation and changed the world. Lose notes that when one of the East German secret police officers was later asked why the secret police, the Stasi, did not crush this protest as they had others in the past, the officer replied, "We had no contingency plan for song"!
We could list other examples in recent and not-so recent history of how singing is linked to resistance. The songs of African American slaves in the 1700's and 1800's – "Let My People Go." The songs of the Civil Rights movement in the 1960's and 1970's – "We Shall Overcome." And more. Songs sung when change did not seem possible and open protest put one at risk, but singing together made a difference.
Mary and Elizabeth in today's Gospel lesson knew about singing and resistance, too. Think of just how ridiculous their situation was – two women: Elizabeth, too old to bear a child, but pregnant with John the Baptist, and Mary, so young she was not yet married, yet pregnant with Jesus. Both called to bear children of promise through whom God would change the world. They were far from the courts of power and influence of their day. The world would pay little attention to them. They probably lived a hard life under Roman oppression. And yet when faced with the long odds of their situation, they did not retreat or apologize or despair, they sang. They sang of their confidence in the Lord's promise to upend the powers that be, to reverse the fortunes of an unjust world, and to lift up all those who had been oppressed.
You see, when your back is up against the wall and all looks grim, one of the most powerful things you can do is sing.
Refrain: All that I am sings of the God who brings new life to birth in me. My spirit soars on the wings of my Lord.
1. My soul gives glory to the Lord, rejoicing in my saving God,
who looks upon me in my state, and all the world will call me blest; For God works marvels in my sight, and holy, holy is God's name.
2. God's mercy is from age to age, on those who follow in fear;
Whose arm is power and strength, and scatters all the proud of heart; Who casts the mighty from their thrones and raises up the lowly ones!
3. God fills the starving with good things, the rich are left with empty hands; Protecting all the faithful ones, remembering Israel with mercy, the promise known to those before and to their children forever!
With all of the terrible news of these recent weeks, you may have missed a terrible anniversary this past week – it was the third anniversary of the killings of innocents at Sandy Hook Elementary School in Newton, Connecticut. Scholar Lose writes of the power he felt the Sunday after these December shootings when the hymn he sang in church was O Come, O Come, Emmanuel, a song of resistance if there ever was one –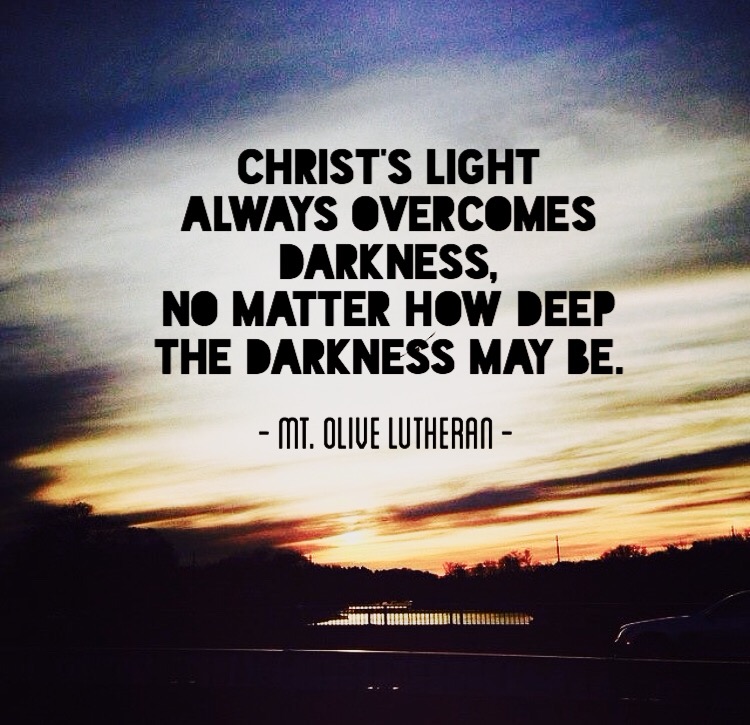 O come, O dayspring, come and cheer; O Sun of justice, now draw near. Disperse the gloomy clouds of night, and death's dark shadow put to flight. Rejoice! Rejoice! Emmanuel shall come to you, O Israel
Singing of light in a world of darkness is the ultimate act of resistance. A perfect image and theme for the Advent season – Christ's light always overcomes darkness, no matter how deep the darkness may be.
Luther Seminary's Gracia Grindal writes in a hymn "We light the Advent candles against the winter light." She did not write "because of" the winter light or "during" the winter light but wrote "against" the winter light, reminding us that the light of Advent, like the light of Christ, is a veritable protest to and resistance of the darkness that gathers all around us.
Caught between despair and optimism, Mary and Elizabeth remind us of another way – hope. Hope implies circumstances that are dark or difficult enough to require us to look beyond ourselves for rescue and relief so that we might hear again and anew God's promise to hold onto us through all that might come and bring us victorious to the other side.
Jesus Christ is the light of the world, Jesus' light shines in the darkness and the darkness does not, cannot overcome it. This light is the ultimate act of resistance. In the face of even deep darkness we still sing,
O Come, O come, Emmanuel, and ransom captive Israel, that mourns in lowly exile here until the Son of God appear. Rejoice! Rejoice! Emmanuel shall come to you, O Israel.
Amen.
The Rev. Eric Christopher Shafer
Senior Pastor - Mt. Olive Lutheran Church
Santa Monica, California
---
Sing and Resist
Sermon for Fourth Advent
Written by Rev. Eric Christopher Shafer.
December 19&20, 2015
Mt. Olive Lutheran, Santa Monica, California