Sermon for 6th Easter -
The Rev. Eric Christopher Shafer. -
"Peace I leave with you; my peace I give to you." So says Jesus in today's Gospel lesson from St. John, this 6th Sunday of Easter. "Peace I leave with you; my peace I give to you."
Peace. Think about this for a moment. Let your whole body feel this promise of Jesus – Peace I leave with you; my peace I give to you."
We usually think of peace as simply the end of violent conflict. And, of course, an end to violence is a good thing. Many of us have prayed for peace in the Middle East or peace in our community or even peace in our homes.
But the peace Jesus offers is more than the absence of something negative. It has its own presence and gravity. When someone reports feeling "at peace," for instance, he or she is reporting more than an absence of conflict but instead is testifying to a sense of wholeness, even rightness, of and in one's very being. This sort of peace is a sense of harmony with people and things around us. This sort of peace connotes a sense of contentment, a sense of fulfillment, a sense that in this moment one is basking in God's pleasure.
And this sort of peace can come even amid hardship, struggle, conflict, and disruption.
Think, again, of the timing of Jesus' promise: Once again, we are back on Maundy Thursday evening. This text is part of a very long section in John's gospel, what are called Jesus' "farewell discourses." It is the night of Jesus' betrayal, the evening when he will be handed over to those who hate him and who will take him away to be executed. And yet in that moment, Jesus not only senses peace but gives it to others.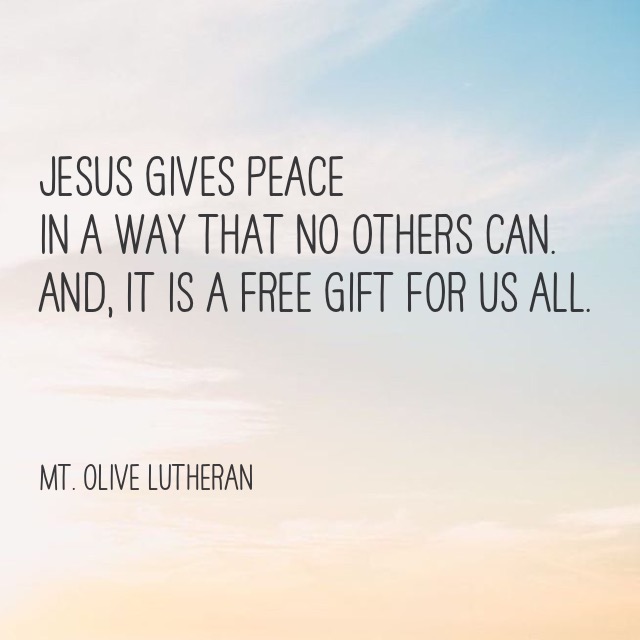 This peace is a gift of God, something we sense most keenly when we give over to God a certain amount of control of all the things that we worry about. Not that we surrender responsibility, but rather that we recognize there are limits to what we can affect or achieve on our own, and sensing those limits, we place ourselves, our loved ones, our fortunes, and our future in God's hands. And God's response is to give us peace, a peace that allows us to lift our gaze from the troubles that beset us and see those around us as gifts of God worthy of our love and attention.
And, Jesus adds that this peace is not given as the world gives peace, when he says, "I do not give to you as the world gives." This is God's peace, not the world's peace.
Of course, I am not sure if the world gives any peace at all! All too often, the rules of this world appear to be that you have to earn anything which is worthwhile and you need to look out for yourself. The rules of this world suggest that there is simply not enough to go around, that one is in a constant competition with all others for scarce resources. That is certainly the message of this world, one that has only been amplified this political season!
Peace, from this perspective, is at best a break, a moment of rest, a brief lull in the fray of everyday life, in the constant need to compete, secure, hoard, and protect.
But Jesus gives peace differently than the world gives it. Jesus gives freely, with no expectation of return, only the hope that, transformed by this peace, we might pass it on, giving others the gift we have received.
Here at Mt. Olive we include the "Passing of the Peace" in our Sunday worship services. It is a valued time for our community. Visitors often remark that it is part of the friendliness and warmth they sense here at Mt. Olive. And, often, I have to bring it to a close with words something like, "And now we will receive your gifts in the Offering."
However, the peace that Jesus offers us goes even further than the wonderful fellowship we feel as we share the peace during worship. This peace is a promise that no matter what happens, God will not abandon us, that God is always working for our good and through us for the good of our neighbor and the world. It is a peace that catches and holds us, a promise that God loves us more than anything and will hold onto us through all that may come. It is a sense of God's deep purpose, one that we not only experience but also share with others.
For me, I find that I need, crave, and covet this kind of peace. And, truth to tell, I sometimes find it rather illusive. Too often we accept what the world offers as peace only to discover it is a counterfeit promise.
You see, God's peace isn't something you can seek or grasp but only receive. Only when we release our grip on the many things we are trying to hold onto do we discover open hands that can receive God's gift of peace.
And, even in the moments when we are convinced that it is all up to us, God is still there, offering us God's peace, a gift the world cannot give.
A gift the world cannot give.
Many of you know that I spent time in Jerusalem and the West Bank this past January. Jerusalem and the West Bank are far from a place of worldly peace. It is a place of nearly 70 years of conflict between Israelis and Palestinians. Wherever I went in January, I asked Palestinian Christians about their hopes for the future, especially for the possibility of peace finally coming to the Holy Land, the possibility of a free Palestinian state. To a person everyone I spoke with responded that they were not optimistic and that their day to day lives had even become more difficult in the past few years. And, to a person, they responded that as Christians they remained hopeful for peace in Jerusalem and the West Bank.
Hopeful for peace even in the midst of hardship and struggle.
Certainly a peace that the world does not and can not give.
Jesus says, "Peace I leave with you; my peace I give to you." Take a moment to bask in that peace, in the confidence that God loves us and wants to use us for good in this world.
Jesus gives us peace in a way that no others can. And, it is a free gift for us all.
In the "Passing of the Peace" we say "the peace of the Lord be with you." God's peace. Not as this world gives. Peace – God loves us and wants to use us for good in this world. A gift the world cannot give, but God can and does.
Peace I leave with you. God's peace from Jesus to me to you all.
Amen.
(With thanks to the Rev. Dr. David Lose for his Bible work used in this sermon.)
The Rev. Eric Christopher Shafer
Senior Pastor - Mt. Olive Lutheran Church
Santa Monica, California
---
Peace
Sermon for 6th Easter "C"
Written by Rev. Eric Christopher Shafer.
April 30 / May 1, 2016
Mt. Olive Lutheran, Santa Monica, California