Sermon for Seventh Pentecost -
Different Perspectives
By Vicar Julie A. Kelly -

Sisters and brothers, community of Christ, greetings and peace to you.
In case you haven't noticed it yet, I have a tendency to look at the underside of things. I like to see them from different perspectives. Perhaps it is years of experience in military life and different cultures that required I look at all the angles trying to see what others see- or rather, to discover I was missing in the first place.
I cannot help but apply this to scripture as well. In my attempts to be Christ-like as a leader, but also as a follower, I read the text and then ask, what is the other side of the story? What is the other perspective? What is the unspoken or in between the lines message?
Doing this is essential to deeper reflection on Bible passages. It is also really uncomfortable. Awareness is awkward. I see and hear things I don't want to know exist- because then, I cannot deny the call to "do" something about them.
For example, I helped paint the island cupboard doors recently and needed to get on the floor to paint the trim- that also meant I got the wonderful opportunity to see what was under the seating area of the island. You can imagine, it was uncomfortable for a lot of reasons. First, the floor was hard and had not been mopped that day. Second, much like restaurant tables, the underside was, well, nasty. It had gum and dirt, spills that had been missed in clean ups and what might have even been boogers stored away in a hidey spot by the sneaky picker. It wasn't pretty. But it was necessary. And it also made me that much more aware of what really happens in that space. It balanced my view-point and it made me take action to care for that unattended part of the island.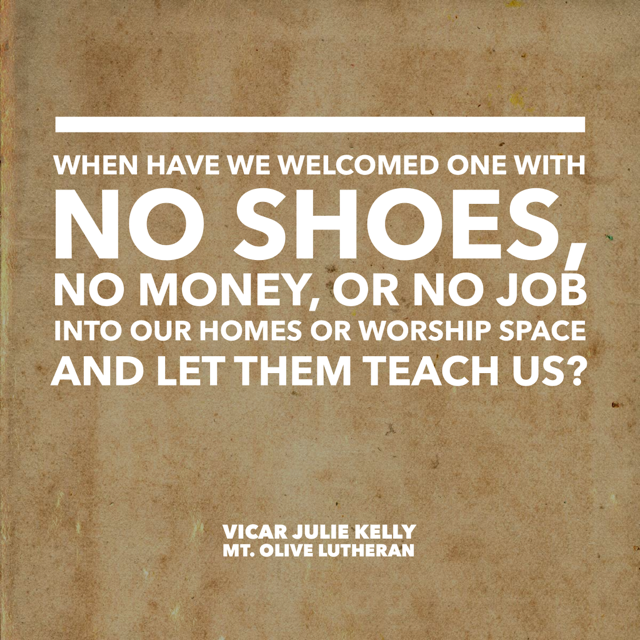 In much the same way, our reading of Biblical texts should include our engagement of the underside of the text- the uncomfortable things that we must face about ourselves and our community. It is the looking in the mirror and getting on the scale kind of moment when we hold ourselves accountable and are honest about who we are and what we do or don't do. Sometimes what we have believed is true, others, we find a gross under or over exaggeration.
No child imagines themself the bumbling or evil character in a Disney movie- rather, every little boy is the saving Prince or Knight, and every girl, the Lovely Princess. So if we are honest with ourselves, we assume that we in the church are, of course, the disciples in this Gospel story. Of course we are also the home and city that welcomes the disciples, too. We are the church, and by default we believe we are the good ones in the story who welcome those sent by Christ and neighbor into our midst.
Except when we aren't and when we don't. As I read that gospel of Luke, I could not help but wonder how many times I thought that I was the disciple sharing Christ with others, only to look back and realize, I was the unwelcoming one, the one who denied hospitality and in doing so, denying Christ in my life.
Like most people, I believed that doing things the way I have always done them, and the way almost everyone else is, was the right and hospitable thing to do- it was, of course, welcoming, and Godly. We assume that we are the ones teaching, offering, giving, providing, inviting; we're the generous ones. We rarely see ourselves as the ones in need, the ones learning, begging, shoeless, uninvited, and most importantly, receiving. The rare times we relate to that role, we always see ourselves as the home that welcomes the disciples, and never, ever as the ones who turn them away.
But I have to tell you, it occurs to me that it is egotistical and prideful to believe that we as a church are never the ones who do not welcome the disciple, that we are never the ones who do not force them back out into the street to wipe our dust off their bare feet, we are, of course, never the ones who fail to offer them radical hospitality. We assume that we are always the disciples or at the very least that we are the welcoming home and that the way we do things, the history we hold, our traditions, our words, our ways are the right and welcoming ways.
This may be feeling a lot like a sermon on law. It may feel cruddy- and that is intended. It is my prayer that you are as uncomfortable with this as I was, as convicted by this thought and maybe even angry with me. If you are convicted, if you are uncomfortable, if you are angry, then I am doing my job- revealing our all too human prideful nature and the gorgeous gift of Christ's salvation.
And so, with that bruising honesty, comes the balm of Christ for you too.
We are never just one person, one role, in the stories of the Bible. We are always a little Martha and always a little Mary.
We are always the Sinner who mocks Christ on the cross and the sinner who begs mercy
Always A little cain and a little Abel..
And thus, it is fair to ask ourselves when have I been the one who did not welcome the disciple. When has my congregation been the one who did not welcome the message of Christ? When has my community turned away the one who came to us with nothing but the Gospel to share with us?
We turn from Christ and from our fellow human more often than we ever wish to. Honestly, when was the last time we welcomed someone who had NOTHING to give to us but a story? When have we welcomed one with no shoes, no money, no job into our homes or worship space and let them teach us? Have we ever thought that replacing some pews with chairs is not about about comfort or decor, but instead, an opportunity to learn from those who will now use that space to us to show us the work of the Spirit in our community? When have we considered that the Bruin Shelter homeless students might have more to teach us than we do to offer them in return?
When have we considered that our own children might be the ones we turn away as a disciple when they teach us our use of gender in language hurts? Or that our failure to be honest and open to the gay community about our support or questions has hurt them and left them feeling unloved, unwanted, denied? When have our averted eyes with the overwhelmed mother, the lonely teen, the awkward person in worship, or the beggar on the corner been the moments that Christ would tell each of them to dust off their feet and move on?
We need to attend to the underside of our lives and our community.
Christ sent out 70 disciples in pairs- to be welcomed or turned away. We are all called to be those disciples, but we need to be aware, to be honest, that some days, more than we ever think, we are also the places and spaces that need to welcome the disciples- and not unconsciously, turn them away.
Take time this week and ponder- peel away the scales from your eyes, be washed clean by the promise of Christ and open your hearts and minds to the new opportunities all around you to welcome Christ into your life, your church, and your community.
Amen.
Julie A. Kelly
Vicar - Mt. Olive Lutheran Church
Santa Monica, California


---
Different Perspectives
Sermon for Seventh Pentecost
Written by Julie A. Kelly
July 3, 2016
Mt. Olive Lutheran, Santa Monica, California