Sermon for Eleventh Pentecost -
Fear & Love
By The Rev. Eric Christopher Shafer -

It is easy to fall into fear. And, these are fearful times. Mass shootings, terrorist attacks, a too slowly recovering economy. And, we could certainly add to this list.
And the Presidential campaign only adds to our fears. Candidates prey on the public's fears of those they do not know – immigrants, Muslims, gay and lesbian people, disabled people and more. Each Presidential candidate wants to tell us how terrible the other is. And, of course, we should be fearful if he or she is elected.
About two months ago I was preparing to lead our 11am worship service when a visitor pulled into our parking lot. He was a very large white man, all dressed in black – black tee shirt and pants and jacket. Holding a very large Bible. I am a fairly large guy and Ron Fink was ushering and this visitor was considerably larger than either of us.
I greeted this man and he responded with hostility. I tried again. Same response. After he sat down in church, I tried once more. A hateful response.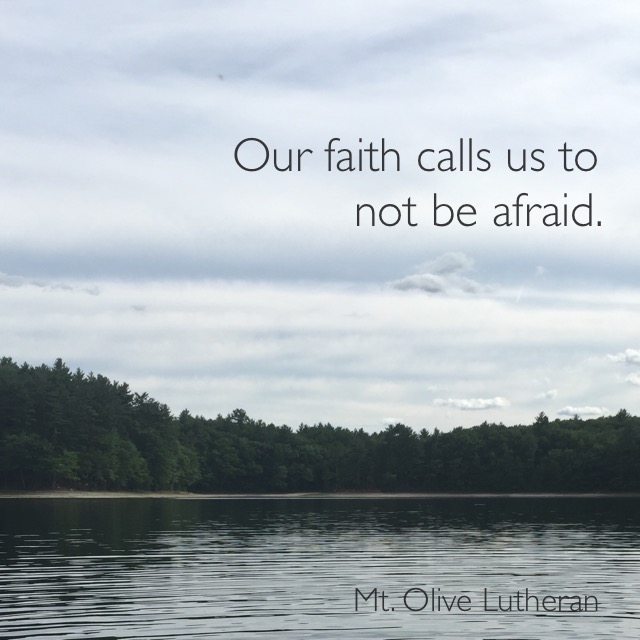 By now, I am a bit frightened and am about to lead worship and am uncertain what he will do. I am uncertain if anyone in this room is safe. And, for some reason, I have left my cell phone in my office.
Okay, time to lead worship. That was the weekend that Samantha assisted me with the sermon. The service and sermon went well. I ducked out during the Passing of the Peace to call Max Diamond, our facilities manager, to ask him to come by church as soon as he could, since I was not comfortable with facing this visitor alone after worship.
Sure enough, this visitor approached both Sam and me after worship to threaten us. Fortunately, he quickly left after that.
I will tell you I was frightened in a way I have never been during and after a worship service. Max and Ron and others were very helpful after worship and the Santa Monica Police met with me afterwards and were most kind and helpful. But I was still frightened.
I am not telling you this story to make you feel sorry for me or to add to your list of fears. I was and am fine. And this and another incident has helped our Council address security issues here at Mt. Olive. I share this incident because I just want you to know that I know in a very small way what fear is like. And, I know that many of you have faced, even are facing, many more fearful situations from military service to major health and family issues and much more.
More on fear later.
It is a simple story, really, the parable Jesus tells us in today's Gospel lesson this 11th Sunday after Pentecost: A worldly rich man is very successful. He marks his success, not by sharing with others, but by building bigger barns and larger storage units, all to store his excess grains and goods. His response to his good fortunate is to "relax, eat, drink and be merry." However, in place of the good life, Jesus tells us that the rich man in his story will only experience death because of his selfishness and greed.
Guard against greed. A person's life does not consist in the abundance of possessions. Jesus' words to the man in the crowd and to us all.
This is usually viewed as a stewardship lesson, a lesson in generosity, or, in this case, a lack of generosity. Generous people are following God's commands while selfish, greedy people are not. And God's commands include: Keep less, share more, give away more.
In my first congregation, one of my favorite couples loved to note that "there are no U-Haul trailers on hearses!" And that is so true.
However, I wonder if we might look at this parable from another point of view, that of community.
The text ends with these words, "So it will be with those who store up treasures for themselves and are not rich toward God."
How is one "rich toward God?" It seems to me that being rich toward God requires us first to be rich toward others. As scholar David Lose suggests, God, to paraphrase Martin Luther, needs neither our good works nor our wealth, but our neighbor does need our good works and our generosity.
So, perhaps this parable of Jesus is really more about community, the community in which we find sustenance and comfort and help and hope, and the community in which we experience life with God.
Look again at today's text – it begins with a break in community, an argument in a family. One brother comes seeking Jesus' intervention in a family squabble about an inheritance. And Jesus is just not going to get involved in this family squabble. Recognizing that what should have been an occasion for celebration, remembrance and gratitude – the giving and sharing of an inheritance – has instead been turned into a moment of division, Jesus refuses to get involved directly, but instead tells the story of a man so enraptured by his own good fortune that that ends up all alone.
Who was Jesus addressing? The man who brought the complaint? The man's brother? The disciples? The crowds? All of us today? Yes, all of these, but what is most important for us, of course, is how we hear these words of Jesus today. Because there is, right now, a profoundly and increasingly shared message out and about that we should not and cannot trust each other, that the world is increasingly dangerous and we should therefore be increasingly afraid.
And here's the thing, as they say, this kind of fear will not lead us forward, only backward. The regular and relentless biblical injunction "do not be afraid" is not offered simply to bolster our individual courage but to make it easier for us to turn to one another with our fears and our hopes and dreams and needs in order to form a community. The Bible warns us against fear because it is really hard to care for your neighbor and create community when you are afraid.
As I shared earlier from a very recent and personal experience, I get how fearful the events of these days can be. So much all around us seems to be changing and so much seems to be different than what it used to be. It is far too easy to retreat and close up into fear. And I really do understand, as a number of Mt. Olive members have shared with me, that all the troubles of these days can leave us feeling fearful, leave us wondering when and if the troubles of these days will ever end.
However, again and again, over and over, our Christian faith tells us to "love one another" and tells us "do not be afraid."
Our faith calls us into community even when life pulls us into our selves.
Our faith tells us to love one another even when politicians are calling on us to hate one group or another.
And, our faith calls us to not be afraid.
Have no fear is a hallmark of our Christian faith, from the angels telling the shepherds that first Christmas Eve not to fear, to the angel telling the women on Easter Sunday morning not to fear. Instead we are called to hope and love, just as God has loved, does love, and always loves each of us, all of us.
Have no fear. This is an important message for any and all days, but especially for these days when so many of our actions and decisions seem driven by fear, a lack of confidence in our leaders and each other, constant change, and a sometimes overwhelming sense of insecurity.
And, in the midst of our fears, this community, Mt. Olive Lutheran Church, is called to be a place of light and hope, courage and confidence as we welcome those struggling with fear and darkness. And, we can be this sort of place because we know, as we hear each and every Advent and Christmas season, we know that the light of Christ shines in the darkness, and the darkness does not overcome it.
The light of Christ shines in the darkness and the darkness has not, does not, and cannot overcome it.
One of my new favorite hymns is "You Are Mine." Its chorus always resonates with me:
"Do not be afraid, I am with you. I have called you each by name. Come and follow me, I will bring you home; I love you and you are mine."
God loves you and me. God calls each of us by name.
Do not be afraid.
Amen.
The Rev. Eric Christopher Shafer
Senior Pastor - Mt. Olive Lutheran Church
Santa Monica, California


---
Why Pray
Sermon for Eleventh Pentecost
Written by Rev. Eric Christopher Shafer
July 30/31, 2016
Mt. Olive Lutheran, Santa Monica, California