Sermon for 17th Pentecost -
Never Lost to God
By The Rev. Eric Christopher Shafer -

Everyone here over the age of 25 or 30 can probably tell us where they were when they first heard the news of the hijacked airplanes hitting the World Trade Center in New York City and the Pentagon near Washington, D.C. on September 11, 2001. My wife, Kris, and I were both working that day at the Evangelical Lutheran Church in America's churchwide office, an 11 story office building located near the O'Hare airport in Chicago.
As those of you old enough to remember will attest, it was a surreal day – at first, it was unclear if there would be other attacks in other cities. The Sears Tower in downtown Chicago (now called the Willis Tower, I believe) was evacuated twice that day. I understand there were evacuations even here in the Los Angeles area.
Kris and I had no idea if the ELCA office tower where we were working could be a possible target – a tall building near the O'Hare airport? Who knew? Presiding Bishop Anderson quickly announced that anyone who wished to leave was welcome to do so, but those who wished to stay (it was only 9am in the morning in Chicago) could do so also. Kris and I decided that, if we were to be killed that day, we'd rather be among our friends and colleagues, rather than home alone with just each other.
Sharing this now, it sounds a bit overwrought - I assure you that at the time, it was not.
I spent much of the day that day on the telephone with the Rev. Stephen Bouman, who was then the Bishop of New York City. Bouman's office faced the World Trade Center and he saw both towers fall. He also knew that both of his grown children were in that area of the city and was frantically trying to find them. (They were both later found and were safe).
As I tried that day to take this all in, my thoughts came back again and again to my favorite verses from Romans 8:
31What then are we to say about these things? If God is for us, who is against us?32He who did not withhold his own Son, but gave him up for all of us, will he not with him also give us everything else?33Who will bring any charge against God's elect? It is God who justifies.34Who is to condemn? It is Christ Jesus, who died, yes, who was raised, who is at the right hand of God, who indeed intercedes for us.35Who will separate us from the love of Christ? Will hardship, or distress, or persecution, or famine, or nakedness, or peril, or sword?36As it is written, "For your sake we are being killed all day long; we are accounted as sheep to be slaughtered." 37No, in all these things we are more than conquerors through him who loved us.38For I am convinced that neither death, nor life, nor angels, nor rulers, nor things present, nor things to come, nor powers,39nor height, nor depth, nor anything else in all creation, will be able to separate us from the love of God in Christ Jesus our Lord.
Nothing can separate us from the love of God. Nothing.
I think this is one of Jesus' lessons for us from today's Gospel lesson this 17th Sunday after Pentecost, Luke's telling of Jesus' parables of the lost coin and the lost sheep: God will go to any lengths for us. God will always watch over us, even when we are lost to others and even when we feel lost to ourselves.
Nothing can separate us from the love of God.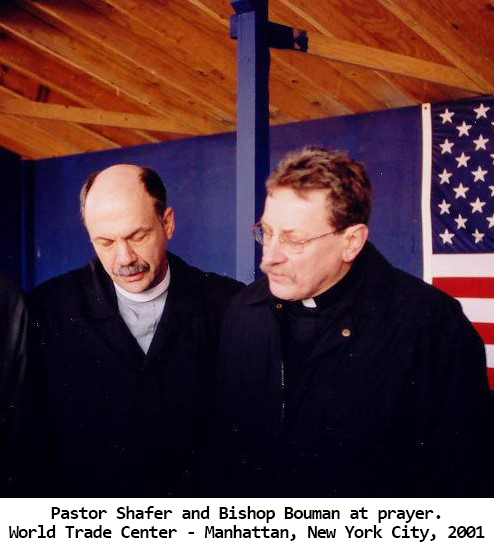 Several weeks after the 9/11 attacks, Kris and I were able to accompany the Presiding Bishop on a visit to New York City. At that time, the World Trade Center site, by then called "Ground Zero," was still an active crime scene and not open to the public. Because we were with the Bishop and other officials of the ELCA and the Lutheran Church – Missouri Synod, we got into the site and were able to view the site from the Mayor's viewing platform already constructed near the hole in the ground where once the towers stood. The earth still smoked and smelled of burning flesh. Flag draped bodies continued to be brought out. We were looking into a very large cemetery. I remember returning to our hotel room that night and trying to write reflections of that day. All I could do was weep.
What I also remember well was that the area around the "Ground Zero" site was surrounded with reminders of all those who had been lost that day. In those early days after 9/11 in lower Manhattan every open wall space seemed to be filled with photos and stories of loved ones who had been lost in these attacks. Initially, the photos were posted in a frantic search – "Could my loved one still be alive" – Now they are filled with tributes and messages of love and care for always.
Father Mychal Judge, a Roman Catholic priest and New York City Fire Company Chaplain, became a hero and symbol on 9/11. You may remember the photo of his collapsed body, looking very Christ-like, as rescue workers carried him away from the World Trade Center site where he had collapsed that day.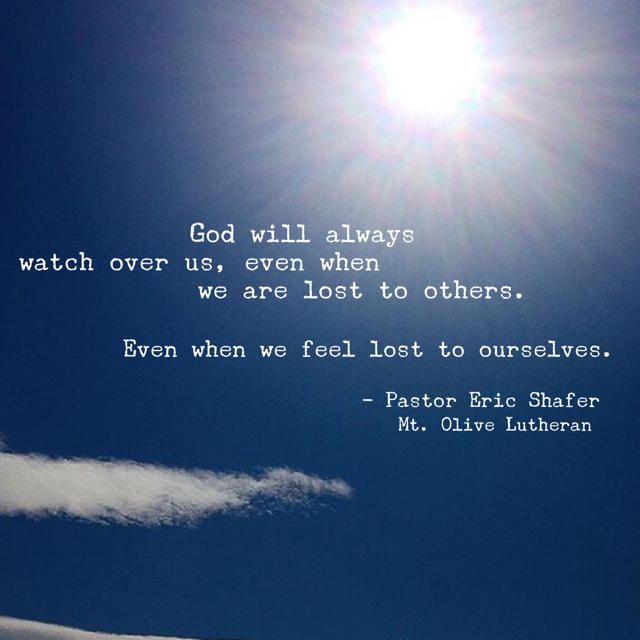 On the day before he died, Father Judge said this in his morning homily – "Thank you Lord for life. Thank you for love. Thank you for goodness. Thank you for work. Thank you for family. Thank you for friends. Thank you for every gift because we know that every gift comes from you, and without you, we have and are nothing. So, as we celebrate today in thanksgiving to you, keep our hearts and minds open. Let us enjoy each other's company and, most of all, let us be conscious of your presence in our lives …. And, Father, we make our prayer, as always, in Jesus' name who lives with you forever."
As we are honoring first responders today I want to repeat one story I have shared previously with you from those days after the 9/11 attacks: While Kris and I were in New York City, viewing the "Ground Zero" site shortly after these attacks, New York City Bishop Stephen Bouman told us of pastors and priests who, on September 11th, immediately went to the World Trade Center site and began to anoint the fire fighters with oil and the sign of the cross on their foreheads as the fire fighters entered both buildings. As the office workers came down the stairs, fleeing the towers, the firefighters went up the stairs to what we now know were their certain deaths, their anointed foreheads glistening with the mark of the cross.
They were headed to certain death, but they were not lost to God.
Romans 8 again: "I am convinced that neither death, nor life, nor angels, nor rulers, nor things present, nor things to come, nor anything else in all creation, will be able to separate us from the love of God in Christ Jesus our Lord."
Nothing can separate us from the love of God.
With Father Judge we thank God for love and life, for goodness and work, for family and friends. And for all those who protect and care for us, this day and every day.
The Rev. Eric Christopher Shafer
Senior Pastor - Mt. Olive Lutheran Church
Santa Monica, California


---
Never Lost to God
Sermon for 17th Pentecost
Written by Rev. Eric Christopher Shafer
September 10 & 11, 2016
Mt. Olive Lutheran, Santa Monica, California