Sermon for 19th Pentecost -
Life with Jesus Today
By The Rev. Eric Christopher Shafer -

I knew him as Ike and my friend, Mat, knew him at Maurice. I'm guessing that his given name was neither of these, but that is really unimportant.
I met Ike on the corner of 116th and Broadway in New York City. Actually, I saw him begging there regularly before I actually met him and got to know him. I later found out that Ike lived in a city park area near Grant's tomb where there is a steep hill of trees and shrubs. A good place to sleep and to hide from others who might hurt him.
I helped Ike regularly with a dollar or so. One rainy day I gave him an umbrella, on another cold day a jacket. Others helped him, too. Many others ignored him.
It was not long before our relationship became more than charity. Ike became my friend. He did not relate to me as a pastor, I was hardly ever in a clerical collar those days, just as a friend. One day, Ike saw me and collapsed in tears in my arms. His long time girl friend had died. He did not want money, although he certainly needed it for her funeral expenses, he wanted and needed a shoulder to cry on.
Something was wrong with Ike's eye. It looked like a long-ago injury that wasn't treated well when it happened. He finally told me what had happened – he had defended a woman, kept her from being beaten by another man, and lost the sight in that eye from the injuries of that fight. "I'd do it again, Eric," Ike told me without hesitation.
Walking to work on the upper east or west side of Manhattan, well, actually, walking most anywhere in Manhattan outside of mid-city, you have to make some choices about how you relate to homeless people and others begging on the street. And, I am not ready to say that one choice is better than another. You just have to choose how and if and when you will respond. And, there is no way you can respond to everyone who asks for help. Just no way.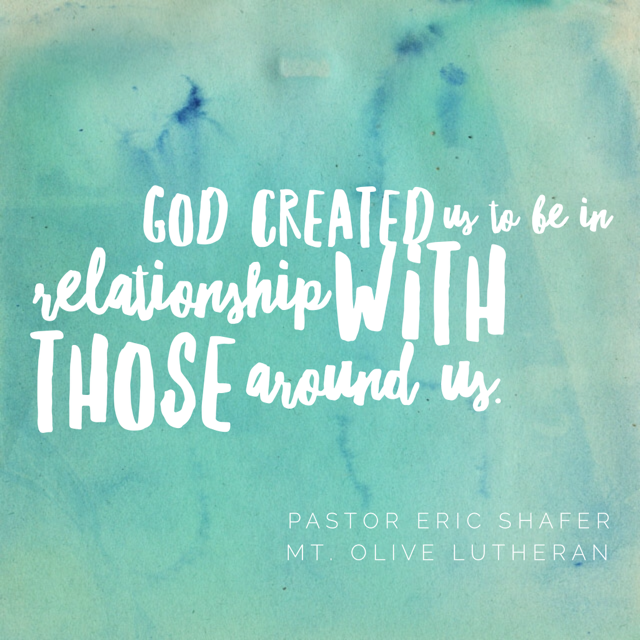 I chose to get to know several homeless men and help them regularly. And, if they were willing, to get to know their "back story," so to speak. Thus, about four older men in Harlem became my regulars. I helped them when I could. We spoke whenever we saw each other. Some became friends, others just regular acquaintances.
I thought of Ike and them all when I read today's Gospel lesson this 19th Sunday after Pentecost, Jesus' parable of an unnamed rich man and a poor man named Lazarus. And, of course, I could not help but think of the homeless college students we soon will be welcoming into the Bruin Shelter in our Parish Hall.
Many interpreters treat this parable as Luke's straight-forward call for all of us to help the poor, to not ignore the poor at our door step as the rich man in Jesus' parable did. There are consequences, Luke tells us, to ignoring the poor at our door, consequences which may be eternal. And that is certainly an accurate interpretation of this text.
Others want to talk about heaven and hell, our life after this life. That may be a popular interpretation, but it is not supportable by good scholarship. Jesus spoke very rarely about Hell, Hades as it is called in today's text, and only in his parables. And, this lesson's version of Hades is very Old Testament – no St. Peter at heaven's gate, just Abraham.

I believe this text is more than either of these interpretations. I agree with scholar David Lose who suggests that this text is not about the afterlife, but about our lives right now.

Lose suggests that two things in this parable lead us to this conclusion.

First, the separation, called a "chasm' in this text, the separation that is fixed between the rich man and Lazarus in the afterlife in Jesus parable is not new and it is a this-world, not an afterlife, separation. Indeed, that chasm was fixed years before and then reinforced every time the rich man came and went into his sumptuous abode to feast at his rich table and ignored Lazarus. He obviously knew Lazarus was there and understood his plight, because he knows Lazarus by name. Yet he did nothing. Further, even in the afterlife the rich man continues to treat Lazarus as a non-entity, a servant who should fetch him some water or, failing that, be sent as a messenger to his brothers. Even in the afterlife, the rich man does not address Lazarus directly – Lazarus is still a non-person. In both his earthly life and in the life to come, the rich man refuses to see Lazarus as a person, a human, a fellow child of God, and so ignores him and his plight.
And, in today's Gospel text, seeing others is very important. Because before you can have compassion for people, you have to see them, acknowledging their presence, needs, and gifts and above all their status of children of God worthy of respect and dignity. This the rich man utterly fails to do. Thus, the separation between them in this story's description of the afterlife is only a dramatization of the one that existed before, to the detriment of both, for no good comes from setting up walls between the children of God.

I believe that Luke's main point is less about warning us about punishment in the next life and more about urging us to the abundant life in this life, and abundant life that comes only in seeing those around us as God's beloved children deserving our care, attention, and fellowship.

The climax of the parable also reinforces a more "this-worldly" interpretation. After failing to summon Lazarus to bring him water, the rich man entreats Abraham to send Lazarus to warn his brothers. Abraham's response is interesting: they already have all the counsel they need in the law and prophets. But the rich man will not relent, arguing that testimony from beyond the grave will be more convincing. And Abraham's answer to this is now not just interesting but striking: "If they do not listen to Moses and the prophets, neither will they be convinced even if someone rises from the dead" (16:31).

So, who is the real subject of this parable? With Dr. Lose, I would suggest that the unrepentant but chastened rich man is not truly the subject of this parable at all.

We are. We are the ones for whom someone DID rise from the dead. We are those who, along with the community for whom Luke originally wrote, know the resurrected Lord. We are the ones who have the law and the prophets and have seen God's compassion embodied in the life and ministry of Jesus. We are the ones who gather each week to celebrate his victory over the grave, forgiveness of sin, and the possibility of living in light of God's grace, mercy, and abundance. We are those who follow the crucified and Risen Lord.
The question for us, then, is does our faith make any difference? Does our faith in and experience of the Risen Lord help us see those we would prefer not to see and regard those around us as worthy of compassion, respect, and honor? Does the testimony of Christ, who has conquered death and called us to follow him, do Christ's teachings make any difference in our lives?

Luke is interested in whether our faith shapes our lives right now. Because Luke knows that we simply cannot live into the abundant life God offers us here and now alone. Abundant life comes via community, when we see those around us as gifts of God and experience the blessing of sharing what we have with others.
There's a reason that many studies show that generous people are happier than stingy ones – God created us to be in relationship with those around us and we experience the fullness of the life God intends and offers only when we embrace the people God has set in our path.

I believe that this parable is not about earning or relinquishing an eternal reward; it's about the character and quality of our lives right now. For Luke eternal life is not a distant reality at all but rather starts now, each time we embrace the abundant life God offers in and through those around us.

While today's Gospel lesson is certainly a warning not to overlook those around us in need, it is also an invitation to live into fuller, more meaningful, and more joyous life by sharing ourselves – our time, talents, and certainly our wealth – with those around us here and now. For as we do, we live into the life and kingdom God outlines in the law of Moses, clarifies in the prophets, and makes manifest and available to all in the life, death, and resurrection of our Lord.

Because of Jesus Christ, we can live fuller lives, more meaningful lives, more joyous lives by sharing ourselves – our time, talents and our wealth – by sharing ourselves with those around us.

Amen.

(With thanks to the Rev. Dr. David Lose for his Bible work used extensively in this sermon).
The Rev. Eric Christopher Shafer
Senior Pastor - Mt. Olive Lutheran Church
Santa Monica, California


---
Life with Jesus Today
Sermon for 19th Pentecost
Written by Rev. Eric Christopher Shafer
September 24-25, 2016
Mt. Olive Lutheran, Santa Monica, California