Sermon for 20th Pentecost -
Signs of Hope Abound
By The Rev. Eric Christopher Shafer -

I don't know about you, but it is not hard for me to get discouraged when I look at the world around us. I am so tired of this contentious political campaign and so sick of hearing of another shooting of an unarmed black man. The world refugee crisis appears to be overwhelming. Acts of war and terrorism appear to have no end. Global warming is an undeniable fact and is happening – the condo Kris and I once owned on Martha's Vineyard could be under water in as little as 25 years! 60 Minutes reports that Russia may be willing to use nuclear weapons to make a military point. And I am sure you could add your own points to this sad list.
It seems as if there is no hope.
In today's lesson from St. Luke's Gospel this 20th Sunday after Pentecost, Jesus' disciples appear to be a bit discouraged. And who could blame them? What they thought they had signed up for, a new kingdom of God here on earth, just was not happening. Moreover, Jesus seems determined to head in a direction they have difficulty understanding. What is all this talk about going to Jerusalem to die? They sure did not sign up for that!
So, in today's lesson, the discouraged disciples ask for a little help. Please, Jesus, they say, help us understand what is happening all around us. Please, Jesus, they say, increase our faith.
Not an unfair request at all. Tough times are all around. Things are not going the way the disciples had hoped. Help us understand it all, Jesus!
And you might think that Jesus would welcome their request, but he does not. Instead, Jesus almost seems to rebuke them. "If you had even a speck of faith…," he begins, implying that they actually do not have faith even the size of a mustard seed, which, as you may know, is a very small seed.

What kind of way is that to respond to the disciples' earnest, even heartfelt question?

Scholar David Lose suggests that the disciples, once again, are missing something, something major, the miraculous presence of God all around them and the totally-sufficient faith they already have.

Jesus seems to be saying that we, as people of faith, have work to do. Faith is simply the willingness to do what needs to be done. Faith is not, in other words, some kind of scarce resource that needs to be saved, spent, added to, and all the rest.
Moreover, faith isn't always heroic. Indeed, it usually isn't, but instead is simply and humbly doing what needs to be done, big or small, great or mundane, just because it needs doing.

This isn't the first time Jesus has hinted at this. At this point in Luke's Gospel, Jesus has already named as faithful a woman's desperate confidence that if she only touches him she will be healed, a centurion's concern for a sick servant, and a woman's gratitude at being forgiven. Soon he will also call faithful a Samaritan leper who returns to thank him for healing and the plea of a blind beggar for sight. And so it perhaps shouldn't surprise us that Jesus challenges the disciples' perception about faith by pointing them to the far from noteworthy hard work and service of a servant performing his duties.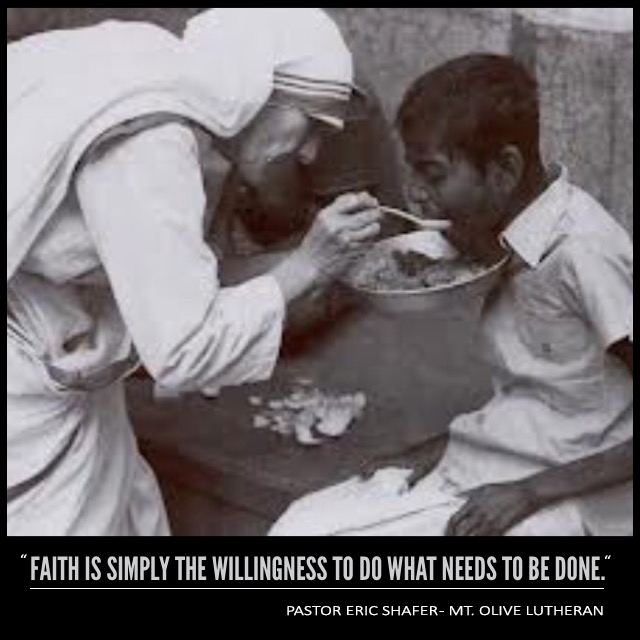 Jesus is saying that faith is found not in the mighty acts of heaven but in the ordinary and everyday acts of doing what needs to be done, responding to the needs around us, and caring for the people who come our way.

I believe that Jesus is telling his disciples, and us, that we are making it all too complicated. So many of the things we do each week, the mostly unnoticed things, are part of our faith life, they are ways we are faithful in our daily lives. Showing up for work and doing a good job. Listening when someone needs to talk. Getting the kids off to school. Sitting with someone in the cafeteria who looks like they could use a friend. Volunteering at a local homeless shelter. Voting even if the field of candidates seems discouraging. Balancing the books for your business or community group. Writing a thank you note to someone who has done a kindness. Cooking supper. Praying for a neighbor who is having a hard time. The list could go on.

And that's the point. None of these is any big deal, and yet it is just these kinds of acts that occupy so much of our lives.
Most of us would not think of these activities as acts of faith, they are just what we do each day.

Somehow, an "act of faith" seems like it needs to be significant or costly or even extravagant to merit God's attention. And that misperception isn't really new. Martin Luther, writing 500 years ago, once even extolled the virtue of a father changing diapers (emphasizing father because that was so extremely rare, and probably considered unbecoming, at the time): "When a father goes ahead and washes diapers or performs some other menial task for his child, and someone ridicules him as an effeminate fool…God with all his angels and creatures is smiling."

There are, my friends, signs of hope all around us. And they are not flashy signs.

Think of all the ordinary things you do each day in faith. Because you are a parent, a friend, a classmate, a neighbor, a colleague, a Christian. What if your ordinary acts of faith had not happened? And what if, this coming week, you and I find ways to offer more simple acts of faith.

When we read the headlines and see news of more shootings, more injustice, more war, it can seem like there is no hope. Yet all around us signs of hope abound. God is continuing to love and care for this world, even and especially through the simple, ordinary, even mundane acts of faithfulness.

And that is enough.

One more thing. When I am most discouraged, I find the hymns of the church helpful. Like this one.
In the morning when I rise, in the morning when I rise, in the morning when I rise, give me Jesus.
Give me Jesus, give me Jesus. You may have all the rest, give me Jesus.

And Jesus is always enough. In the face of discouraging news all around us, Jesus is always here for us. Our faith is more than adequate to the tasks at hand. Jesus is always here for us. All the rest can go. We have Jesus.

Amen

(Once again I am grateful for the Bible interpretation work of the Rev. Dr. David Lose, used in this sermon).
The Rev. Eric Christopher Shafer
Senior Pastor - Mt. Olive Lutheran Church
Santa Monica, California


---
Signs of Hope Abound
Sermon for 20th Pentecost
Written by Rev. Eric Christopher Shafer
October 1-2, 2016
Mt. Olive Lutheran, Santa Monica, California