Sermon for 23rd Pentecost -
All things work together for good for those who love God
By The Rev. Eric Christopher Shafer -

Last weekend I shared with you my favorite bible verse from Romans 8, "nothing can separate us from the love of God." This week I have been reflecting on what is, perhaps, my second favorite bible verse, also from Romans 8 – "all things work together for good for those who love God."
I thought of this text this week for many reasons. With our congregational meeting today, it seems appropriate to reflect on our life together during this past year. And I was struck by how rich and full my life is as your pastor, especially with the depth of our congregation's life that I have experienced in recent weeks and months.
As some of you know, I served as Senior Pastor of Trinity Lutheran Church in Lansdale, Pennsylvania from 2006 – 2009. Trinity is a very large congregation, the ninth largest in the Evangelical Lutheran Church in America, and I was the Senior Pastor with three other clergy and many other staff members. It was a wonderful congregation and experience.
Then a once in a lifetime opportunity appeared – Senior Vice President of Odyssey Networks in New York City! A way to connect my long-time interest in faith and visual media. A bit risky, perhaps, but worth it. So, we moved to Manhattan and experienced city life and apartment living.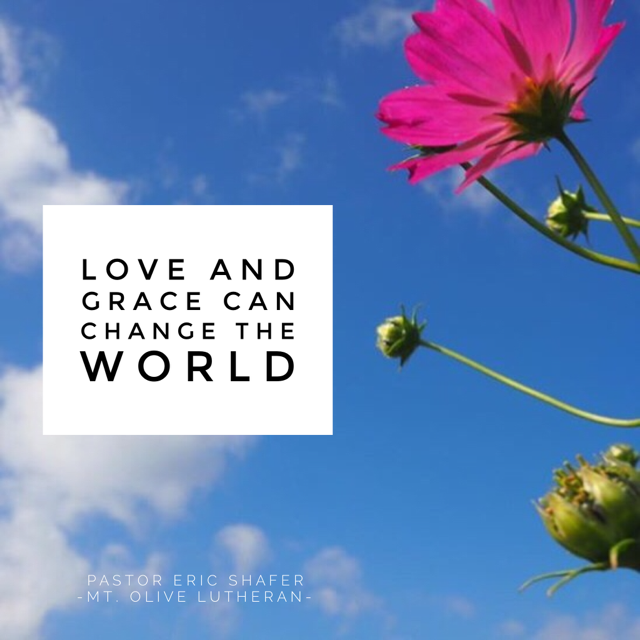 All went well at Odyssey Networks – my areas, membership and fund-raising, met and exceeded our goals. However, it soon became clear that we were overstaffed and under-funded. As the human resources person, I soon found myself laying off around 2/3 of the staff, including myself.
And then, in the midst of this terrible news, came the opportunity to come to Santa Monica and become your Senior Pastor!
This congregation looked to be a perfect fit for my skills and interests as a pastor. A congregation rooted in this community with a stated mission to be "church for the whole community." A small worshipping congregation with thousands served through its facilities each week. A large preschool and even larger 12 step ministries and much more.
What was most impressive for both Kris and me was the congregation's major work on a master plan for facilities and programming – an entire evening during the time we came to look at this congregation as a possible new call for me was spent on that plan. The message from the Council and Call Committee was clear – they were seeking strong pastoral leadership and this plan was an important touchstone for the congregation's future.
And, Mt. Olive has turned out to be all that and more for me as your pastor. We have focused on growing our congregation's membership and worship attendance and the response has been most gratifying – from an average 98 on a Sunday before I arrived to 136 last year with 93 new members since 2014. These new members tell me they feel welcomed here and appreciate our music and worship and, especially, our welcome for children. Our welcome for everyone is real.
And we have been blessed – three amazing interns, all very different from each other, a strong music program with the finest of musicians, an influx of new members, growing relationships with our preschool, a wonderful staff and a committed Council and other lay leaders.
There is so much to be thankful for here at Mt. Olive! I have referenced some of my thankfulness in my written report for our congregational meeting today – the new Westside Lutheran Youth Ministry, our continued growth in bible study, new worship opportunities and much more.
And this year the decisions to host the Bruin Shelter just reinforces this congregation's continued rooting in this community and forward movement for growth and ministry.
Of course, not everything has gone perfectly. We have some real challenges for our financial stewardship response as our Treasurer Larry Hunt has referenced in his report. And, some changes have been hard for some members.
I thought of this all this past week as I had what has become a fairly usual week as your pastor – times with members, leadership in this community, times of reflection and study and prayer and even some tough and strange times. And I thought how grateful I am to be here in this time and place.
This is the second sermon I wrote this past week – I had already written one closely related to today's Gospel lesson from St. Luke, Jesus' parable of the Pharisee and the tax collector at prayer. I decided that a reflection on our life together as a congregation was more important for this weekend and wrote this second sermon. However, the theme of today's Gospel is relevant to our congregation's overall life and ministry – as Christians we are called to be a clear voice for compassion and justice, rooted in respect and dignity for all, building up, not tearing down. And, rooted in God's continue love for us all, God's unconditional love we Lutherans love to call "grace."
On my first Sunday with you I shared some of what you might expect from me as your pastor and I said, "Here is what I believe is most important – we all live amid God's unconditional love for us." I also said, "If we really believe and remember that God loves us, we can live different lives, lives that are focused on loving each other and lives free from worry about what might happen to us in this life or the life to come." And I still believe that that love and grace can change the world. That will continue to be my focus as your pastor.
I've always liked the saying, "Want to make God laugh, tell God your plans!" How true that has been in my life and ministry. It was not in my plan to come to Santa Monica to be your pastor. However, I sure am pleased that it was in God's plan.
I thank God for you all each day. And look forward to our congregation's continued growth in service and love of God in this time and place.
The Rev. Eric Christopher Shafer
Senior Pastor - Mt. Olive Lutheran Church
Santa Monica, California


---
All things work together for good for those who love God
Sermon for 23rd Pentecost
Written by Rev. Eric Christopher Shafer
October 23, 2016
Mt. Olive Lutheran, Santa Monica, California