Sermon for 3rd Sunday of Advent-
Finding Our Way to Bethlehem
By Vicar Sharon Richter -

Each year during Advent, the church (we) set off on a journey to Bethlehem. Not literally, of course. This is a journey of the heart to find the baby Jesus. And we think we know the way. We can find it on the map. It's not that far from Jerusalem.
But the problem is that a whole year has passed. A year that brought many changes in our lives, some of them good, some of them not so good, some of them heartbreaking. We have to find our way on a road where even familiar things seem different.
And we have done some things, and thought some things, and said some things, that maybe we're not so proud of, you know? Even though we know we are forgiven, we continue to feel a little ashamed. Or if we don't, maybe we should. Those things are like obstacles in our path.
So how do we get to Bethlehem? We could use a little help.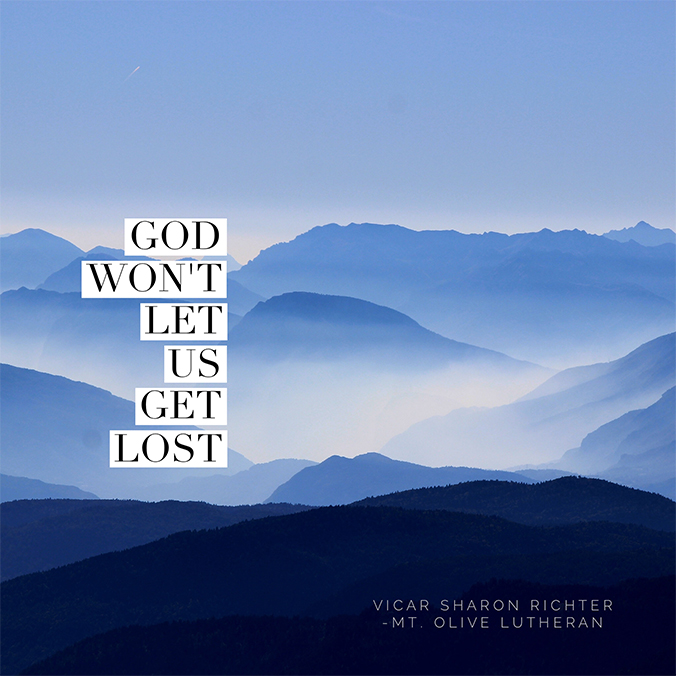 If you've always wondered why we spend Advent reading about John the Baptist, who is interacting not with the baby Jesus, but with the adult Jesus, that is why. We could use a little help getting to Bethlehem. Jesus tells us that it is John the Baptist's eternal role to show us the way. Jesus calls him "more than a prophet." He says, "This is the one about whom it is written,
'See, I am sending my messenger ahead of you,
who will prepare your way before you.'"
So John is here, in Advent, to show us how to get to Bethlehem.
Now, make no mistake: We can stumble around and get there anyway, probably. We can see the beacon of the Christ-child, after all, summoning us onward. We can go around all those obstacles on the road—all those sins and feelings of guilt, and all that darkness of the soul—God will let us go around them and ignore them. God won't let us get lost.
But John is not going to take us by a circuitous route. Last week Jesus told us that John fulfills the prophecy of Malachi to 'Prepare the way of the Lord, make his paths straight.'"
So John is determined to take us by the straightest possible path. We are going to confront all those obstacles—all the sins and guilt and darkness of the soul—and we are going to deal with them.
John the Baptist's approach is like this: There is work to do! Bring on the heavy equipment! Get out the bulldozers and backhoes, the rock crushers and road graders!
There are mountains that need to come down - mountains of intolerance and fear of the stranger. Those mountains block our way to healthy relationships with one another and with our Lord. We mustn't kid ourselves that these are little hills. They are mountains, standing in our way to the baby Jesus. "Tear them down," John says!
There are valleys to be filled - valleys of depression, despair, loneliness, grief, pain. They keep us from finding comfort in our Savior. They keep us from enjoying the fellowship of the faith. "Fill them in," John says!
There are crooked places to be made straight, even where we least expect it. Fine exteriors can mask rotten interiors of abuse, neglect, immorality, even violence. "Straighten the crooked places," John says!
There are rough places to be made smooth - rough places of oppression and injustice. Even when we haven't been the ones to strew those rocks in the path, even when we have tried to resist those injustices, we haven't yet swept them away. "Crush them! Sweep them away!" John says.
This is all very dramatic. John made his living being a dramatic person. I mean, camel's hair . . . how stylish! Locusts and wild honey . . . how tasty! But as Jesus said, "What did you go out into the wilderness to look at?" Did you expect someone wearing soft robes? No. The people went to see a prophet, and prophets are expert dramatists.
But there's another way to approach this task of repentance, for some of us who are not so bold and dramatic. Let me tell you an old story—some of you have probably heard it before.
There was a farmer who owned an old mule. The mule was not as strong as he used to be—not much good for work anymore. But he was just as mean as he'd always been. He was as likely to kick the farmer, or to bite him, as to do whatever the farmer wanted him to do. The mule had many faults and not many virtues.
One day, the mule fell through a rotted cover and into an old well. The farmer heard the mule braying and looked into the well. Although he felt sorry for him, he decided the mule wasn't worth the trouble of saving. Instead he called his neighbors and asked them to bring their shovels to bury the poor mule and put him out of his misery.
As usual, the mule wasn't having any of it. As cantankerous as ever, when the dirt struck his back he shook it off. Again, it struck his back and he shook it off. And again, it struck his back, and he shook it off, each time trampling it under foot. Little by little, the old mule stepped up the shaft on all that dirt, until triumphantly, he clambered out of the well. What had seemed likely to bury him had actually become his road to freedom. The farmer was kind of pleased. He knew that, tomorrow, the old mule would probably bite him or kick him, but just for today, it was good to have him back.
Kind of like God maybe looks at us, huh?
There are alternatives to every impossible situation. The way of bulldozers and rock crushers may not be the way we are personally able to deal with the obstacles standing in our road, keeping us from the Christ-child. Maybe instead we need to just shake off the dirt and step up.
As you think about your sins and omissions this past year, and Advent is a time to do that, no less than at Lent, think about how you are going to deal with them. You don't have to deal with them: Christ's sacrifice for us all did that already. But because they are there, blocking your road, you have trouble, sometimes, seeing Bethlehem, let alone the baby Jesus.
You want to see him, don't you? Don't you want to participate with the whole community of believers in this joyous event? So don't let your sins, and guilts, and omissions, or even your sadness block your path. Like John, get out your bulldozer. Or if that doesn't suit your style, get out your shovel, shake off the dirt and step up. Can you do it? Shake off the dirt and step up.
Our task, and John's task, is not to work miracles. That's up to God. Our task is to prepare the way—to prepare ourselves—committing every ounce of energy we have to open ourselves to the transforming power of God. A single instance of prayer and repentance can clear your road completely, just as a single act of kindness can bring hope to generations yet to come.
John tells us how to prepare our hearts and be the people God wants us to be, so that this time the Christ-child will have a proper place to be born—a place where God's people are humble, and hopeful, and filled with joy at his coming.
Vicar Sharon Richter
Mt. Olive Lutheran Church
Santa Monica, California


---
Finding Our Way to Bethlehem
Sermon for 3rd Sunday in Advent
Written by Vicar Sharon Richter
Dec. 11, 2016
Mt. Olive Lutheran, Santa Monica, California