Sermon for Ash Wednesday
Remember That You are Dust
By Vicar Sharon Richter -

Let us pray: Lord, teach us to pray. Let our prayers honor you alone. Help us to surrender our self-centered desires to your will for us and others. Open our eyes to your mercy and justice, and let us be your hands in service to others. Amen.
I am always interested in what the lectionary leaves out of our readings, because sometimes it makes it harder to understand God's message.
So here, today, I want to fill you in on what's missing. You will be surprised:
7 "When you are praying, do not heap up empty phrases as the Gentiles do; for they think that they will be heard because of their many words. 8 Do not be like them, for your Father knows what you need before you ask him.

9 "Pray then in this way:
Our Father in heaven,
hallowed be your name.

10 Your kingdom come.
Your will be done,
on earth as it is in heaven.

11 Give us this day our daily bread.

12 And forgive us our debts,
as we also have forgiven our debtors.

13 And do not bring us to the time of trial,
but rescue us from the evil one.

14 For if you forgive others their trespasses,
your heavenly Father will also forgive you;

15 but if you do not forgive others,
neither will your Father forgive your trespasses.
And having removed the instructions about how we ARE to pray, the lectioneers move on to telling us to fast privately, not publicly, and to not store up for ourselves treasures on earth. "For where your treasure is, there your heart will be also."
What the lectioneers have removed from our readings, is the proper instruction about where we should be storing up treasures, and who is the proper subject and object of our prayers.
The Lord's Prayer is the way Jesus himself teaches us to pray.

• It models for us praise of God—hallowed be your name.

• And surrender of our willful selfishness—Your will be done.

• And it expresses of our only true need: for life—give us today our daily bread.

• And it asks for forgiveness—forgive us our sins.

• And it models our plea to emulate God's grace—as we forgive those who sin against us.

• Finally, it covers our deepest fears—rescue, us, dear God. Rescue us from the evil one.


It is interesting that on Ash Wednesday, the day we mark the cross of Christ on our foreheads in black ash and go around with it all day, displaying it to people on the street, at work, at school, and at play, this is the day our readings tell us to pray privately, discreetly, and humbly.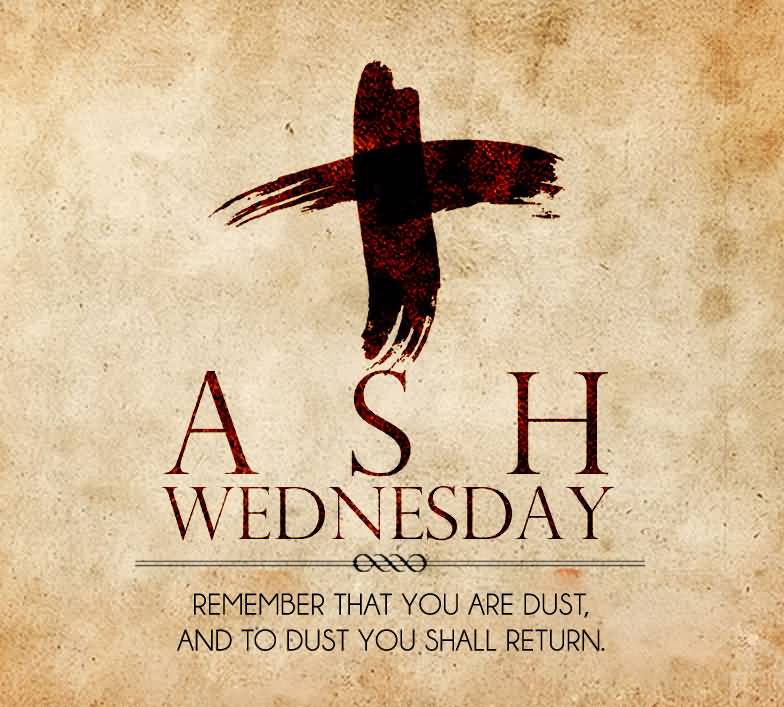 I know, from personal experience, that kids sometimes think ashes on the forehead are a cool thing. All day, their friends will be asking them why they have black on their foreheads. Teenagers are more likely to be embarrassed, and maybe to wipe the ashes off as soon as possible. And I also know that adults, even if they don't want to admit it, also have both of these reactions. Raise your had if you have had one of those reactions.
I'm here to tell you that ashes on the forehead are neither a cool thing, nor a cause for embarrassment. Or they shouldn't be. Instead, they are a very solemn thing: Both a warning and a promise.
They are there to remind me, and to remind each of you, that We Will Die. I can't take my boasting with me. I can't take my money with me. I can't take my possessions with me. I can't take my prestige with me. I can't take my car with me. I can't take my to-do list with me. I can't take my dog with me . . . And neither can you.
What we take with us out of this world is only what we can take, wrapped in our faith, to our God: Our love, our kindness, our compassion, our service, our justice, and our humility. Perhaps we also will take, again wrapped in our faith, our regrets for what we have done that we shouldn't have done, and for what we have not done that God called us to do.
That's the warning. Here's the promise. When we prayed as Jesus taught us for God, to forgive our sins, "as we forgave the sins of others," whether we actually fulfilled that statement or not, God, who is faithful and just, fulfills it. Every day, indeed, every moment, God fulfills it.
God has already forgiven us, even for the sins we have not yet committed. And God has already forgiven all those "others" as well.


When we pray as Jesus taught us, our prayer is a prayer of acknowledgement and thanks to God for the gifts God has already given us.


Our prayer is a prayer of humility, naming our needs, which God already knows.
And our prayer is a payer of petition to God, to be with us and help us through the terrible things that can happen in this fallen world.


God beckons, and God awaits us as we come, one by one, some later than others. God is endlessly patient, and will wait as long as it takes us to realize the source of these gifts of life and forgiveness.
It matters not at all whether you wipe off the ashes as soon as they are put on your forehead. Because the cross is already there, indelible, and has been since your baptism. But when we re-mark our foreheads with the cross one day a year, we remind ourselves that this marks of our life, our death, and our salvation. It is not something to be boastful about. It is not something to be embarrassed about. It is something to ponder deeply, and individually, and humbly, in private.
Rejoice, for you will die. Rejoice, for you will be raised. Thanks be to God.
Vicar Sharon Richter
Mt. Olive Lutheran Church
Santa Monica, California
Ash Wednesday, March 1, 2017

*Donate here to support Mt. Olive's many ministries.