Sermon for 1st Lent
Who We Are and Whose We Are
By The Rev. Eric Christopher Shafer -

We only know who we are when we realize whose we are.
As many of you know, in addition to two worship services, we offered "Ashes to Go" again this year here at Mt. Olive on Ash Wednesday. Helped by a fine news story on FOX TV LA News, we had nearly 100 people come by for "Ashes to Go."
So many thanked us for offering "Ashes to Go." But, I was struck by one woman's comment to me when she asked, "Is this enough?"
I thought about her question for much of the rest of this past week. "Is this enough?" is question I often ask of myself and, perhaps, you do also.
And that got me thinking, once again with the help of scholar David Lose, about what has become my sermon title and topic: We only know who we are when we realize whose we are.
Research has shown, that, while we, you and I, typically think of identity as something we forge on our own, most of our sense of ourselves comes from the community we belong to, our family of origin, and the folks with whom we hang out. In this sense, identity is always given, even borrowed, not simply created.
For example, that no one wakes up one day and says: "You know who I'm going to be? I'm going to be one of those crazy people who paints my face, wears a costume, and goes wild at football games rooting for my team."
Instead, a person may hang out with his or her friends, watch lots of football, decide to go to a game, discover someone has brought body paint, and then all of a sudden they realize that they are one of those persons! Think of the women you see in purple and red hats at restaurants, or bikers, or Trekkies, or most anyone at a ComicCon event, or just about any of the other groups we associate with and from which we derive a lot of our identity.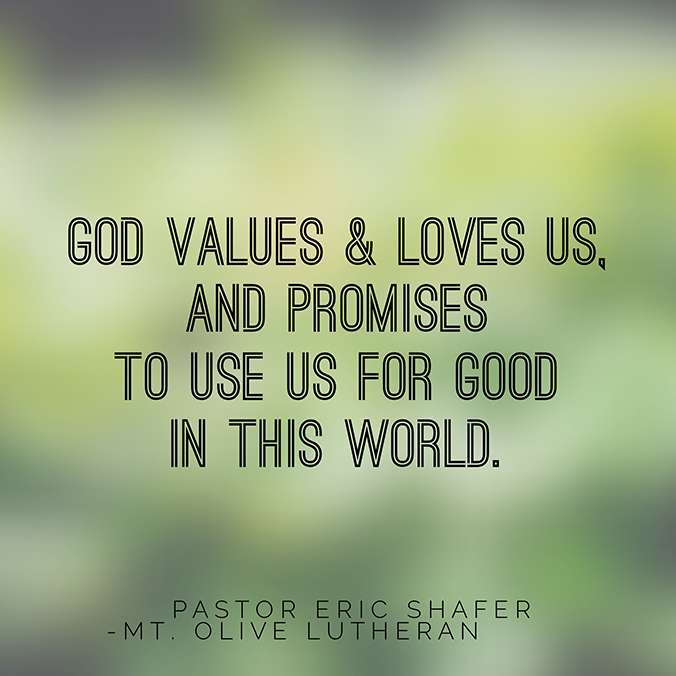 And that's what makes our Christian faith so powerful and important: we are adopted into a family of faith and, even more, told that we are God's beloved child and therefore have infinite worth. And that is, or should be, our primary identity.
I know you have heard this from me previously, perhaps even often, but I really do not think that you and I can hear this too often. We cannot too often hear the good news that we are God's children, that God is with us, that God values and loves us and promises to use us for good in this world. We cannot hear too often that God's love IS enough for us.
And, I know this is the case for me and I trust it is for you also, some weeks that good news is harder to believe than others. Some bad weeks we may even be doubting it by Sunday evening or by lunch on Monday. There are certainly days for me when I find it hard to remember that God values and loves me, that God's love is enough, days when I do not feel very valued or loved. And I am confident that you all have similar days.
And, since I believe we have all had those kinds of days, I invite you to think of this: Just before this passage in Matthew's Gospel, Matthew shares the story of Jesus' baptism. We may have heard this story as a Sunday lesson about two months ago, but it is right before today's text in Matthew: Jesus is baptized. Jesus hears God say, "This is my beloved Son, with whom I am well pleased."
And that fact is crucial to understanding how Jesus deals with the temptations we hear in today's Gospel lesson. And, I believe it is also crucial for us to understand and believe we belong to God.
Because, when push comes to shove, all the various temptations we may encounter stem from the primary temptation to forgot whose we are and therefore to forget who we are. Because once you do not remember who you and whose you are, you will do all kinds of things to dispel the insecurity that come with our human lives. You will do all kinds of things to try to find that sense of security and acceptance that is essential to being happy.
And that may be Adam's and Eve's problem in the Genesis story. When the serpent comes to Adam and Eve in the Genesis story, the serpent does not start out with a temptation but instead sows mistrust in Adam and Eve. (And, it is important to note that this one is not on Eve alone - Adam is there all the time and just cannot seem to find anything to say).
In the Genesis story, the serpent tries to undermine the relationship of trust between God and God's children. "Did God really say," the serpent asks, misrepresenting and undermining God's instructions. The serpent then continues, "You will not die," suggesting that there are things God knows but is not telling. Only when this primary relationship has been undermined are they susceptible to the temptation to forge their identity on their own, independent on their relationship with God, and so take and eat the forbidden fruit.
Jesus' encounter with the devil is, by contrast, nearly the opposite. The devil also tries to undermine Jesus' relationship with God by suggesting Jesus' relationship with God is not secure, that Jesus should test it by throwing himself off the mountain, or that Jesus should go his own way by creating food for himself, or that Jesus should seek the protection and patronage of the devil rather than trust God's care for him. Yet at each point Jesus resists, not simply by quoting Scripture in general but also by quoting Scripture that reminds Jesus of God's trustworthiness, the need to depend on God for all good things, and, consequently, of God's promise to care for Jesus and all God's children.
Adam and Eve, victims as much to original insecurity as they are original sin, forget whose they are and so lose themselves in the temptation to secure their identity on their own.
Jesus falls back on his relationship with God, reminding himself whose he is and so remembering who he is, a dependent, but beloved, child of God – dependent on the care and protection of the God who has promised to do anything to care for him and all of us.
I know I do not have to tell you that there are so many temptations in this world, most of them coming not as apples hanging from a tree but rather as subtle messages that seek to undermine our identity and invite us to forget whose we are.
There is so much advertising that suggests that we are inadequate. There are so many headlines that suggest that there is not enough to go around. And there are so many politicians – of all parties – who contend that we have a great deal to fear.
In the face of these identity-obscuring messages, as Christians, we hear and have something far different, we hear and have something far more: we have Jesus and, through Jesus, God says we are enough, that there is plenty to go around, and that we need not live in fear.
Our identity comes from God and from our fellow Christians. Our identity is always received, rather than created. Our identity comes, that is, always as a gift and a promise.
Gift and promise: we only know who we are when we realize whose we are.
And "whose" are we? We are, all of us, God's beloved children. We, you and I, have value, worth, and purpose. God keeps telling us that we are enough, there is no shortage in God's love for us and, once again, that we need not live in fear.
We are God's beloved children, held and saved and loved by God this day and all days. God is with us always. God values and loves us and promises to use us for good in this world. That is who and whose we are. And for God, we are enough.

(Once again, thanks to the Rev. Dr. David Lose for many of the ideas used in this sermon).
The Rev. Eric Christopher Shafer
Senior Pastor - Mt. Olive Lutheran Church
Santa Monica, California
March 4 & 5, 2017

---