Sermon for the Fifth Sunday in Lent
Death Stinks
By The Rev. Eric Christopher Shafer -

Death stinks. I was going to say "death sucks," but I decided to share a more PG version. Death stinks.
You know this. This is not news. When someone close to us dies it is not easy. It is hard, very hard.
And, it is bad enough when an elderly parent or relative or friend dies. But, when someone younger dies, when a child dies or a brother or sister or dear friend, when someone younger dies it can be nearly unbearable.
My first congregation call was to Holy Trinity Memorial Lutheran Church in Catasauqua, Pennsylvania, an old industrial town just north of the city of Allentown. I followed a pastor who left unhappily. There is an advantage to following trouble – you look good just showing up! Holy Trinity had come not to expect much from their pastor so, when I showed up with my usual energetic style, they were very pleased. It did not take too long before we all fell in love with each other.
Kris and I had more than seven years of wonderful ministry and life in Catasauqua. The congregation grew. We added a second worship service. We began to talk about a building addition. Young families filled our pews. We added staff. Now, of course, there were problems and even some difficult people, but I stayed long enough to outlast or outlive many of them.
But, I also stayed long enough to begin to bury my friends.
Now, of course, I believe in and preach the resurrection from the dead, promised to us all in Jesus' life, death and resurrection. But, I will be honest with you, that only helped a little when some of our closest friends and strongest leaders left us for heaven. Good for them, of course, but not for us. And not for me.
Of all the people at Holy Trinity, Peggy Riegel was perhaps, the closest and dearest for both Kris and me. She was the acknowledged lay leader of the congregation. During the former pastor's dysfunctional years, Peggy had taken on visiting shut-ins, teaching confirmation, and doing whatever needed to be done to keep the congregation going. Before we arrived in Catasauqua, Peggy had decided that my ministry there was going to be a success. She would see to that. And she did.
As the years went by, Peggy's health deteriorated. Multiple Sclerosis (MS) soon got the best of her. I helped her trade in her car for an electric wheelchair, a real adventure since electric wheelchairs were still uncommon at that time. My Dad and I built ramps at Peggy's home so that she could get in and out. I took her to her doctor's appointments, sometimes carrying her to and from my car.
Peggy worked as long as she could and all with good humor. She continued to be at worship every Sunday and involved in almost every social ministry project from meals on wheels to refugee sponsorship.
One day Kris and I were sitting at home in the parsonage. We heard the ambulance sirens. Somehow we both knew what they meant as we hurried to Peggy's home nearby and found her already dead.
I presided at Peggy's funeral. She had been cremated and I even had the honor of placing her ashes into the ground at the cemetery. Her funeral was a celebration of her life, a life, even when her body betrayed her, a life that was dedicated to service to others.
We even laughed at Peggy's funeral, a lot, since Peggy laughed through her MS, even when it caused her to fall into a trash can at work.
I did what a pastor does. I did what I needed to do and we sent Peggy off to heaven wonderfully.
Please do not get me wrong. I am not complaining. I know this goes with the territory, as they say, when you are a pastor. And, it is a great privilege to walk with others during their "valleys of the shadow of death" to quote the 23rd Psalm.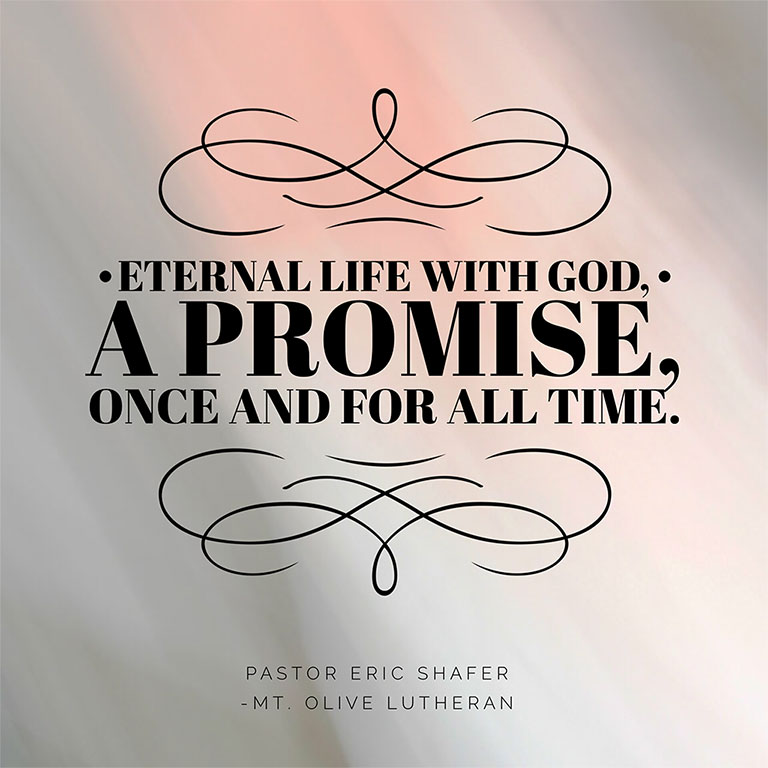 After seven years of burying my friends, I jumped at the chance for another sort of ministerial call and accepted a position on the Bishop's staff in northeastern Pennsylvania. I served in non-congregation calls for the next 20 plus years before returning to another Pennsylvania congregation.
My reflection on all of this this week came because of today's Gospel lesson, the story of Jesus raising his friend Lazarus from the dead. Lazarus and his sisters, Mary and Martha, were, perhaps, Jesus' closest friends. Lazarus became ill and before Jesus could get home to visit him, Lazarus died.
And, Lazarus was not asleep. He was definitely dead, so dead that the text tells us there was a "stench" in his tomb. At our pastor's Bible study this week one of our colleagues shared that he liked the King James Bible's translation for this, that Lazarus "stinketh."
And what was Jesus' first reaction? The text tells us that Jesus was "greatly disturbed in spirit" and "deeply moved" and that "Jesus began to weep." Jesus' friend Lazarus had died and Jesus' very human reaction was to weep.
Frankly, I find that most helpful. Jesus' first reaction was not to "be a man," it was not to say to himself and his friends, "Lazarus is in a better place" or "Lazarus is with God now." No, Jesus wept. He was disturbed and moved to tears.
Those of us who have lost someone close to us through death know this – you never recover from the death of those we love. And that is okay.
Tears, weeping, sadness – it is all okay. Even Jesus experienced it.
However, what Jesus did not experience, and what he is calling us to avoid, is despair. Tears and sadness, yes, but not despair.
Not despair. And here it why: We need not despair because God has loved us so much that God gave his son, Jesus Christ, to die for us and by Christ's death and resurrection, God offered, God guaranteed, our eternal life with him.
Death will come to us all. Some deaths will be terrible, others peaceful. All will be accompanied by tears and sadness from those who loved us and for those we loved.
However, we Christians know that there is something more, more for our friends and loved ones and more for ourselves. While we weep and grieve now, we have the promise of life eternal with our Lord and Savior Jesus Christ. We will be together again with those we love.
Eternal life with God: A promise. Once and for all time. Guaranteed by the life, death and resurrection of our Lord and Savior Jesus Christ.
Eternal life with God: For Lazarus, for you and for me.
The Rev. Eric Christopher Shafer
Senior Pastor - Mt. Olive Lutheran Church
Santa Monica, California
April 2, 2017

---