Sermon for Palm Sunday
Jesus Accepts Us
By The Rev. Eric Christopher Shafer -

Pastor Tim Seitz-Brown serves Paradise Lutheran Church in Pennsylvania, a congregation in Thomasville, not far from Gettysburg, Pennsylvania. Like many congregations, Paradise Lutheran has a large wooden cross that they display for Lent, similar to the one we have in the center of our sanctuary here at Mt. Olive. Paradise Lutheran's wooden cross is outside on their large front lawn.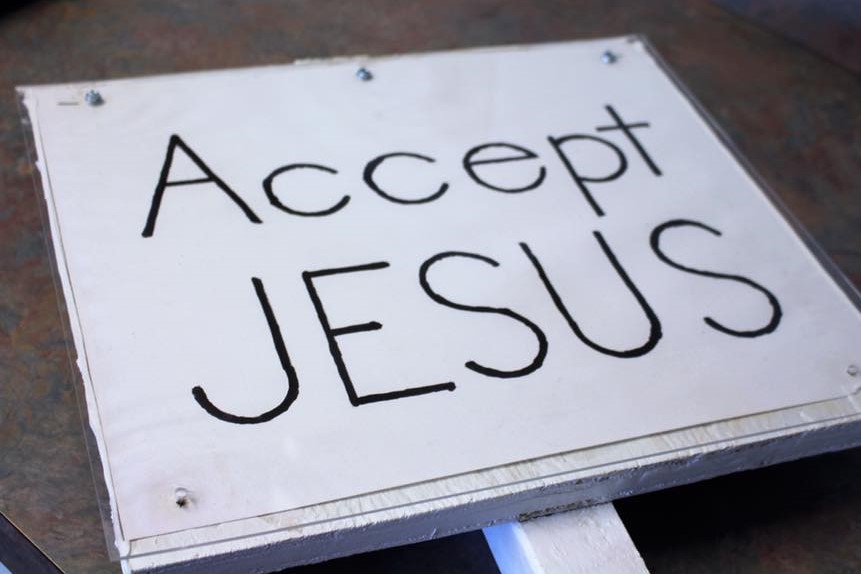 Earlier this week, someone, not a member of Paradise Lutheran or anyone with permission, someone placed a sign at the base of Paradise's cross. The wooden sign staked in the ground in front of their cross read "Accept Jesus."
Pastor Seitz-Brown believed he knew how the sign got there – a man from the area has been placing similar signs in other places.
It would have been easy for Pastor Seitz-Brown just to remove the sign and forget about it. However well intentioned, the man was trespassing on the church's property and did not have permission to put up any sign. Regardless, Pastor Seitz-Brown knew he had a witness opportunity, an opportunity to witness to our Lutheran theology.
Pastor Seitz-Brown removed the "Accept Jesus" sign and repainted it. When he put it back in front of the cross on his church lawn, the sign now read "Jesus Accepts You."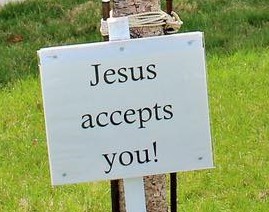 "Jesus Accepts You." And that, my friends, I believe, that sums up what Palm Sunday, Holy Week and Easter really means for us. Jesus accepts you and me, with all of our shortcomings, with all of our faults, no matter how we look, how much money we make, no matter what race we are, whether we are gay or straight, young or old, male or female – Jesus accepts us, loves us.
That is the central message of the resurrection – we know the words so well – "God so loved that world that God gave his only Son" – God gave his only Son, Jesus Christ, to die and rise for us so that we, too, would know the extent of God's love for us, a love that even surpasses, conquers death.
There are lots of other theologies alive in our culture in this 21st Century, some Christian, many secular. The "Accept Jesus" sign points to one, something called "decision theology," asking a person "to make a decision for Christ."
While I am hesitant to criticize any other theology, I want to point out clearly to you that the "Accept Jesus," decision theology is NOT our Lutheran theology. We believe that acceptance has already been guaranteed by Jesus' life, death and resurrection. We believe that "Jesus Accepts Us."
"Accept Jesus" can also be part of what I would call a theology of fear, the threatening way you see some Christians say "where will you be for eternity" or "get right with God" before it is too late. The message is clear, if you do not accept Jesus, things will not go well for you, perhaps here on earth but certainly after your earthly life. Accept Jesus or else!
That is NOT Lutheran theology.
People do not come to faith by fear. Salvation does not come by fear or threat. That not how it works. We can never "get right with God," but that is okay since God is continually reaching out to us in love.
And the danger with an "Accept Jesus" faith is that it implies that once we "accept Jesus" all will go well in our lives. That is a lie and you know it. We know that Jesus Christ's eternal love for us does not keep us from danger and harm in this world. Unfortunately, danger and harm go with life on this earth.
Instead, Jesus who "accepts us," this Jesus gets us through all of the danger and harm in this world. Jesus Christ's love for us protects us as we travel through any and all danger and harm.
We call the theology of "Jesus Accepts Us," the theology of the cross. Jesus Christ, the savior of humankind, did not succeed in worldly terms. He taught for just three years or so and then, as we mark again this Holy Week, and then Jesus was captured, beaten, tried and executed. Then and only then did God act and raise Jesus from the death, promising the same sort of resurrection to and for all who believe.
Those of you who have "walked through the valley of the shadow of death," to quote the 23rd Psalm, you know this. It is when we are at our lowest that we really can know the love and salvation of God in Jesus Christ. As one of my staff colleagues here at Mt. Olive once said to me, when you are flat on your back, sometimes it is only then you can look up and see God's love.
Jesus accept us. That's "the truth, the whole truth and nothing but the truth," to quote those old television lawyer programs. That truth will not keep us from all danger and harm, but it does guarantee God's presence with us through all danger and harm, God's presence with us through all the times of our lives, good and bad, and especially the most difficult times.
We will not always be happy and healthy. We may not always have a good job or a nice home. We even will not always leave worship happy or with easy answers or simple solutions.
What we will have, what we will always have, what we can always leave worship with here at Mt. Olive, is the promise of God's continued love for us, God's continued presence with us, God with us in all the times of this life and in the eternal life to come.
Jesus accepts and loves us. Holy Week and Easter prove this once again. This week, as always, God promises us God's continued love for us. For all times. In all places. For all of us. Always.
Our "sign" is clear – "Jesus Accepts Us."
The Rev. Eric Christopher Shafer
Senior Pastor - Mt. Olive Lutheran Church
Santa Monica, California
April 9, 2017 - Palm Sunday

---