Sermon for 14th Pentecost
Forgiveness, Love, Healing


By The Rev. Eric Christopher Shafer

-



On first reading, Jesus' advice on settling conflicts in the church in today's Gospel lesson from St. Matthew seems direct and simple: If someone wrongs you, go to them and talk with them privately. If that does not work, take along a witness or two and try again. If that does not work, report the problem to your congregation. If that does not work, treat the offending person as an outsider. Try to settle problems privately. If unsuccessful, take along a witness or two and try again. If unsuccessful, take it to your leadership. If unsuccessful, walk away and ignore that person.


Sure beats the all-too-common church parking lot conversion! And talking behind a person's back. Have a problem, deal with it privately first. Then, if that does not resolve the problem, take other action.


However, I hope the problem with this text is obvious and it has been used over the centuries in terrible ways against perceived "sinners" within the Christian community. I call it one of the "club" texts in the Bible, similar to texts which are used against women and gay and lesbian people – texts which are taken out of context and used as "clubs" against perceived sinners.


And this text continues to be a problem in many Christian congregations even today!


My first congregation call was to Holy Trinity Memorial Lutheran Church in Catasauqua, Pennsylvania, an old eastern European industrial town just north of Allentown, Pennsylvania. It was a wonderful first call. The members and leaders were so kind to my wife, Kris, and me. After a too-long period of conflict with their former pastor, actually more of a pastoral absence than an open conflict, the congregation was ready and even excited for new and young leadership. The congregation grew, worship attendance increased dramatically, outreach to the community near and far exploded. It was for me that best place to begin ordained ministry and the lessons I learned in Catasauqua continue to guide my ministry today.


But, one of the lessons I learned was how today' text can be abused. Apparently, long before I arrived, there was a young woman in the congregation who, according to wide-spread rumor, was immoral. I never really understood what her accused immorality was, but the implication was that it was sexual. When this was reported to the former pastor, he confronted her. She denied it. So, the pastor, following Matthew's advice in today's Gospel lesson, returned with two witnesses from the congregation council! Let's just say that did not go well!


Shortly after I arrived, the accused woman's Mom poured out this story to me. She still could not believe it had happened. The upshot of all of this was a family destroyed and lives lost to God. What happened represented just what so many today claim is wrong with the Christian church – judgmental, unkind and unwelcoming, the church of NO.


There is another problem with this text – Matthew putting these judgmental words in Jesus' mouth. Clearly, something was going on in the early church at St. Matthew's time. And Matthew put his advice to Matthew's congregation into Jesus' words.


The key to this error is the use of the word "church" in the text – Do you know how many times the word "church" appears in all of the Gospels of Matthew, Mark, Luke and John? Just three times, all in Matthew. Most good scholarship notes that Jesus would have never used the word church - it would have been a word unknown to Jesus.


Okay, if this text is not about judgement and solving disagreements in the church, what can we learn from it?


What if Matthew never intended these words to be used in the way they have been? What if, instead, Matthew, reacting to conflicts in the early Christian church, was trying to build authentic Christian community? What if the point of this text is not about settling disputes but is more about regaining a brother or sister who has been lost? And, what if Matthew's major concern is not actually settling disputes but creating an environment where Christ's presence continues to bring forgiveness, healing and joy?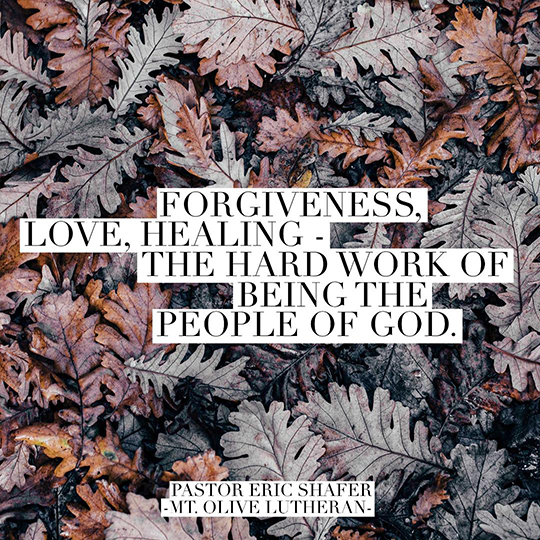 One clue is to look at the verses which surround this text in Matthew's Gospel: In the verses which directly precede today's text, Jesus speaks of God's delight in gathering back sheep that have strayed, not judging those who have strayed, but delighting in welcoming them back. Jesus even calls on us to be mindful of those who may be of little account to us, even calling us to be especially mindful of those society ignores.


Then, in the verses which immediately follow this text, Jesus sets a new standard for forgiveness, a word which, unlike the word "church," a word which appears nearly 25 times in the Gospels and hundreds of times in the Bible. How often should one forgive? Not once or twice but seventy times seven times. And, Jesus suggests a new standard of forgiveness, that how we forgive others may help determine how God forgives us!


Matthew knew that community takes time to forge and nurture. It is easy to talk about someone who is not present. It is much harder to talk privately with someone with whom you have a conflict.


And then this text ends with words we often quote – where two or three are gathered in Jesus' name, Jesus is present.


In other words, when Christians come together for worship or service or education, anything is possible because Jesus is present. What we do and say together is always said and done in the presence of Jesus. And, as hard as the work of forgiveness and community may be, we are never alone in it, Jesus is present with us always.


And that, my friends, is my hope and prayer for us all this week and always as we reflect on today's Gospel – that we, you and me, become the people God wants us to be, that our congregation becomes the community God wants us to be.


And we desperately need to be these people and this congregation. The world desperately needs us to be people of forgiveness and love. Hurricanes, hate, injustice, intolerance – the world desperately needs us to be something different, individuals and a community of love and acceptance and forgiveness.


Not easy, I know. Forgiveness is hard work. And powerful. And healing.


Where two or three are gathered, Jesus is there, loving, forgiving, urging us on, sending us out to be agents of reconciliation and peace in this world and always accompanying us on this journey.


It begins with forgiving ourselves for the wrongs we know we have done. It continues with forgiving others who have hurt us. It is strengthened and guided and nurtured by our community here at Mt. Olive and the extended community we have with Christians around the world.


So, start with yourself, forgive yourself first. Then, move to your family and friends and colleagues, forgive those who have wronged you. This is really hard work. But the rewards for you and others and the whole community are so great.


Forgiveness, love, healing. Hard work, yes. But always with the presence and support of our Lord and Savior Jesus Christ.


Amen.


(With thanks to the Rev. Dr. David Lose whose Bible work is used in this sermon).
The Rev. Eric Christopher Shafer
Senior Pastor - Mt. Olive Lutheran Church
Santa Monica, California
Sept 9-10, 2017

---