Sermon for All Saints Sunday

We Will All Die


By The Rev. Eric Christopher Shafer

-

I have news for you – you and I and everyone in this room are going to die. Hopefully not today, but someday we will all die.
This is not a topic any of us like to talk about. Not me and, I suspect, not you either.
But it is true.
And there is no way to avoid it.
Now, modern culture tries to avoid it. While graphic images of death are all around us via television and film and video games and the news, this same culture is in continual denial of the common everyday garden variety death that awaits us all. We do not speak of dying, but passing on or passing over or expiring or going home. A person is not dead but has gone on to a better place.
In this light, the festival we celebrate this Sunday – All Saints' Sunday – appears an odd affair. For in stark contrast to a culture which worships youth and boasts that "you can have it all," All Saints lifts up the stark reality of our mortality by celebrating all those who have died – not those who have expired, or passed away, or gone home or to a better place – but rather those who have died. Those who have died in the faith.
Those who have died in the faith. And that is the reason that the liturgical color today is not black and mourning. The liturgical colors for All Saints Sunday are white and red – the colors of Easter and celebration and martyrs. For on this day we do not merely acknowledge death, but we also place it in its proper context. After all, we gather to worship the One who was given power over death; the One whose own death and resurrection, in fact, gives witness to the trustworthiness of the promise that God will one day bring to an end the reign of death, cause mourning and suffering to cease, and wipe every tear from our eyes.
It is from the light of Easter dawn that we confront the darkness of death. And it is from the other side of Christ's resurrection that we gain the courage, not to deny death, but to defy it, to defy its ability to overshadow and distort our lives, for the Risen Christ has promised us that death does not have the last word.
And this makes a big difference. Not just in our attitude about death, but also about life. On this day – as on Easter – we recall most powerfully that we are those persons who have been joined by Holy Baptism to Christ's death and resurrection.
The Apostle Paul writes, "Do you not know that all those who have been baptized into Christ Jesus were baptized into his death? Therefore, we have been buried with him by baptism into death, so that, just as Christ was raised from the dead by the power of the Father, we too might walk in newness of life" (Romans 5:3-4).
According to Paul, then, we are those persons who have been promised not only life eternal but also abundant life here and now!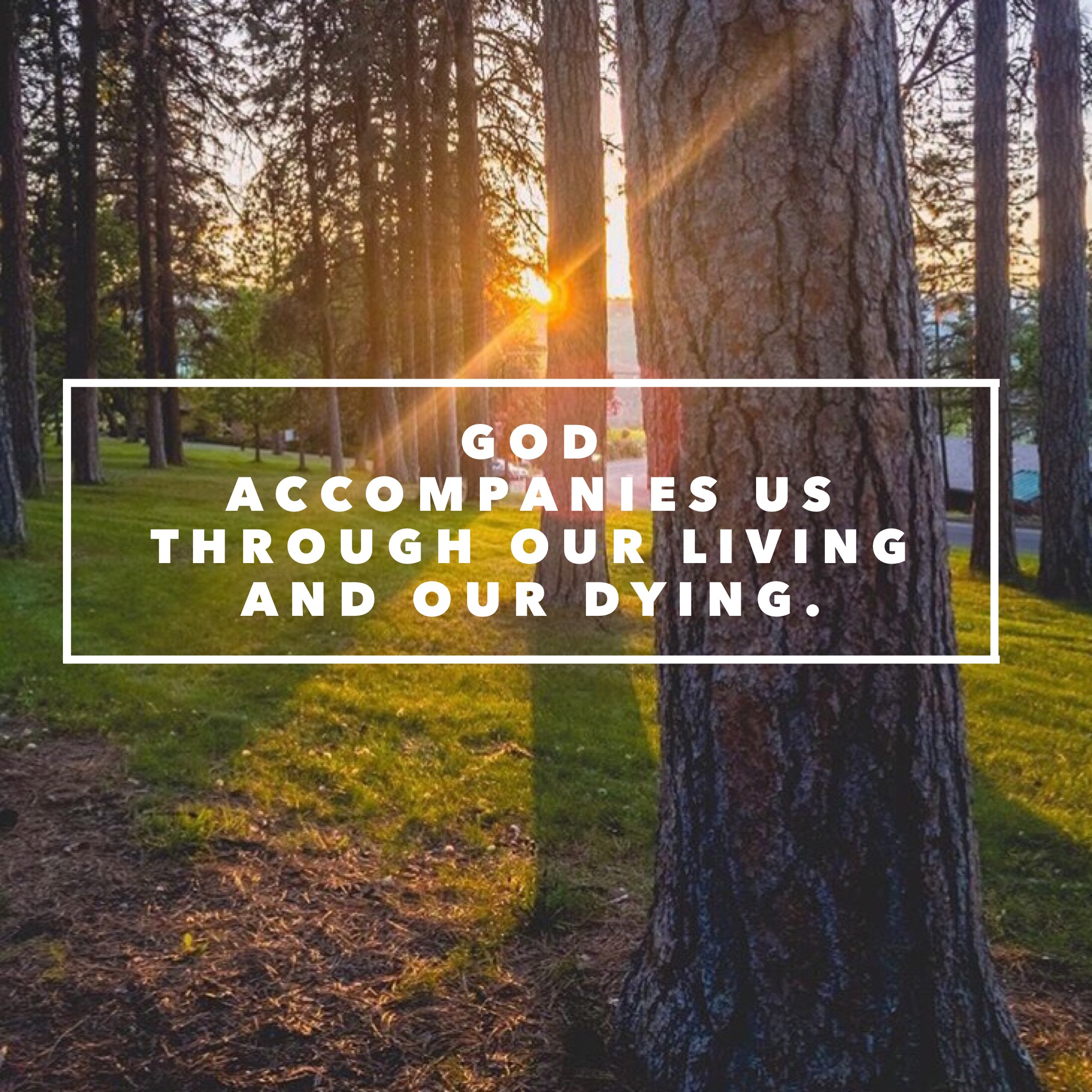 And this means at least two things for us:
First, death no longer terrifies us. Promised a share of Christ's resurrection, we can look death in the eye and not blink. For this reason, while we mourn the death of our loved ones, yet we also celebrate their triumph, their victory, as they now rest from their labors and live with Christ in glory.
Second, and perhaps more importantly, life no longer terrifies us. For our whole life is now sanctified – that is, made holy and given a purpose – through God's promise to be with us and for us and to use us and all of our gifts to God's own glory.
Here, in fact, we perceive the true significance of the name of this day – All Saints' Sunday – far more clearly. Saints are not only those persons in the Bible or Church history who did great things. Nor are Saints only those who died for the faith. Saints are not even only those who are of such great moral courage, kindness or discipline that they set examples for the rest of us. Rather, saints are also – and especially – all those who have been baptized into Christ. And that means that you and I are also saints of God.
If you have any doubt of this, you should take the time to read St. Paul's letters to the Church at Corinth. For in these letters, Paul at many points scolds the Corinthians for their lack of faith, for their poor stewardship, for their shoddy treatment of one another, for their divisive one-ups-manship, and for their offensive moral behavior. Nevertheless, when addressing this poor excuse for a Christian congregation, he refers to them regularly as "Saints." And, if this is true for the Corinthians, then so also is it true for us.
Therefore, simply because God has set us apart and called us "saints" in baptism we have God's promise that God will use us – our talents, abilities, interests – our whole lives – to further God's will. This not only gives our lives meaning but also conveys tremendous significance upon our daily routine, as all of our roles – parent, spouse, child, citizen, employer, employee, co-worker, volunteer, friend, and so many others – all of these places become the places we take our stand as God's co-workers and partners, places where we literally do holy work; work, that is, that God has set apart and called holy because it is done by holy people.
All Saints' Sunday, then, is our day, as we perceive ourselves to be those persons who have been set apart to do God's work in the world, those whom God has promised to accompany through all of our living and our dying, unto new life, and those who are joined to all the faithful who have lived, labored, and died in the faith before us.
God has promised to accompany us through our living and dying. Death no longer terrifies us. Life no longer terrifies us. God accompanies us. Today. Every day. All days.
Amen.
(With thanks to the Rev. Dr. David Lose for many of these thoughts).
The Rev. Eric Christopher Shafer
Senior Pastor - Mt. Olive Lutheran Church
Santa Monica, California
Nov. 4&5, 2017

---