Sermon for Christmas Eve

English Translation of Sermon preached in German


By Bishop Dr. R. Guy Erwin

-

Text: Isaiah 9:1-6
The people who walked in darkness have seen a great light; those who lived in a land of deep darkness — on them light has shined. You have multiplied the nation, you have increased its joy; they rejoice before you as with joy at the harvest, as people exult when dividing plunder. For the yoke of their burden, and the bar across their shoulders, the rod of their oppressor, you have broken as on the day of Midian.

For a child has been born for us, a son given to us; authority rests upon his shoulders; and he is named Wonderful Counselor, Mighty God, Everlasting Father, Prince of Peace.
Dear congregation, dear children, dear parents and grandparents!
It is wonderful to be together again on Christmas Eve: to be together in this worship service in this beautiful church. We will sing our favorite Christmas songs, we will pray and celebrate the Lord's Supper together. It is good to be here. For some of you, going to church is a weekly custom; for others it may be a rarer occurrence. But in any case, know that you are warmly welcome: you are all at home here in God's house! And it is a great joy to be able to celebrate with so many friends.
In the sermon text from the prophet Isaiah, we hear: The people who walked in darkness have seen a great light; those who lived in a land of deep darkness—on them light has shined. Have you ever perhaps had the sense that you were traveling without a goal in sight, or trying to build your life without a clear idea of what principles should guide you? In more casual language than "walking in darkness," there's a more familiar German idiom "to be tapping along in the dark" that expresses the same idea: to live in uncertainty and to be moving forward into the unknown.
At Christmas, we create for ourselves and our families a kind of island of familiarity and comfort, an island we can spend some time on in the holidays—an island of security and continuity from year to year and throughout our lives. Through many years of my childhood, our holiday customs varied little from year to year. My sister, in particular, was one who cherished the continuity—she helped us keep the traditions alive. Now that we no longer all live in the same place, we've developed new customs and traditions we value.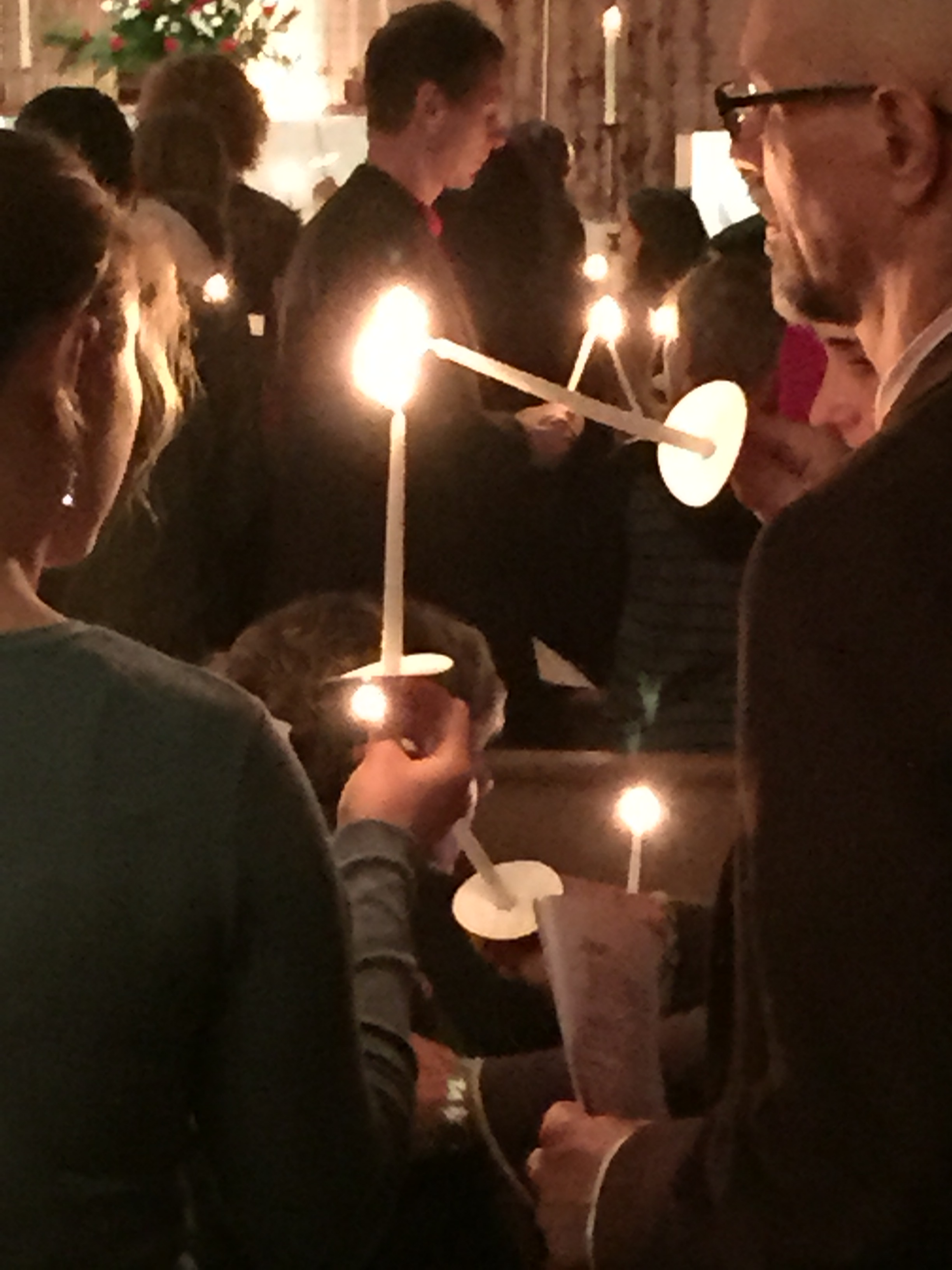 Such sweet memories and traditions themselves are a kind of orientation point for us. Through them, we hang on to familiar, close family connections, and at the same time we hold at bay the insecurities and even the chaos of the world outside. That we currently live in uncertain times and a confusing time can hardly be denied. The ongoing crisis of government, both here at home and in Germany, the fear of people who are different than we are, the insecurity of the global economic system and the pollution of the environment—all these things cause us concern. And we look for signs, for signposts that can tell us how to live in the face of all this.
The people who walked in darkness, for Isaiah, were clearly the people of Israel. But we are also that people. Before long, it will have been thirty years since "We are the people" was the cry of a hundred thousand people on the streets of Leipzig, in what we now call the "Peaceful Revolution." Even today, we are a people—whether Germans or Americans—who long for and cry out for peace and justice. And in all this, we are and remain God's people—a people who long for love and strength, for security and justice and a bright future.
God's answer to our longing and our searching lies before us right now. Lies in a manger, newborn and at the same time part of an unending story: the presence of God among us; the incarnation of God in Jesus, the child of Bethlehem, the son of Mary. He—Jesus—is one of us, born in the natural way, in deep poverty in a stable. Soon—in danger for their lives—he and his parents will become refugees, migrants in a strange land. In this unlikely way, God has shown healing and love to God's people.
And now—today—the light has come to us: Jesus, the Light of the World. Into our darkness, into the fog of human confusion, a new light has broken in and shines among us. Predicted by ancient prophets, performed again this morning by young people and children, seen by us all in a new way, our Lord and Savior among us again. Jesus is among us again in ways we can see and feel, in light and spirit, in bread and wine, and in one another. In Jesus, the holy child, we see the light. And now we can walk in confidence—walk in God's light—day in and day out and throughout our lives. May this be a comfort to us, and a never-ending joy!
I wish you all a very merry Christmas!
Amen.
The Bishop Dr. R. Guy Erwin
Southwest California Synod, ELCA
Santa Monica, California
Dec. 24, 2017

---