Sermon for 8th Pentecost -
The Rev. Eric Christopher Shafer. -
The televised images are nearly ten years old, but they continue to be vivid in my mind. Hurricane Katrina had struck New Orleans several days earlier and help had not yet arrived. Thousands of people, mostly poor African American people, were stranded outside of the Louisiana Superdome and the New Orleans Convention Center. They were screaming for help, for rescue, for food, for water. Even worse, untended dead bodies were laying there – one in a grocery cart, only some covered up. It is hard to forget such images.
Like many across this country and around the world, I watched these images in horror. Where was the federal government, the National Guard? Why hadn't help arrived? Watching these horrible images, I could not help but think of the last time I had seen these same locations personally, at the 1997 ELCA Youth Gathering which I attended while I was part of the ELCA churchwide staff. I remembered the convention center and superdome in much better days, filled with tens of thousands of Lutheran young people; so many that they stopped traffic all over downtown New Orleans. And, despite those temporary inconveniences, the people of New Orleans had loved it. The people of New Orleans had welcomed our ELCA youth with open arms and great gratitude for the dollars spent and, more importantly, for the many hours of service provided to their community. And the Youth Gathering has returned to New Orleans twice since that time. (Member Leslie Timms told me after worship last evening that she attended the New Orleans Youth Gathering in 2009).
This year's ELCA Youth Gathering is begin held in Detroit and ends this morning. That is what brought these images, good and bad, to mind again for me.
Of course, the very good news is that very soon after the disturbing images were broadcast around the world in September of 2005, Lutherans responded with millions of dollars in donations to our ELCA Domestic Disaster fund and thousands of hours of volunteer time, to say nothing of the many in-kind donations. Lutherans from all over the USA responded with donations of dollars and time and sent volunteer crews again and again over the years to help clean up and rebuild homes in Louisiana and Mississippi.
However, like most disasters we experience through the broadcast media, the interest in Hurricane Katrina relief and donations to help with the continued needs in Louisiana and Mississippi have decreased as the years have stretched on beyond those first powerful images. ELCA members contributed millions of dollars for Hurricane Katrina disaster response. Those dollars are now gone. People's attention has moved on to other disasters, other causes.
In recent years psychologists have coined a term for what happens across the country as these large natural, and unnatural, disasters fade from our memory – compassion fatigue. After a while we can no longer handle the awful images we see on television and our minds move on to other things – does anyone really want to see another starving child in Africa? Wouldn't you love not to ever again see the film of those planes hitting the World Trade Center?
Do you remember Bill Murray's perhaps best known film, "Groundhog Day"? In this film, Bill Murray, playing a local Pittsburgh, Pennsylvania area TV newsman, full of himself, repeats the same day, over and over - Groundhog Day, February 1. Gradually, Murray, as he repeats this one day's activities again and again in some very amusing ways, becomes a better person and realizes what is most important in his life. But, one of his recurring activities is to catch a young boy who is falling out of a tree. Again and again, we see Murray, as he repeats this one day, catching this boy so that he remains unhurt. But, as we also see in this film, Murray's compassion for this boy wears thin as he must repeat his saving act again and again.
Jesus Christ's compassion does not wear thin, even as he must repeat his saving activity for us all again and again as we all fall short of Jesus' hopes for us. While Jesus walked in this earth, he embodied compassion. Compassion pervaded Jesus' life and ministry, his teaching. Think of two of Jesus' best-known parables:
• A Samaritan has compassion for a wounded man by the road – the Good Samaritan story and
• A father forgives his rebellious and wayward son and welcomes him back to his family – the Prodigal Son.
And, Jesus took his compassion beyond his teachings; he embodied compassion in his life and ministry, welcoming children, reaching out to prostitutes, hated tax collectors, and leapers, and healing many who came to him asking for relief from their illnesses or handicaps.
That's Jesus' compassion – divine compassion which heals and feeds and forgives, nurses people back to health, welcomes home sinners. Jesus does not let his compassion stay with God or in heaven. And, he commends us also to "be compassionate as your Father is compassionate."
However, as today's Gospel lesson from St. Mark tells us, Jesus also experienced his own compassion fatigue. And, as Mark tells us today, in the face of this fatigue, it is difficult for Jesus to find some time away, some leisure. Everywhere Jesus goes, the crowds seemed to follow. As tired as Jesus must have been, he did not refuse their requests, but, as today's text tells us, Jesus "had compassion for them."
Today's gospel text begins with the disciples, now called apostles for the first time, returning from their first missionary journeys. They are full of stories of the wonders they have done in Jesus' name. And, they are tired. Jesus tries to get them away from the crowds for some R&R. The text appears to suggest that Jesus was successful, that Jesus, at least initially, was able to get his disciples some private time. However, there is no private time or time away for Jesus who the text tells us took care of the "great crowd" and healed many who were brought even near him. Jesus may be tired, but he does not experience compassion fatigue.
I believe there is a two-fold lesson for us in this gospel story: Like the disciples, we, too, are empowered by Jesus to do ministry in our daily lives, reaching out with God's love to our families and friends and even strangers. However, the second lesson is that we, too, like the disciples, are not Jesus. Unlike Jesus, we do experience compassion fatigue. We need a break like those first disciples. And, Jesus offers us a break by telling us, as he did his first disciples, that the work of God on earth is not dependent on us alone – God continues to work with or without us.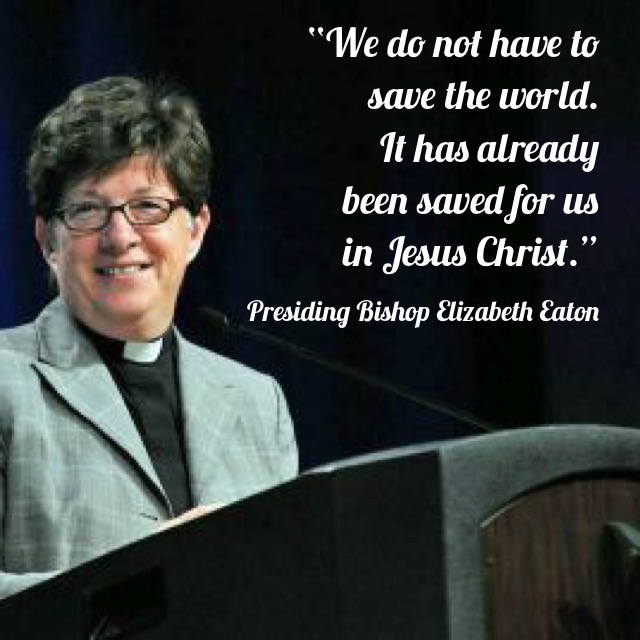 The good news, then, is that we, you and I, can take a break at times. And, that rest, relaxation, vacation, is not only a God-given gift; it is a God-given necessity.
One of the readings I did for this sermon noted that the phrase, "If I don't do it, it won't happen" is actually the phrase of a non-believer. By this he meant that, as believers, we should know that God is in charge, not us, and that, while God welcomes our ministry, God can and will also take care of the world without us. And, we all know that if our own cup is empty, if we have not taken care of ourselves, then we will have nothing to give to others.
Well, the Lutheran question for all of this is always, "What does this mean?" What are the lessons we can take home from today's Gospel? I believe there are at least two lessons for us from this Gospel:
The first lesson is God's continued compassion, love, for us all through Jesus Christ. And, that God in Christ does not experience compassion fatigue in his continued love for us all. This is a very important message for us all, especially when we experience our own sense of compassion fatigue –God does not experience that fatigue and his love continues for us forever.
The second lesson flows from this first. If God always is in charge and always loves us, then we, too, like those first disciples, can take a break at times. Despite what we may believe about ourselves, the world does not revolve around us. If we take some time away, our job and family and friends will be just fine, because God is continually watching over us all.
Because of the time difference, I was able to watch ELCA Presiding Bishop Elizabeth Eaton's sermon live online early this morning at the ELCA Youth Gathering. Preaching on this same text, Bishop Eaton said this – "We do not have to save the world – it has already been saved for us in Jesus Christ."
So, this summer, take time for rest, relaxation, vacation, staycation, R&R, whatever you call it. Pull back, at least a little, from your hectic family schedules. Read a book. Sit on your porch or deck or on the beach or by the pool – wherever you can find a sense of quiet and peace. Eat some ice cream. Watch some television. Fall asleep in your favorite chair. Walk on the beach. Be still and know that not only does God love us always; God also is always caring for us, even when we are taking a break from the care of others. And, that while we are taking our break, God will take care of those we love.
Jesus has already saved the world for us! And, Jesus is always bringing us into his circle of love and healing. And, in Jesus' care, we can be still and rest. Today and always.
Amen.
The Rev. Eric Christopher Shafer
Senior Pastor - Mt. Olive Lutheran Church
Santa Monica, California
---
Compassion Fatigue
Sermon for 8th Pentecost
Written by Rev. Eric Christopher Shafer.
July 18 / 19, 2015
Mt. Olive Lutheran, Santa Monica, California