Sermon for 9th Pentecost
Fishes and Loaves and Goats
By The Rev. Eric Christopher Shafer -



Well, actually, the work of the Katosi Women's Fishing & Development Association began with fish, or, to be more exact, with fishing boats or the lack of them.
Some years ago the women of Katosi, a small village near Lake Victoria in Uganda in east Africa, banded together to try to better themselves and their families and village. They began raising funds to support their work. Each woman paid $0.50 per month into the association and they gradually built up a small amount of savings.
Looking around, with Lake Victoria close by, the women decided that fishing would be a good activity for their association. However, the men of the village wanted none of this. Fishing was their work, men's work, not work for women. They would not share their fishing boats or allow any women to use their fishing boats anytime, ever.
Okay, the women thought, we do not need the men and their boats. With the association's savings, the women purchased their own boats and organized the Katosi Women's Fishing & Development Association. Soon some of the fishermen were working for them.
However, it was not long until the women found a cruel reality about fishing in polluted Lake Victoria. The fishing was not great and the fish, raised in polluted water, had little value.
And that is where goats come in.
The women decided that they would use their funds to purchase goats for each member family. The first few goats were purchased with their saved dues, those $0.50 monthly payments.
After they had a few male and female goats purchased, they began to breed the goats. The agreement was simple – you bred your goat and then gave the offspring to an association member family that was without a goat. No one could keep any extra goats until all members of the association had one.
Soon, every family in the village, or, at least, every family in which the women belonged to the Katosi Women's Fishing & Development Association, every family had a goat.
And that meant that every family now had goat's milk. And could sell the extra goat's milk for extra income.
As the goat breeding grew, the association began to purchase cows for each family. Same arrangement, breed and share with another family.
The cows and goats produced income for the families through the sale of meat and milk. With the help of a grant from our ELCA World Hunger Appeal funds, shared with the association by Lutheran World Relief, there soon were funds for latrines in Katosi, first for the village and then for each home. Then wells and cisterns.
I met the women of the Katosi Women's Fishing & Development Association several years ago when I led a group of Lutherans on a visit to Uganda, Tanzania and Ethiopia, a trip designed to see our ELCA World Hunger Appeal funds in action. On this day we had set out early from Kampala, Uganda where we were staying, down red dirt roads for several hours, heading to the shores of Lake Victoria where the women of the Katosi Women's Fishing & Development Association were waiting for us.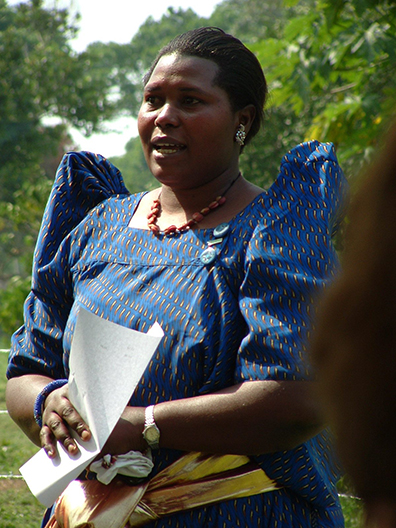 As we pulled into their compound, we were greeted by Margaret Nakoto Lubyayi, the group's chairwoman. She was wearing a long blue dress with a gold belt and with her hair pulled up and tied in a matching blue ribbon. Margaret took us to their office and told us of the work they do. With our hunger appeal funds, they had just purchased their first computer and she showed it off proudly for us. Now they could track their association and its budget and the growth of their many projects.
Then Margaret got into the van with us and we drove another hour or so, this time to a site, owned by a Ugandan king, next to Lake Victoria. There 50 – 60 women were waiting for us, all dressed exactly as Margaret was, in what we later found was the Katosi Women's Fishing & Development Association uniform.
The women sang and danced and gave us refreshments. They told us their new education programs and health and hygiene classes and how latrines and clean water had improved and lengthened their lives and the lives of everyone in their village. There are even some embarrassing photos of their attempts to get me to dance with them, or, should I say, my embarrassing attempts to dance with them.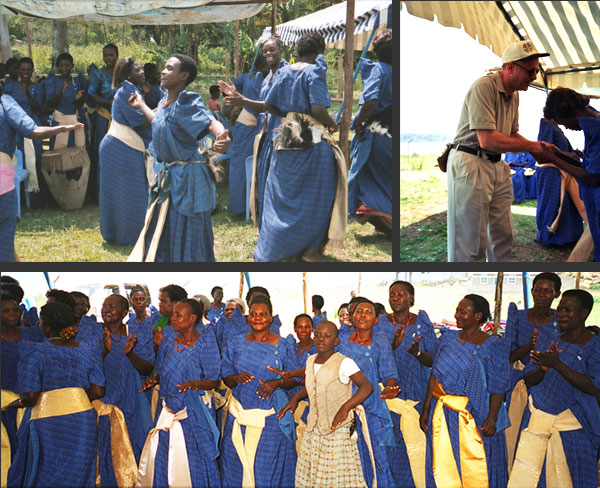 So successful has their association been, that, along with their goat and cow breeding and sharing, the women have now formed four additional women's associations, since they did not want each group to become larger than 50 – 60 women. In each association, each member contributes their monthly dues, each member gets a goat and a cow, and each member uses these animals for food and financial independence. Now five villages have similar organizations and are building more latrines and starting more loan programs and sponsoring health and hygiene classes. Of course, only the Katosi women have the blue dresses, the other groups must choose another color.
And all this started because some strong women would not take NO for an answer when they wanted to fish in Lake Victoria. And, all this started because you and I contribute to the ELCA World Hunger Appeal which used our funds, through Lutheran World Relief, to support the work of the Katosi Women's Fishing & Development Association.
"And all ate and were filled; and they took up what was left over of the broken pieces, twelve baskets full."
As today's gospel lesson begins, the disciples are not feeling a sense of abundance. On the contrary, the disciples are very concerned about the hungry crowd. They are feeling a sense of scarcity.
A great multitude of people has followed Jesus, five thousand men, not counting women and children. All day long the disciples have assisted Jesus in his ministry. When evening comes, the disciples recognize the precarious situation, thousands of people far from town with no plan for supper. They say to Jesus, "This is a deserted place, and the hour is now late; send the crowds away so that they may go into the villages and buy food for themselves."
Jesus replies, "They need not go away; you give them something to eat."
If you and I had been there, we probably also would have been distressed by Jesus' response, "you give them something to eat." If we think about what Jesus said, it really made no sense. "We have nothing here but five loaves and two fish" – in this situation, a feeling of scarcity is a very natural thing.
At that critical moment Jesus does something that is not natural, something that is quite miraculous.
With the help of his disciples, Jesus orders the crowd to take a seat in the grass. Taking the five loaves and two fish, he looks up to heaven, blesses and breaks the loaves. Fish and bread are distributed, and suddenly there are more fillets and loaves than were there before.
The crowd numbers five thousand men, with women and children besides. Yet all eat and are filled. They collect what is left over, and there are twelve baskets full of broken pieces, far more than Jesus started with.
What really happened that day? I know a true miracle happened, a miracle of sharing and abundance. Scholars have long debated what exactly happened that day, was there an almost magical miracle of the fish and bread multiplying or was it more of a miracle of sharing among those gathered. I have very little interest in that debate.
What I do know is that Jesus changed a situation of scarcity into one of plenty, one of abundance, just like he can and does for every one of us every day. As Christians, we can live amid God's abundant love for us, no matter what our physical surroundings or situation indicates. Thus, we have a choice – to live in scarcity or to live in abundance.
We, you and I, have a choice to live lives of scarcity or to live lives of abundance. If we live in scarcity, we live in fear – fear for ourselves, our families, our congregation, our community. Will we have enough to eat, a safe place to stay, our health, a job? There is a lot of which to be fearful.
Jesus offers us a different life, a life of abundance and plenty, not scarcity. When we live in Jesus' love, we can live in the confidence of that love, in the safety of God's love. And in that confidence and safety, we can live lives of abundance, whether we are rich or poor, no matter what our physical situation is.
The women of the Katosi Women's Fishing & Development Association told us the day we visited that their association with the Lutheran Church brings them respect in their community. Their Christian faith also helps them understand scarsity and abundance. These women had every reason to assume scarcity – they were poor, powerless and uneducated. However, because they knew God's love for them, they assumed God's abundance, that, with their efforts, God would provide for them. And now they have extra income, a goat and cow for each home, a bathroom and are educating themselves in health and hygiene and so much more.
As I reflected again this week on the women of the Katosi Women's Fishing & Development Association and their great success, I thought again of how theirs is a miracle about the abundance of God's love for us, just like Jesus' feeding of the 5,000.
Let's follow their and Jesus' example, living our lives in the abundance of God's love for us, no matter what the physical situation in which we live. God's abundant love for us in Jesus Christ will always triumph – in the miracle of the Feeding of the 5,000 and in the ongoing miracle of the women of the Katosi Women's Fishing & Development Association.
Let's live not in scarcity and fear. Let's live in God's abundant love, in the confidence of God's love, in the safety of God's love. Through and with God, we live in abundance and can abundantly share God's love with others. Today and all days.
The Rev. Eric Christopher Shafer
Senior Pastor - Mt. Olive Lutheran Church
Santa Monica, California
Aug 6, 2017

---