Sermon for Fifth Pentecost
The Rev. Eric Christopher Shafer
Several of us from Mt. Olive took part in an interfaith vigil on Monday evening on the steps of the Santa Monica City Hall, a vigil in response to the Orlando mass shooting of Gay and Lesbian people. Our good friend and openly gay ELCA pastor Pastor Jim Boline of St. Paul's Lutheran Church here in Santa Monica spoke for us Lutherans and read 1st Corinthians 13, "love bears all things, hopes all things, endures all things."
Near the end of the vigil, my friend Rabbi Neil Comess-Daniels, Rabbi at the Beth Shir Shalom Synagogue here in Santa Monica sang his original song called "This Time." Here are some of Rabbi Neil's words:
"This time it will be different; this time it won't be the same. From the south side of Chicago, from Newtown to LA. We'll make a promise to our children, this time there must be change. This time. This time.
"With a grief that lasts forever and a love that never dies, we'll be the wind within your sails in small boats on oceans wide. And stars that help to guide you to clear passage through the storms. This time. This time.
"We will break the tools of danger to small pieces that won't harm and build the pieces into houses to keep you safe and warm. With rooftops high above you to keep out the cold and rain. And to never, never, ever let the guns return again.
"We will not sit in silence stung by hopelessness and fear. We're not waiting for an answer or visions to appear. Though our hearts they may be broken, our spirits will not be. This time. This time."
This time it will be different, this time won't be the same. We'll make a promise to our children and we'll keep it for a change. This time.
It is a wonderful song with a hopeful theme. This time it will be different.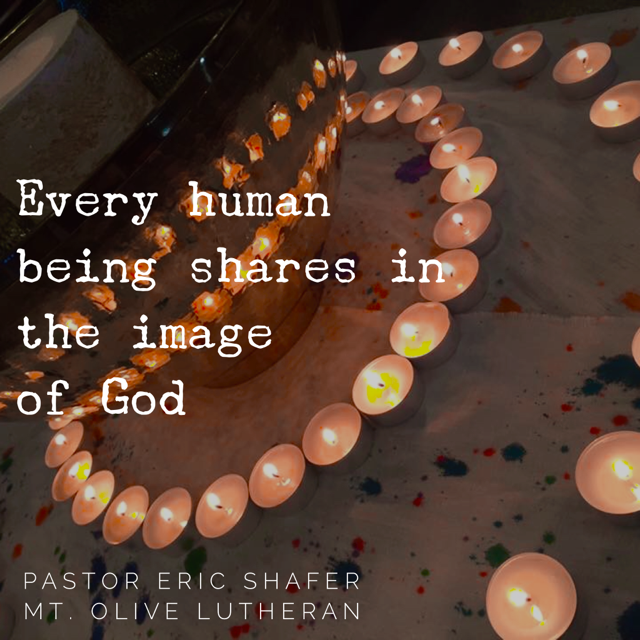 But, here's the problem – Rabbi Neil wrote this song more than three years ago, after the Sandy Hook Elementary School massacre! More than three years ago. A time when many of us thought that, if we were going to get some more sensible gun laws in this country, that certainly would and should have been the time! I mean, so many children killed.
Now we are so many mass shootings later and little has changed. One year ago this past week, nine African American Christians gunned down while at Bible study in Charleston, South Carolina. And then last weekend we had the largest mass shooting in recent US history in Orlando. This time.
Assault weapons, certainly not needed for recreation or home defense, assault weapons continue to be easily available – the Orlando shooter bought his legally, despite his history of abusive behavior, terrorist threats and mental health issues.
All I can say to you today, and almost all I could think of this past week is this – I'm done. I am done leading moments of silent prayer after mass shootings. I'm done with being careful what I say about sensible gun regulations.
And I am also done with society's and our church's treatment of our gay and lesbian brothers and sisters. I was one of the many who worked for, and rejoiced when, our Lutheran church took action in 2009 to open the way for the open ordination of gay and lesbian pastors. However, the only way we could get this approved was to leave open the possibility of what was called "bound conscience" opposition to this decision. Gays and lesbians could be pastors openly, but congregations and individuals, bound by their conscience, could still discriminate against them and refuse to have them as their pastors.
I am done with allowing that loophole for prejudice. I now truly believe that such exceptions, allowances to treat gay and lesbian people as second class citizens, indirectly helped to lead to last Sunday morning's mass shooting.
I am done.
When I asked one of our gay members how I should preach this weekend in relation to what happened last weekend, he told me, "Pastor, you have always preached God's love for everyone. Just keep doing that."
He was very kind. But, he left me of the hook too easily, I believe. We are all complicit when we allow or tolerate language or behaviors that belittle or negate another. No matter who that person is, gay or straight or transgender – or what faith that person holds – Christian, Jewish, Muslim - or what race that person is – white, black, brown – God loves and accepts them. And they are all God's beloved children. No exceptions, no loopholes.
Jesus shows us this again in today's gospel lesson. He travels across the Sea of Galilee into alien territory. There he reaches out to someone the text calls "a man of the city who had demons," in other words, a crazy homeless person, you know, the kind we avoid on the streets of LA or Santa Monica, the ones who are shouting to themselves. And this man is not only mentally ill and homeless he is running around naked!
And what does Jesus do? Jesus tells this man that he loves him. And then, without the man's request, Jesus heals him. Jesus just does it.
And then there is today's second lesson, from Paul's letter to the Galatian Christians. Paul's words in other texts have often been used as a club against homosexuals and women, to name just two, but here Paul is very clear – not slave or free, not Jew or non-Jew, not male or female – everyone is one in Jesus Christ, everyone is loved by Jesus Christ. Period. No exceptions.
As Christians, you and I can no longer remain silent. If we say we are supportive but remain silent, we become complicit in the violence. As Christians we do not have the right to remain silent. At our baptism, we or our parents promised "to work for justice and peace" and to "care for others." We cannot just keep voicing kind sentiments and kicking action down the road.
As Christians, it is time to be perfectly clear about honoring and speaking up for basic human rights for the LGBTQ community and for responsible gun laws in this country. How many more have to die before we come to our senses?
Every human being shares in the image of God and therefore shares the same dignity without regard to racial or ethnic distinction, family status, age, economic status, gender, sexual orientation, or differing abilities. Period.
This senseless violence must end, this time.
Amen.
The Rev. Eric Christopher Shafer
Senior Pastor - Mt. Olive Lutheran Church
Santa Monica, California


---
This Time?
Sermon for Fifth Pentecost
Written by Rev. Eric Christopher Shafer.
June 19, 2016
Mt. Olive Lutheran, Santa Monica, California