Sermon for Easter Sunday -
Remember -
Christ is risen! Christ is risen indeed! Alleluia!
Remember.
It was a very odd thing that the women who visited Jesus' tomb that first Easter Sunday morning were asked to do, as Luke records it in today's Gospel lesson, very odd indeed. The women had approached the tomb at the first sign of dawn, laden
with spices and grief. Suddenly, they saw an empty tomb, a blaze of light, and the presence of two men, angels. The women were terrified, too frightened to run away, so they simply bowed their faces to the ground and waited for whatever was coming next. What happened next was that they were asked a question and then given a command. The question is one on which the whole of Christianity, the whole of our faith, can turn: "Why to you seek the living among the dead?" The thrust of that question is so clear and direct that the New Revised Standard Version of the Bible, from which we heard this text this morning, adds, "He is not here, but has risen!" The resurrection of Jesus means that no question of importance can ever be answered quite the same way again, especially the question, "Why do you seek the living among the dead?"
But what may strike us as odd is the command which follows that question. After being asked, "Why do you seek the living among the dead," the women are not told to go or to serve or to create a church or even to pray or to transform society. They are not even told to rejoice that Jesus has been raised from the dead, as Luke records this story. All of these will properly come later. For now, on this first Easter morning, they are told only to remember. "Remember how he told you, while he was
still in Galilee, that the Son of Man must be handed over to sinners, and be crucified, and on the third day rise again."
Remember Jesus' promise, the women are told by the angels. And, the text tells us, "they remembered his (Jesus') words."
Remember Jesus' promise.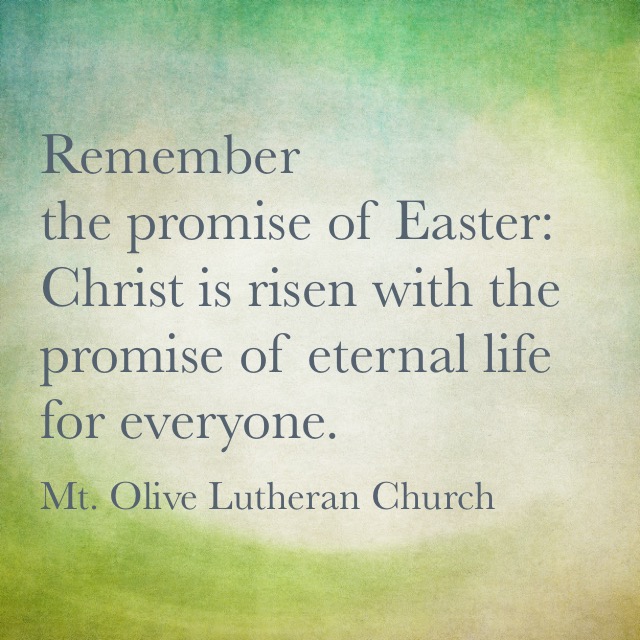 One of my favorite Easter stories was written by a former pastor friend of mine, now deceased, about his family and Easter.
His name was Richard and he called his story, "Dad's Kodak Camera." Richard's story goes as follows:
Dad's Kodak Camera
"Dad's Kodak camera hung by its strap on a nail in the dining room closet, buried beneath a couple of old sweaters. This
camera was the old, complicated type: there was nothing automatic about it – you had to set all of the settings yourself. And,
we were not one of those families who recorded everything for posterity. So, Dad's camera only came out of the closet on
special occasions.
"Easter was one of them. Dad would march my brothers and me out in front of the house, where spring had begun to bloom.
He'd line us up in our matching blazers from Robert Hall. He'd unsnap the Kodak's leather case; fumble with the F stops and shutter speeds and say, "Say cheese!"
"Three shots out of five, he'd cut our heads off. The pictures would come back from the drugstore, this was long before digital cameras and prints and even one hour film developing, the pictures would come back from the drugstore and we'd laugh so hard it would hurt. Mom would say, "Well, at least your Dad got a good picture of your Easter suits, boys." And Dad would say, "Maybe next year, I'll get your faces, too."
"Years later, we would look at those old Easter photos with a funny nostalgia. Dad would kiddingly ask, "What's wrong in these pictures?" and my brothers and I would shout out, "Our heads are missing!""
Richard continues his "Dad's Kodak Camera" Easter reflections -
"I think of my Father's imperfect photography this time of year. Even in his best shots, I realize, some people are now missing. My brother. My mother. Aunts and uncles and friends. So many dear ones, frozen by flash bulbs, aren't there anymore.
"I miss them all: their faces and their suits, their gentle touches and good advice. I wish they could say "cheese" with me today. Some days it seems that I just barely go on without their laughter and love.
"Jesus hung from a cross on Friday and they buried Him behind a stone. He was as dead as a doornail, just like my loved ones were the last time I saw them.
"But, on Easter, God unrolled that stone. And Jesus took our picture. Once and for all, Jesus got it right forever. Jesus snapped a clear portrait of us all and nothing is missing. Everyone I've ever loved is standing in this picture and they are all saying "Cheese!"
Richard concludes his story - "That is what I see every year at this time. That is what I look at in church on Easter, surrounded by all those lilies, singing hymns, hearing the Good News, sharing Holy Communion with the saints on earth and the saints in heaven.""
That's Richard's story called "Dad's Kodak Camera."
Remember Jesus' promise.
We remember our loved ones who are no longer with us because the promise of Easter is that they are still with us, surrounded by God's love in God's heavenly kingdom. Jesus died on Good Friday and rose on Easter, once and for all times, to bring salvation to humankind. "He is not here, he has risen." Remember Jesus' promise. Once and for all times, Jesus got it right forever.
Today, this Easter Day, we remember our loved ones, those here in church with us, those still with us and even those long gone from us. And, we remember the promise of Easter, Jesus' promise. Christ is risen. Christ is risen indeed with the promise of eternal life for everyone.
Remember.
Amen.
The Rev. Eric Christopher Shafer
Senior Pastor - Mt. Olive Lutheran Church
Santa Monica, California
---

Remember
Sermon for Easter Sunday
Written by Rev. Eric Christopher Shafer.
April 5, 2015
Mt. Olive Lutheran, Santa Monica