Sermon for 1st Sunday in Advent -
Seeing God's Word
By The Rev. Eric Christopher Shafer -

It was May 27,1992 in the city of Sarajevo, the capital of Bosnia and Herzegovina, in the middle of the long civil war in that country. A bakery, which happened to have a then-rare supply of flour, was making bread and distributing it to the starving, war-shattered people of that city. Around 4:00 pm a long line stretched from the bakery out into the street. Suddenly, a mortar shell fell directly into the middle of the line, killing 22 people instantly and splattering blood and gore over the entire area. It was a horrible scene of death and carnage.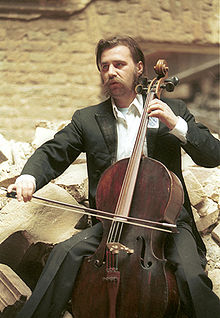 A hundred yards away from this explosion lived a 37 year old man named Vedran Smajlovic. Before the war Smajlovic had been the principal cellist for the Sarajevo Opera Company. When he saw the massacre just outside his window, Smajlovic was overwhelmed with anguish. The civil war in the former Yugoslavia had now taken on a new, personal meaning. His neighbors and friends had now been killed, killed while waiting in line for bread at a bakery.
Driven by his sadness, Smajlovic decided to do something, to take action, something he could do. He made music. Every day for 22 days, one day for each of his friends and neighbors killed that day, at precisely 4:00 pm, the time when the explosion had occurred, Smajlovic would put on his full formal concert attire and walk out of his apartment into the midst of the war raging all around him.
Smajlovic would place a little campstool in the middle of the bomb craters and play music to the abandoned streets, while the bombs dropped and bullets flew all around him. For 22 days he made an unimaginably courageous stand for human dignity, for civilization and for peace. When his 22 day vigil ended, his music did not. Smajlovic moved the city's now infamous "Lion Cemetery," infamous because snipers would lurk there and pick off civilians as they came to bury and mourn their dead. In an act of fearless defiance that certainly bordered on madness, Smajlovic, still dressed in his formal attire, braved sniper fire to play for the dead, as though he could reach them and comfort them. As though protected by a divine shield, he was never hurt even as his cello was destroyed by sniper fire while we was taking a brief break.
Was it worth it? Did anyone care? Did Smajlovic's actions make any difference?
Well, as you may remember, the news media picked up Smajlovic's story and the image of this man, dressed in formal attire, playing his cello in the midst of bombed out buildings became a global phenomenon. I first heard Smajlovic's story when our friend Mary sent me a video of his story. There he was now for all the world to see playing his cello in the midst of war for everyone and no one to hear and see.
Smajlovic became a global inspiration. Music teachers and students around the world took inspiration from his actions and began to play in midst of all sorts of conflicted situations. He inspired new music for the cello, a folk song and even several books, including the best-selling novel, The Cellist of Sarajevo.
I thought again this week about Smajlovic as I read today's first or Old Testament lesson from second chapter of the book of the prophet Isaiah:
"They shall beat their swords into plowshares, and their spears into pruning hooks; nation shall not lift up sword against nation, neither shall they learn war anymore."
"Nation shall not lift up sword against nation, neither shall they learn war anymore." What wonderful, hopeful words. If you have visited the United Nations building in New York City, you may have seen these words printed in large lettering on the side of the UN headquarters. Fitting words for the UN's goal of peace in our world.
These words are all the more interesting because they come in the book of Isaiah right after the prophet has described the Judah and Jerusalem he sees in 800BC in very negative terms. In chapter 1 Isaiah writes of the violence, bribery and unfaithfulness he sees among the people of Judah and the desolation and trampling of the poor that has resulted from these behaviors.
But then, in chapter 2, part of which we have as our first lesson today, Isaiah writes about the "days to come" when God will start over with God's people, a vision that Isaiah himself saw. People of every nation will stream into Judah, including their former enemies. God will give instruction from Jerusalem, God will judge among nations. And, the people will be transformed.
The people will be transformed. The world will be transformed.
And one person, like Vedran Smajlovic, can make a difference.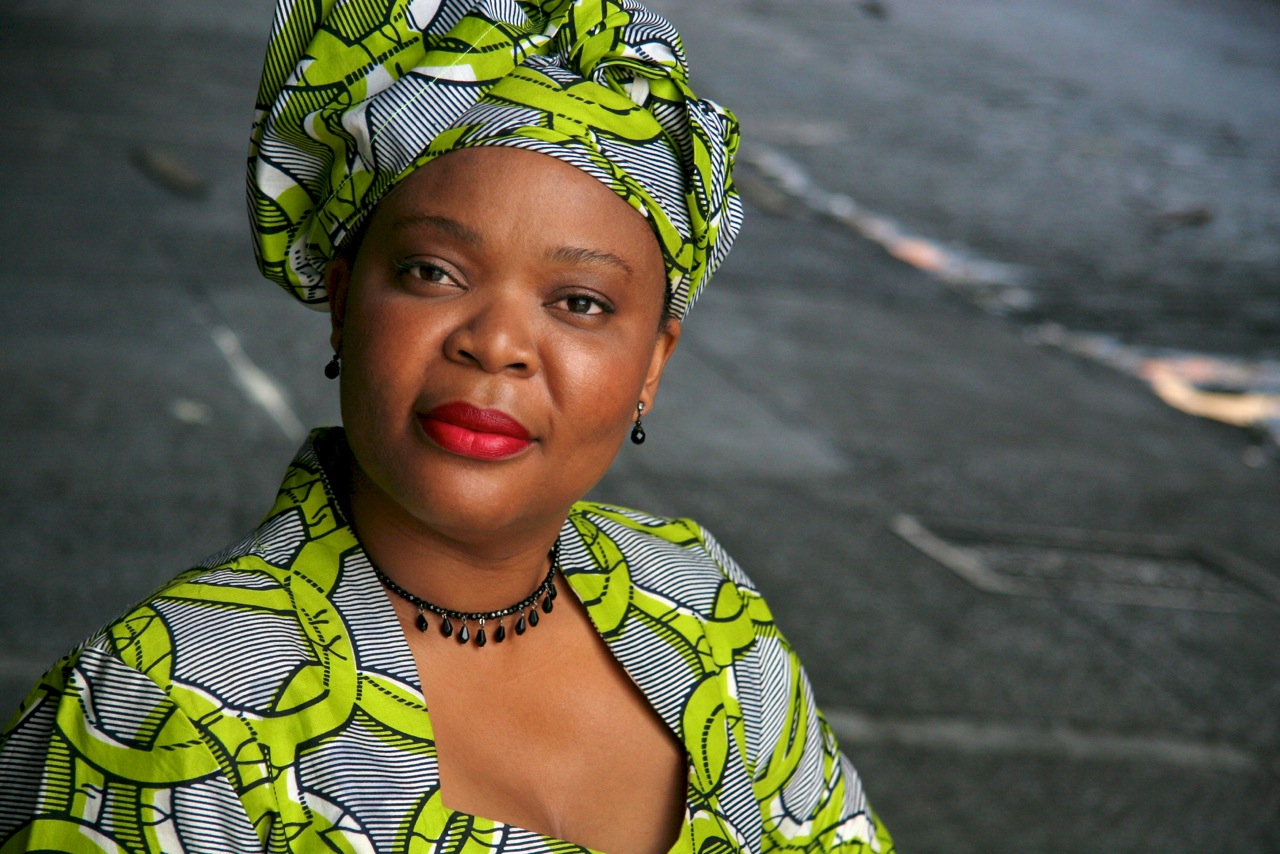 And then I remembered Leymah Gbowee, the Liberian Lutheran peace activist responsible for leading a women's peace movement, Women of Liberia Mass Action for Peace, a movement that helped bring an end to the Second Liberian Civil War in 2003. Gobwee's efforts to end that civil war helped usher in a period of peace in Liberia and enabled a free election there in 2005. She, along with two others, were awarded the Nobel Peace Prize in 2011 "for their non-violent struggle for the safety of women and for women's rights to full participation in peace-building work."
I had the privilege of meeting and interviewing Gbowee when she visited New York City just days after her Nobel Peace Prize was announced. Then an uneducated single mother of four children, inspired by her reading of the words of Martin Luther King and Gandhi, Gbowee got involved in peace-making and peace-building in Liberia through her church, the Lutheran Church in Liberia.
During our interview Gobwee told me that one night as she slept that God came to her in a dream and told her to "gather the women and pray for peace." Like Vedran Smajlovic and the prophet Isaiah, Gobwee saw something that contradicted all of the "evidence" around her. She saw a new world of peace for her homeland, Liberia. Sharing her dream with her women peace-building colleagues, Gobwee came to see that this dream was meant not for others to lead but for her to lead.
Thus, with other women leaders of both Muslim and Christian faiths, Gbowee began to visit mosques on Fridays, markets on Saturdays and churches on Sundays. Everywhere their message was the same "We are tired! We are tired of our children being killed. We are tired of being raped. Women, wake up – you have a voice in the peace process!"
Working across religious and ethnic lines, Gobwee now led thousands of Christian and Muslim women who gathered for months in Monrovia, Liberia's capital city. They prayed for peace and held nonviolent demonstrations and sit-ins in defiance of orders from Liberian tyrannical president at that time, Charles Taylor.
One of their tactics was to call a sex strike – if their demands for an end to the Civil War were not met, the women of Liberia would stop having relations with their husbands. Gobwee admits that this had little practical effect but sure got media attention. Finally, the women occupied a soccer field along the route President Taylor travelled each day. They all wore white to signify peace. They blocked the route and could have been arrested or killed. However, somehow their efforts paid off and Taylor agreed to meet with them – 2,000 women showed up for this meeting with Gbowee as their spokesperson.
Gobwee spoke, "We are tired of war. We are tired of running. We are now taking a stand for the future of our children."
These words coupled with the women's continuing non-violent protests led to peace talks in neighboring Ghana. When those talks appeared to be getting nowhere, and war and violence in Liberia continued, the women travelled to Ghana and occupied the hotel hallways outside the rooms where the peace talks were being held, saying they would not leave until a peace agreement was reached. When the men tried to leave the hall without an agreement, Gobwee and her group threatened to rip of their own clothing, knowing that that would be seen as a real threat to these men since seeing naked women in public was forbidden in traditional African culture.
The Liberian Civil War ended several weeks later. The women of Liberia, led by Leymah Gobwee, had been successful.
The women of Liberia literally did "turn swords into plowshares and spears into pruning hooks," just as Isaiah had dreamed.
The prophet Isaiah is not naïve or Pollyannaish. Isaiah's hope for a world where weapons of war are turned into agricultural tools, death-dealing turned to food-producing, is a hope, a promise of things to come.
But, sometimes, this hope becomes reality, just like Lehmah Gobwee's dream of peace for her homeland, Liberia.
Thus, I invite you in this Advent season, this season of hope and promise, to think, to dream, of the ways we might transform this sometimes very dark world, a world desperately in need of transformation. We start with prayer and singing, "Come O Come, Emmanuel," and move to actions small and not-so-small to bring peace and love to God's world in this time and place. We start with ourselves, our family and friends, our neighborhood and move to our city and our nation and even this world. We begin small and slow – peace in our families, among our friends and neighbors and colleagues.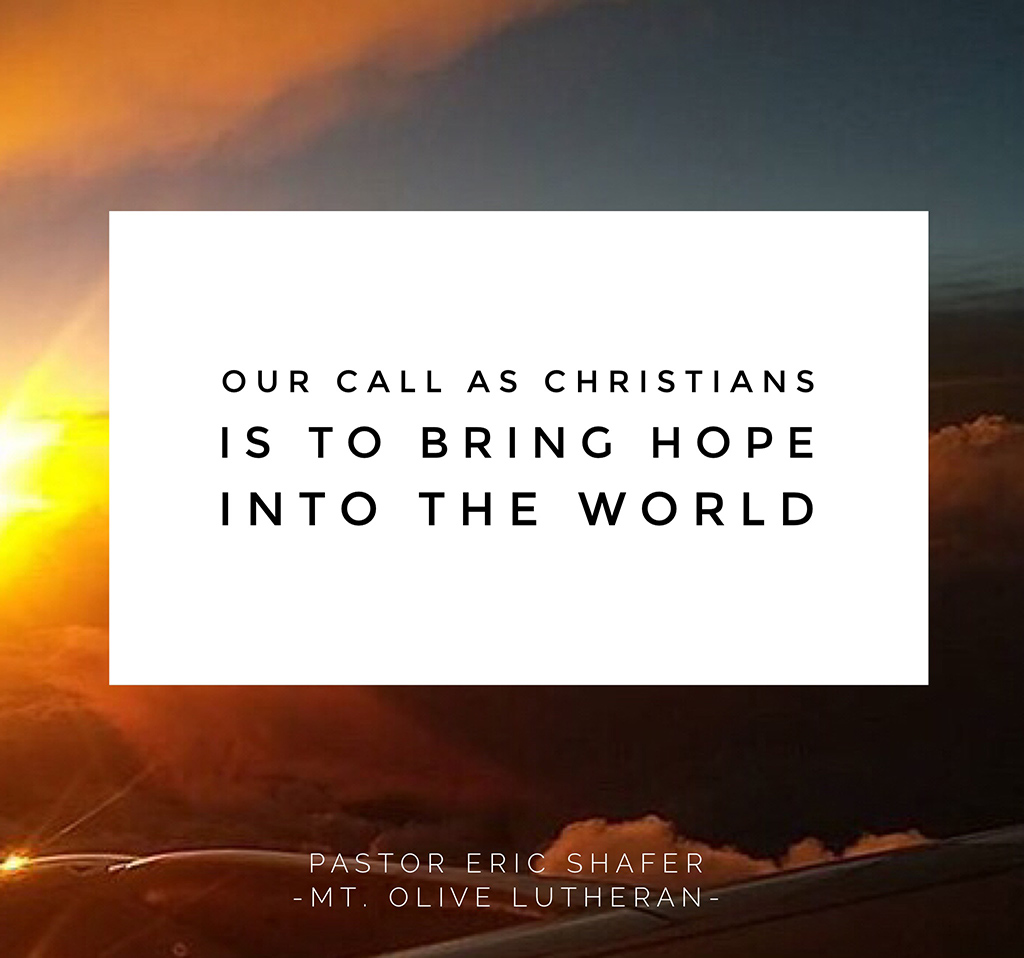 That's where we start, but then it is not too much to hope and pray and act for peace in our nation and this world. That is the promise of this Advent, a promise made long ago by Isaiah the prophet.
Yes, I know that "world peace" may sound naïve and too-much like a beauty pageant slogan. However, our call as Christians is to bring hope into this world, even in times that can seem to be a hopeless.
We have a God who cares for us, who sent his Son to earth to save us all, who now calls us to pray and dream and act so that God's word of peace might be heard in this troubled world.
Let's start today. You and me. Our congregation and families and friends. We are on God's side in this. We have Jesus to guide us and protect us. No more fighting, no more war. Think of Leymah Gobwee and the women in white in Liberia. They were neither educated nor wealthy. They were simply women who were tired of war and fighting. Or, think of Vedran Smajlovic, doing all he knew to do, playing the cello in the midst of warfare.
Simple actions by rather ordinary people. If they can do it, so can we.
Peace in this world. In Sarajevo and Liberia, in Syria and Iraq. Closer to home in our cities and towns and rural areas. In our families, at school and work and among our friends. With God's help and guidance.
This is the season of hope. It is time to hope and dream and act for peace in this world. Isaiah's promise of hope and peace is not yet here, but the promise of the Advent season is that this hope is coming. In Christ's name and for Christ's purpose.
The Rev. Eric Christopher Shafer
Senior Pastor - Mt. Olive Lutheran Church
Santa Monica, California


---
Seeing God's Word
Sermon for 1st Sunday in Advent
Written by Rev. Eric Christopher Shafer
November 26 & 27, 2016
Mt. Olive Lutheran, Santa Monica, California
*Please consider making a tax-deductible donation to support Mt. Olive's many ministries. You can do that from the home page of this website - just click the ONLINE GIVING tab at the top right of the page. Thank you!