Sermon for First Sunday of Christmas
God is FOR Us
By The Rev. Eric Christopher Shafer -

It was more than ten years ago, but, from the news of this past week, it could have been yesterday. I was leading a group of ELCA communicators visiting the West Bank, Galilee and Jerusalem. This day we were up early, on our way to the Palestinian city of Ramallah to visit the Lutheran School of Hope there. But, first, we had to make our way through an Israeli internal check point, this one the busiest and dirtiest and most oppressive one at Kalandia, the major checkpoint nearest to Ramallah.
Of course, it was not tough for us to make it through the checkpoint, we were obviously westerners, not Palestinians. But, soon after we crossed through the actual checkpoint gate and were making our way on foot to cabs on the Palestinian side of the barricades, our host, Mary Jensen, stopped dead in her tracks. And we soon realized why she stopped. There, just to our left, were two young Israeli soldiers, women draftees who did not look to be more than 16 or 17 years old. These soldiers were beating an unarmed Palestinian man with the butts of their rifles.
Mary did not hesitate. She moved over, right next to where the soldiers were beating the unarmed and helpless man. Mary moved over and just stood there. Not knowing what else to do, we quickly followed. The soldiers saw us and stopped their beating. They walked away. So did we. Mary told us later that the immediate presence of Westerners probably helped to cause the soldiers to end their abuse.
I thought of this incident this week as I read today's Gospel lesson from St. Matthew, the story of King Herod massacring all the children of Bethlehem aged 2 and under, his attempt to kill the baby Jesus.
This is the day of the slaughter of the innocents, a part of the Christmas story that we may not want to hear, but an important story nonetheless.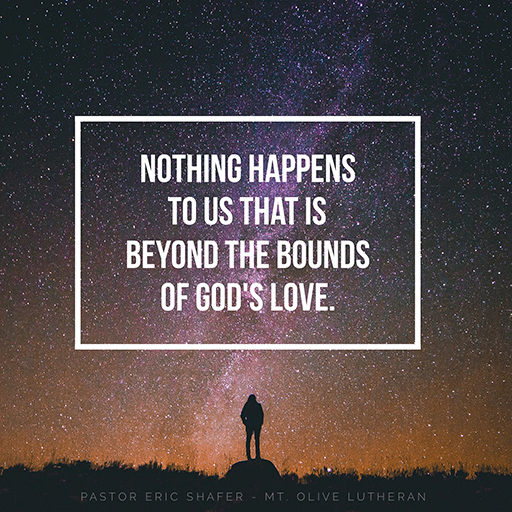 For most of us, this text comes too soon. We have, after all, just celebrated Christmas. Our Christmas Eve here at Mt Olive was filled with songs about the "holy infant so tender and mild" and the "little town of Bethlehem" that sheltered him. We heard again the story as told by St. Luke of a young mother giving birth to her firstborn child and angels greeting shepherds with words of peace on earth and good will to all. It was a beautiful and hope-filled evening and celebration.
Which is what makes the transition to this harrowing reading from Matthew so jarring. It would have been nice on this the eighth day of Christmas to have been able to tarry a bit longer at the nativity. At least we could have first read of the magi, the three Kings, making their way to Jerusalem to present their gifts to the baby Jesus. (That will have to wait for the Day of Epiphany which we will celebrate next weekend). That would have extended the "Christmas feeling" a week longer and perhaps even given us the chance to sing "We Three Kings" to boot.
But not so. Instead, we skip the more familiar and enjoyable part of story to get to the scenes we would rather forget: the Holy Family's flight to Egypt and slaughter of the innocents.
And it is a jarring scene, much worse than my group's experience at the Kalandia checkpoint. Joseph is warned by an angel in a dream to take Mary and baby Jesus and flee to Egypt for their safety. No sooner had they escaped and become illegal aliens in Egypt, King Herod, angered that the wise men had not returned to him to tell him exactly where in Bethlehem the baby Jesus was, Herod, acting eerily like today's President Assad in Syria, King Herod sends his armies to Bethlehem and has them kill all of the young children, boys and girls alike, under the age of 2. Just like Assad's barrel bombs in Aleppo. All the children, in their homes, schools, even hospitals. A massacre, an act of terror, if there ever was one.
And, one that, as I have already suggested, is sadly all too familiar for us as we begin 2017. Think back on 2016 - So many shootings. So much terror. So much unrest and division and tension – Orlando, Dallas, Nice, Brussels, St. Paul, Aleppo, Berlin, Chicago – I suspect you could add others.
Which is what makes today's Gospel lesson so chillingly timely. The horrors we are experiencing are not new. And that may be Matthew's point in sharing this story.
Jesus is Emmanuel, that wonderful churchy word which means "God is with us." The God we meet in Jesus is not exempt from the tension, fear, violence, and horror of our fallen world. And God's full-on embrace of the most difficult parts of our story reminds us that this world, in Jesus' day and today, this world is not just fallen but this world is also beloved.
When you think about it, Emmanuel – God-with-us – would not really mean all that much if God was with us only during the tender moments, during times of celebration, during the Christmas Eve services of our lives. Yes, those moments of joy are gifts from God and it is right to give God thanks for them. But if we are glad that God is with us in times of rejoicing, we are desperate to know that God is also with us in our times of grief, loss, and fear. Yes, this reading is tough to hear a week after Christmas, but for this reason it is also important.
And Matthew goes even further. For God is not only with us, God is also for us, promising to bring us through difficult times to the other side, if not unscathed, nevertheless still victorious. Matthew structures this passage around prophecies, demonstrating that even the darkest portions of Jesus' story are told within a larger narrative of God's providence and protection. This is not to say that all these events are simply part of some larger, if rather dark, "plan," but rather to remind us that nothing that happens to Jesus – or, by extension, to us – nothing that happens to Jesus and us is beyond the bounds of God's love and activity and cannot be redeemed and even used by God.
God is with us, even in the darkest times. I preached about that a few weeks ago, how God is REALLY with us.
And today's texts makes a second promise, that God is also FOR us, promising not only to accompany us through difficult times but also to bring us to the other side that, in time, we might know the fullness of joy that is life in Christ.
Nothing happens to Jesus, nothing happens to us, that is beyond the bounds of God's love and activity. Nothing happens to Jesus, nothing happens to us, that cannot be redeemed and even used by God. God has promised to bring us through difficult times to the other side, perhaps wounded, but still victorious.
That is St. Matthew's message for us on this first day of the New Year, a message coming not too soon. A message coming to us just in the nick of time. God is FOR us today and all days. Through the good and the bad times of our lives. Nothing is beyond the bounds of God's love for us and all humanity.
(And, thanks, once again, to the Rev. Dr. David Lose, whose Bible work is used extensively in this sermon).
The Rev. Eric Christopher Shafer
Senior Pastor - Mt. Olive Lutheran Church
Santa Monica, California
January 1, 2017

---
*Please consider making a tax-deductible donation to support Mt. Olive's many ministries.
Just click the blue ONLINE GIVING button at the top right of the page. Thank you!