Sermon for 8th Pentecost
God is Good, All the Time, All the Time, God is Good
By The Rev. Eric Christopher Shafer -



Today's second reading includes two of my favorite verses in the entire Bible, perhaps my favorite Bible verses:
"We know that all things work together for good for those who love God"
"For I am convinced that neither death, nor life, nor angels, nor rulers, nor things present, nor things to come, nor powers, nor height, nor depth, nor anything else in all creation, will be able to separate us from the love of God in Christ Jesus our Lord." In other words, nothing can separate us from God's love.
These are the verses that I remember, that I even cling to, in the most trying times of my life. I like them so much that I hope these will be the verses read at my funeral!
It was my dream job. In a city in which I had always dreamed of living.
I was the Senior Vice President of Odyssey Networks, the largest multi-faith media organization in North America. Odyssey had a 25 year history, beginning as a religious cable television network, before selling that network to Crown Media for what is now the Hallmark channel. That sale had left Odyssey with funds for interfaith media work.
I loved my work. It gave me a chance to connect my faith with my communication, networking and fund-raising skills. And the work had gone well. I had been hired to work with our members, faith groups and faith-related organizations, and to supervise fund-raising. Under my direction the membership had increased four-fold. We had opened membership beyond Christians and Jews, first including Islam and then eastern religions. We had raised nearly $1.5 million in new funds from gifts and grants. The staff had increased from a handful to nearly 30 people.
Kris and I both loved living in New York City. I could walk, across the top of Central Park in Manhattan, to work. I had an office at the Interchurch Center, a large office building affectionately called "the God box" (since we all worked for God and the building looked like a box). Riverside Church and Union Seminary shared the same corner as our office. A congregation and pastor we loved was just one subway stop away. The second apartment that Kris had found for us looked out on Central Park and had a wonderful gym and even had a pool on its roof. A pool. On the roof of a New York City highrise! We used it most every day in warm weather. Pool, gym and walking, I was in the best physical shape I had been for many years.
And then, it all ended, quickly. In 2013 Odyssey's board, on which I had served before I joined the staff in 2010, Odyssey's board decided that despite our gains in membership and financial support, it just was not working well enough. And, sadly, I had to agree with them. The economy was too tough, financial assets were shrinking and the organization was in danger. Major cut backs would have to be made. Quickly, more than 2/3 of the staff were laid off. As the human resources staffer, I was one of the last ones to go.
So, there we were, over age 60 in an expensive Manhattan apartment now our responsibility with no new job in site.
Oh, and then my Mom died. And, we had to leave New York City for an apartment in Gettysburg, Pennsylvania, which we found thanks to our friend, Michael.
Now, please, do not get me wrong, our situation was not nearly as bad as many others, including many listening to or reading this sermon. I received a good severance. We were able to find cheaper housing quickly. And, best of all, in time all of this led Kris and me to Santa Monica, to my becoming your pastor.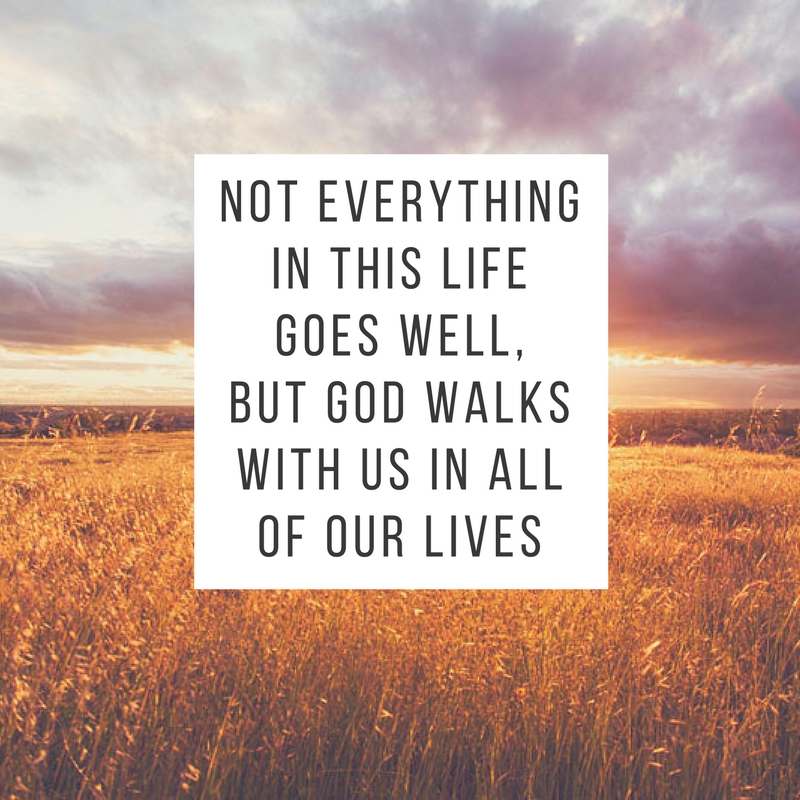 This is not to say that the days and weeks and even months following my layoff were easy or without anger and fear. I went through all of the emotions that those of you who have been fired or laid off or had your positions eliminated know too well. I wondered where I would work, how we would pay our bills, where and how we would live, and, especially at this point in our lives, how we would pay for health insurance.
But, in the end, I held onto this text, "all things work together for good for those who love God." In my darkest of moments, and I assure you there were some dark days, I still believed in the truth of those words from St. Paul, the truth of those words for my life and, I believe, for all of our lives.
In the course of this job transition, I also again learned again the truth of the other verse that I love from Romans 8, that nothing can separate us from God's love, except ourselves, that God is continually reaching out to us in love, a love that is eternal, a love that never ends.
As those of you who have gone through a major loss - a job, a divorce, the death of a husband or wife, a parent or child – you name it – as those of you who have gone through a major life loss well know, we, you and I, we do have a choice in these matters. The choice is to move on with your life and live it without fear and anger or to remain tied up in fear and anger and even hate. The choice is to live your life without fear and hurt and anger or to remain tied up in anger, hurt, and even hate.
Some of that anger easily flows to the person or institution seemingly responsible for our loss. For many, that anger quickly moves to God – why did God allow this to happen – and begins to cut us off from the very thing we may most need in such terrible times, the love of God for us, and the community of the church in our lives.
I early on decided that blame or anger would not help me. Kris and I had nearly four wonderful years living in New York City. I had to believe, I did and do believe, that all things really do work together for good for those who love God. And in the end, as I have already noted, this tough transition led us to ministry in southern California with all of you. My life is an example that all things really do work together for good for those who love God.
However, that is not to say that all things are good. My experience bears that out. Many of you have experienced far worse with your losses – divorce or the untimely death of someone you love dearly or other terrible losses. But, that is where the second verse from Romans 8 comes in. In those not good times, I try to remember that God still and always loves me and that nothing can separate me and us from God's continual love for us all.
And, in the end, sometimes, that's all we have and it is, it can be, enough.
I hope the point of all of this personal sharing is clear: I am not asking for sympathy or for you to think less of my former employer or anyone. My purpose in sharing this personal information is only to reinforce what you and I already know – that God's love for us continues forever. Not everything in this life goes well, but God walks with us in all of our lives. Our choice is to accept that love in our lives, an acceptance that can be very difficult in the terrible times of our lives, and live our lives as if God always loves us because God does.
Many of you know the popular invocation and response from the African American Christian tradition: the words, "God is good" to which the people respond "All the time." Then the leader says, "All the time" with the people's response "God is good."
I believe that with all of my heart and soul. All things can and do work together for good for those who love God. Nothing can separate us from the love of God in Christ Jesus. Because, "God is good – all the time." And, "All the time – God is good."
The Rev. Eric Christopher Shafer
Senior Pastor - Mt. Olive Lutheran Church
Santa Monica, California
July 29 & 30, 2017

---